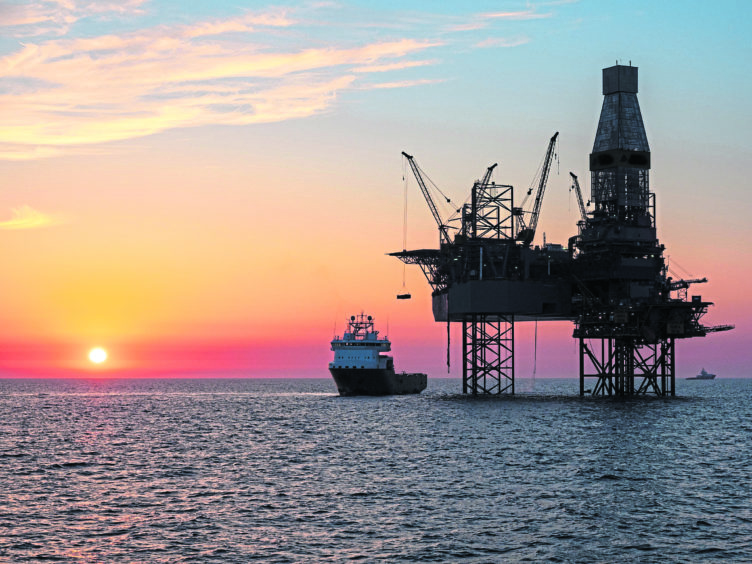 Rishi Sunak is expected to give north-east energy firms a £30-million-plus boost at Wednesday's Budget.
The Chancellor will make £27 million available for an Aberdeen energy transition zone (ETZ).
The UK Government has also pledged £5 million for a global underwater engineering hub in the city, building on last year's £1.3m commitment.
Economic development body Opportunity North East (ONE), backed by oil tycoon Sir Ian Wood, unveiled its plans for the ETZ in January 2020.
It's hoped the ETZ will put the city "at the forefront" of key clean energy technologies of hydrogen, offshore wind and carbon capture and storage (CCS).
The Treasury said its latest commitment was "a first step" in delivering a wider "sector deal" for the oil and gas industry.
UK oil industry chiefs submitted proposals for a sector deal to Westminster in March 2018, estimating total investment of £176 million could deliver £110 billion for the UK economy by 2035.
Parts of the industry's wish list were fulfilled, including the creation of a national decommissioning centre, but a sector deal in name was never granted.
The industry subsequently revised its proposals to better reflect the role it can play in the UK's crusade to achieve net-zero emissions by 2050.
In its white paper, the government said it would provide support in the form of a so-called North Sea Transition Deal, provided that the oil and gas industry goes "further and faster" on the emissions front.
The Treasury said the transition deal would "support jobs and net zero as the oil and gas industry decarbonises and diversifies to cleaner energies".
Mr Sunak said: "It's vital that as we deliver our plan for jobs and level-up across the whole UK we build back better in a sustainable way.
"The measures set out in Wednesday's Budget will boost Scotland's transformation into a green energy hub, deliver on our commitment to net zero, and deliver a boost that cities and industry need."
Scottish Tory leader Douglas Ross welcomed the move, saying: "The North Sea oil and gas industry is a totemic part of Scotland's economy.
"It's worth 9% of our GDP, bigger than our tourism and finical service sectors and supports over 100,000 Scottish jobs."
Mr Ross said the funding will enable the industry to play a "vital role" in the north-east's economic recovery.
Sir Ian Wood said: "The Chancellor's announcement of financial support for the Energy Transition Zone is a hugely welcome boost for Aberdeen and the North East of Scotland.
"Opportunity North East and its partners have maintained a clear ambition to transform the region into a globally integrated energy cluster, focused on accelerating to net zero through energy transition activities. Today's announcement will help ensure this ambition becomes a reality.
"There is no doubt that the North East is uniquely positioned within Scotland and the UK to take advantage of this massive opportunity. As we continue to transition from oil and gas, the Energy Transition Zone will allow us to develop a world-class supply chain and create new significant green job and investment opportunities.
"We are in advanced discussions with the Scottish Government in terms of securing similar levels of financial support for the Energy transition Zone and are confident we can progress with this exciting new project at pace.
"I'm also particularly pleased that the additional funding is being made available from the UK Government for the North Sea Transition Deal and Global Underwater Hub. Together, these announcements are hugely encouraging for the North East as we continue to play a key role in the green economic recovery."
Neil Gordon, chief executive of Subsea UK, said: "With this further, and very welcome, funding from the UK Government for the Global Underwater Hub, the industry and all stakeholders will deliver a sustainable institution with the necessary resources to significantly grow the UK's underwater engineering capability and capacity, capitalising on the opportunities in the energy transition and the blue economy.
"The £7.8billion subsea industry, with its roots in oil and gas, a strong foothold in offshore wind and massive potential in marine renewables, defence, ocean science, aquaculture and other segments of the blue economy, can become one of the UK's fastest-growing, high value industries of the future, increasing exports, creating jobs and contributing not only to economic recovery but, crucially, to delivery of our net-zero targets."
The Chancellor is also expected to fast-track a number of city and growth deals across Scotland in a bid to aid the Covid recovery.
We understand more than £25 million of funding will be accelerated for the Ayrshire, Argyll and Bute and Falkirk growth deals.
The cash will be paid over 10 rather than 15 years, meaning hundreds of thousands of pounds extra per year to invest in local communities.
Boris Johnson has said such measures will pave the way for a "strong, jobs-led recovery" as Britain comes out of lockdown.
Mr Johnson told reporters: "I'm not going to anticipate what the Chancellor is going to say on Wednesday.
"But I am absolutely confident that it will be a Budget that builds on everything we have done to look after the businesses and the people of this country throughout the pandemic.
"But that also paves the way for a strong, jobs-led recovery. That's what our focus is going to be on."
Recommended for you

Fears windfall tax subsidy could distort North Sea electrification process