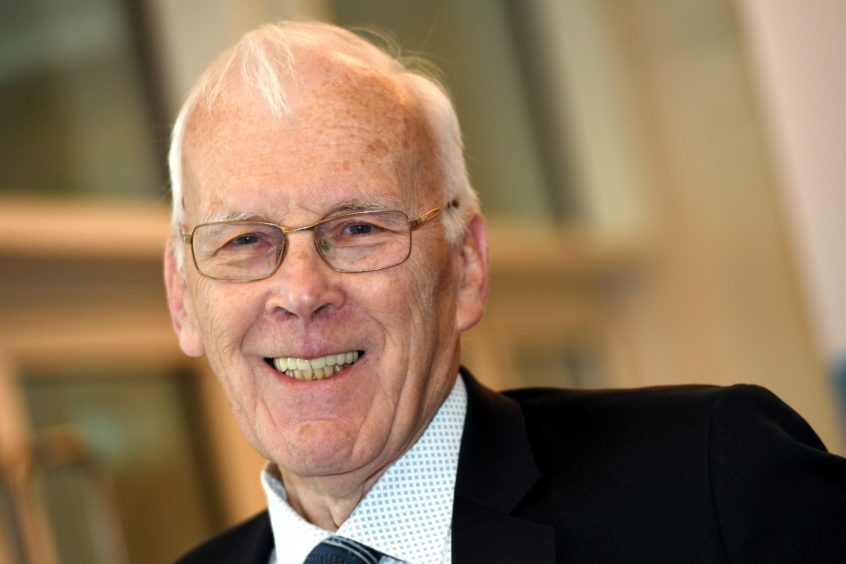 Sir Ian Wood has unveiled ambitious plans to help the north-east economy capitalise on the energy transition, potentially creating "thousands" of jobs in the process.
Economic development body Opportunity North East (ONE), backed by the former oil tycoon, has set out its aim of creating a world-leading "Energy Transition Zone" (ETZ) in the south of Aberdeen.
The scheme, to be based "in the region" of the new £350m south harbour expansion, is aimed at putting the city "at the forefront" of key clean energy technologies of hydrogen, offshore wind and carbon capture and storage (CCS).
It is expected to cost around £60million over a five-year construction period, with the "first components" hoped to be in place by mid-2021.
The ETZ will work with partners, including the city's universities and the Oil and Gas Technology Centre, in its "prime task of getting business underway" for start-up firms, providing specially-built units and incubator space.
It will also have manufacturing, servicing and assembly facilities for offshore wind, seeking to attract "major players" in renewables prepared to carry out lucrative work on turbines.
Floating wind is being viewed as a "significant opportunity" for the ETZ, which could provide testing and demonstration facilities to help make the technology commercial.
Sir Ian said: "We've got the opportunity in the north-east of Scotland to help balance the economy with a new industry, and at the same time, play a really significant role in one of the world's greatest problems right now in global warming."
The philanthropist added that it is "one of the most exciting things" he will do in terms of the north-east economy, despite being the man behind Aberdeen-headquartered energy services giant Wood.
ONE, which is supported by Sir Ian's Wood Foundation with £63m over ten years, will "take the lead", although the aim is to leverage investment from the private sector and public purse to get it developed.
Sir Ian said: "It does depend on who we might take in as main players, partners or lead investors.
"However, there will have to be reasonable public funds and, to be fair, a lot of the funding arrangements currently being set up are very much focussed on climate change.
"This is exactly the right kind of facility to catalyse and help develop companies that will get directly involved in the transition industries and will make very strong contributions and I think that will work ok."
The "zone" may not all be focussed on the same space, with the potential for it to be a mix over the south harbour, East Tullos and Altens.
Long-term, and depending on how labour-intensive the activity it attracts, it is hoped the zone could create "thousands" of jobs, with nearby communities to benefit.
Sir Ian added: "It depends on the range of activities we see happening, some will be labour-intensive. It depends on how many we attract.
"We are talking in terms of thousands; we're not talking in terms of 10 or 20 jobs.
"We've got to recognise that communities are really important in this and, on the basis of working in the south of Aberdeen, make sure that areas like Torry and others feel some involvement and get the chance of some training and job opportunities."
"PINCH OF SALT"
It is hoped the long-term benefits of the ETZ will see Aberdeen export its skills and transition technologies to countries hurrying to correct their climate emissions.
Sir Ian said: "I see no reason at all why we couldn't have a supply chain focussed on the transition activities.
"Throughout the world there's going to be a mad rush to try and catch up on the climate change challenges and we could export these technologies across the world to countries trying to get on top of their carbon footprint."
He said this was despite the fact that Scotland is in competition with European competitors like Norway, Denmark and the Nerherlands on many of these fronts.
However, Dick Winchester, a member of the Scottish Government's energy advisory board, was sceptical about the future prospects, including employment.
He said; "It's easy to say job creation would be in the 'thousands' but as with all these estimates I take them with a healthy pinch of salt until there's evidence that there's a meaningful upward trend as a consequence of a real increase in activity.
"It's a property development exercise You could take any building in Aberdeen, empty it and say here's a new transition zone.
"I just can't get excited about it. They're doing the same thing in Dundee, they hope it will be more hydrogen orientated down there."
Plans are underway for a low-carbon innovation park at the former Michelin tyre factory in Dundee.
However, Sir Ian said that scheme will differ to the ETZ proposals.
He added: "We're not doing what Dundee and the Michelin factory is doing at all. We are going to be practically involved in operation.
"Maybe some research and development will take place within the zone but that's not the prime task. The prime task is getting businesses underway."
"POTENTIAL FUNDERS"
ONE has had conversations with "a number of potential funders" for the project, including the Scottish Government and the UK's Department for Business, Energy and Industrial Strategy (BEIS).
The group is hoping to leverage support in light of the growing climate change challenge, as well as Westminster's oil and gas sector deal promised during this parliament.
Scottish energy minister Paul Wheelhouse said: "The ETZ will help support new jobs, develop and diversify markets for the supply chain in the City and Shire, and help Aberdeen transition from being Europe's oil and gas capital to being recognised as a truly global energy city for the 21st Century and beyond.
"The ETZ could play a pivotal role in making that transition possible, by exploring how to develop renewable technologies related to technologies such as offshore wind, Carbon Capture Utilisation and Storage (CCUS) and deployment of hydrogen and derivatives of hydrogen in our energy system, as well as increased investment in energy efficiency.
"All these opportunities can extensively utilise the undoubted skills and ingenuity of those working in the oil and gas sector and its supply chain."
Jenny Laing, co-leader of Aberdeen City Council, added: "The potential to develop a world leading Energy Transition Zone is an exciting development opportunity for the city and wider region.
"The skills, expertise and impact of hosting a global industry here in the city region provides a foundation and the credentials from which to respond to the transition to net zero.
"I have always argued that the right infrastructure is in place to support the regional economic ambition we have.
"This proposal builds on the infrastructure investment in the Aberdeen City Region Deal, and we look forward to collaborating with ONE on the development of the business case for the zone, and with wider stakeholders including the UK Government, Scottish Government and their agencies to harness the skills and jobs that are here and provide opportunities for local people to access new jobs in the wider energy sector."
Recommended for you

Sir Ian Wood urges govt to confirm Acorn will benefit from £20bn CCS pot