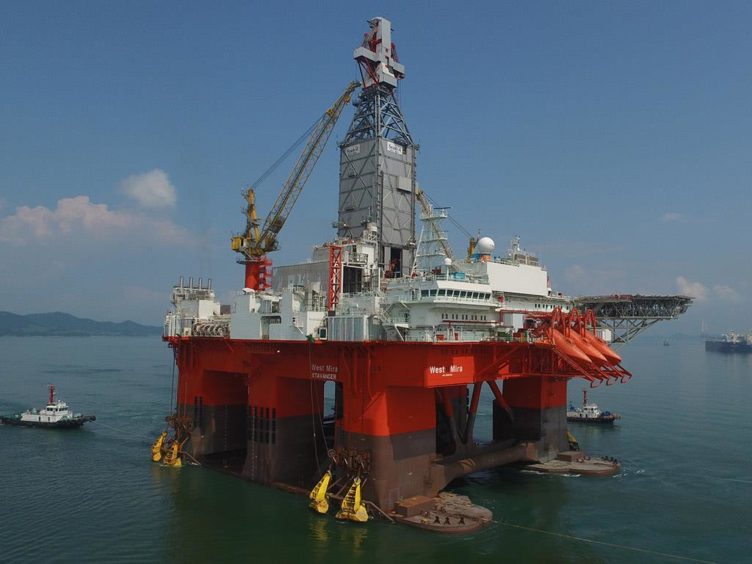 Seadrill Europe Management has been hit with a coercive fine after "serious breaches" were identified on one of its North Sea platform.
Safety watchdog the Petroleum Safety Authority (PSA) Norway has also given the deepwater drilling contractor two orders after it carried out an audit which threw up violations.
They relate specifically to the West Mira mobile drilling facility, which is owned by Northern Drilling and operated by Seadrill.
From March 13, Seadrill will have to pay NOK 50,000 (£4,237) a day until it complies with the first part of the first order.
The Bermuda-headquartered firm is required to "review safety-critical installations, systems and equipment on West Mira" and carry out necessary measures to ensure they are "capable of performing their required functions".
A spokesman for Seadrill said it has experienced "several unwanted incidents" on West Mira that have been investigated fully, both by the firm and the PSA.
He added: "Seadrill has a zero incident goal on all of our rigs. Our employees are our most important asset and ensuring safe efficient operations is always our number one priority.
"We have received the comments made by the PSA and take them very seriously and are thoroughly reviewing them together with our internal policies and procedures to ensure they are rectified and we maintain compliance."
The PSA issued West Mira with an acknowledgement of compliance (AoC) – a mark recognition that it can operate in compliance with regulations – on October 30 2019.
Since then a number of "serious incidents" have occurred on the North Sea facility, including a lifeboat being washed overboard and structural damage to a crane.
The PSA has held a number of meetings with Seadrill during which it flagged concerns over "observations made in audits and investigations".
It also called into question the "capacity and competence" of the firm's organisation, as well as its "risk understanding" on West Mira.
Earlier this year the PSA carried out an audit of electrical installations and technical safety on the platform, which exposed new "serious nonconformities", as well as spotlighting previously identified nonconformities that hadn't been addressed.
As such, the watchdog has said the conditions for issuing the AoC may no longer be relevant and has issued two improvement orders.
In a letter to Seadrill, the PSA instructed the firm to "review safety-critical installations, systems and equipment on West Mira and implement the necessary corrective or compensatory measures to ensure that installations, systems and equipment are capable of performing their required functions so that prudent operation can be maintained on West Mira."
"A brief description of the process for identifying necessary measures, an overview of measure initiated, and a confirmation with grounds that safe operation is being maintained on West Mira must be submitted to us no later than 12 March 2021," the watchdog added.
Seadrill has until June 1 to implement the first order so that all nonconformities are corrected.
More generally, the PSA has ordered the firm to ensure all its nonconformities identified on its platforms since 2017 are corrected by August 1.
By October 1, Seadrill will also have to identify and implement "operational or organisational measures" which ensure safe operation of all the company's facilities in Norway with an AoC.
That includes guaranteeing new faults or deficiencies are "continuously identified and corrected".
Recommended for you

Operators urged to be vigilant after drones spotted near North Sea platforms