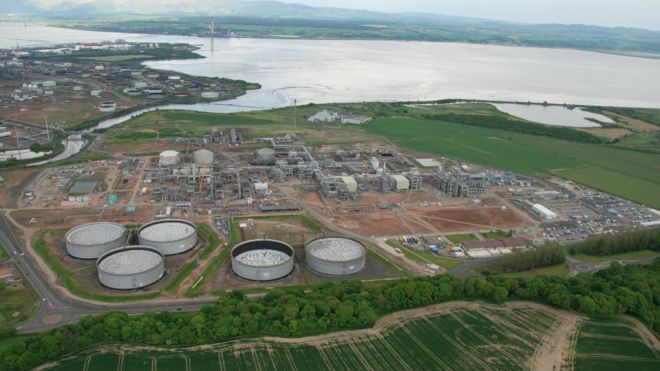 Industry leaders have warned that the pace of vaccine rollout in the North Sea could be moving too slowly to deal with a rising maintenance backlog, as a crucial shutdown period approaches.
At the opening of the Oil and Gas UK HSE Conference on Wednesday, CEO Deirdre Michie said just one-third of the industry workforce is on track to be vaccinated by the time the May shutdown period arrives, which includes the major Forties system shutdown.
It comes after the UK Government decided that it would not take a sector-based approach to vaccinations, deciding instead to prioritise by age.
Meanwhile Sarah Newton, chair of the Health and Safety Executive (HSE), warned that the number of temporary repairs and deferrals is on the rise and inspectors are finding "deficiencies" around asset integrity and operating integrity.
Both run the risk of oil and gas releases into the North Sea, she said.
Deirdre Michie of OGUK said: "On the current trajectory, estimates suggest that only a third of our workforce will have received their first vaccinations in May of this year, at a time when the sector needs to begin its critical maintenance turnaround activity, which has built up, obviously, due to the reduced number of personnel offshore.
"The Scottish and UK Governments have issued their respective roadmaps out of the current lockdown.
"Whilst this is great progress, we continue to encourage the government to consider a sectoral approach to vaccines, obviously once the vulnerable and frontline folk have been covered."
With a comprehensively vaccinated workforce, the industry could deal with the maintenance backlog, bring forward deferred projects and protect jobs, Ms Michie added.
HSE – "We won't be in a Covid crisis forever"
The CEO also said OGUK is still projecting up to 30,000 job losses by the end of 2021, should conditions prevail as they are.
That's despite the newly-signed North Sea Transition Deal announced today.
HSE chair Sarah Newton warned operators they "must not forget what has not been done when production starts to ramp up" and the oil price is restored.
"Our interventions continue to find deficiencies around asset integrity and operating integrity", she said.
"These, and similar failings, are significant contributing factors which can lead to the hydrocarbon releases we must be so determined to prevent."
Ms Newton added: "Our inspections of duty holders' maintenance management arrangements show that, for some, the key asset integrity trends such as the number of temporary repairs and deferral of scheduled repairs are increasing. So generally speaking, the backlog of work is also increasing.
"In addition, the amount of maintenance work scheduled for shutdowns is being reduced, which poses a threat to the structural integrity of installations.
"We won't be in a Covid crisis forever and the industry must be careful during the recovery stage."
Last month UK health secretary Matt Hancock said continuing to prioritise vaccinations by age, not job was the "moral thing to do", adding that it would "save the most lives".