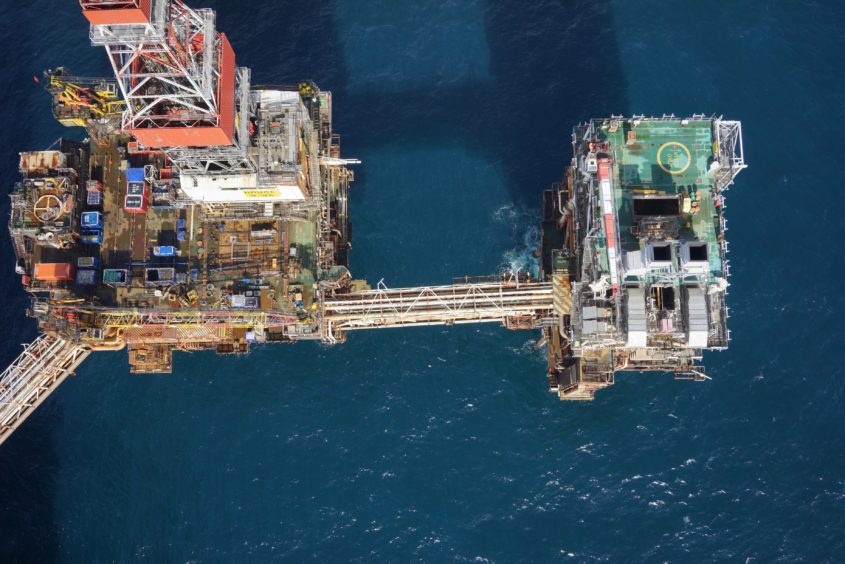 Several North Sea platforms have been downmanned over the last few days due to adverse weather conditions.
Scores of flights to installations from Aberdeen have also been cancelled as high winds and snow storms battered the region.
BP removed 108 non-essential workers from its ETAP platform, which sits around 100 miles east of the Granite City, on Sunday.
A further 38 crew members were taken off the Andrew installation on Friday.
A spokesman for the oil and gas giant said: "The safety of our people is always our number one priority and these precautionary measures are well established in our operating procedures.
"BP continues to monitor weather forecasts with a view to progressing further demobilisation plans as required."
Elsewhere, Serica Energy removed some non-essential crew from its Bruce platform, around 211 miles north-east of Aberdeen, due to the adverse weather.
A figure for the number of workers evacuated wasn't given but production from the installation is expected to continue as normal.
A spokesman for the North Sea operator said: "Serica Energy has partially downmanned some non-essential crew from the Bruce platform due to adverse weather.
"The safety of personnel onboard is the priority, and the partial downmanning was conducted in accordance with Serica Energy's Severe Weather Action Plan. Production operations continue unaffected."
Dozens of North Sea helicopter flights from Aberdeen Airport have also been cancelled today after the city was hit by snow showers overnight.
Among the operators affected is oil and gas giant Total, which said it expects journeys to its platforms to resume in the coming days.
A spokesman for helicopter operator Babcock said on Monday that all its flights are currently on hold due to the weather conditions.
Sumburgh Airport on Shetland was also closed on Monday morning but reopened around midday.
A spokesman for the airport said: "Heavy snow showers led Sumburgh airport to close this morning (April 5) from 07.30 causing delays to all scheduled morning/afternoon flights.
"Loganair cancelled its morning scheduled flight inbound from Aberdeen and an outbound flight to Kirkwall due to the snow closure. The airport reopened at 12:10 thanks to the hard work of our colleagues."
The flurry of disruptions followed news over the weekend that Canadian Natural Resources (CNR) had removed more than 80 workers from its Ninian Southern platform, around 240 miles from Aberdeen.
CNR said it was as a precaution due to the "adverse weather", although a source told Energy Voice that structural concerns about one of the platform legs had been flagged with workers.
A CNR International spokeswoman said on Saturday: "Due to adverse weather, CNR International (UK) Limited advises that a precautionary down-man of personnel from its Ninian Southern platform has been initiated. The safety of the personnel on board the platform is of paramount importance for the Company.
"The planned down-man is in accordance with existing procedures developed to safely manage the asset, and is being done in conjunction with support from industry specialist consultants."
EnQuest also carried out a "precautionary partial downman" of 38 workers from its Heather Alpha platform on Saturday.
More than 50 crew members are still on board the installation, north-east of Shetland.
In a statement released on Saturday, an EnQuest spokesperson said: "EnQuest can confirm that a precautionary partial downman of 38 personnel from the Heather Alpha platform has taken place on 3 April 2021 in accordance with the severe weather action plan.
"Personnel will be returned to the platform once the predicted poor weather passes. The platform continues to operate with 53 personnel remaining on board.
"Heather Alpha is located approximately 144 kilometres (90 miles) north east of the Shetland Islands. Further information will be released as soon as it becomes available."