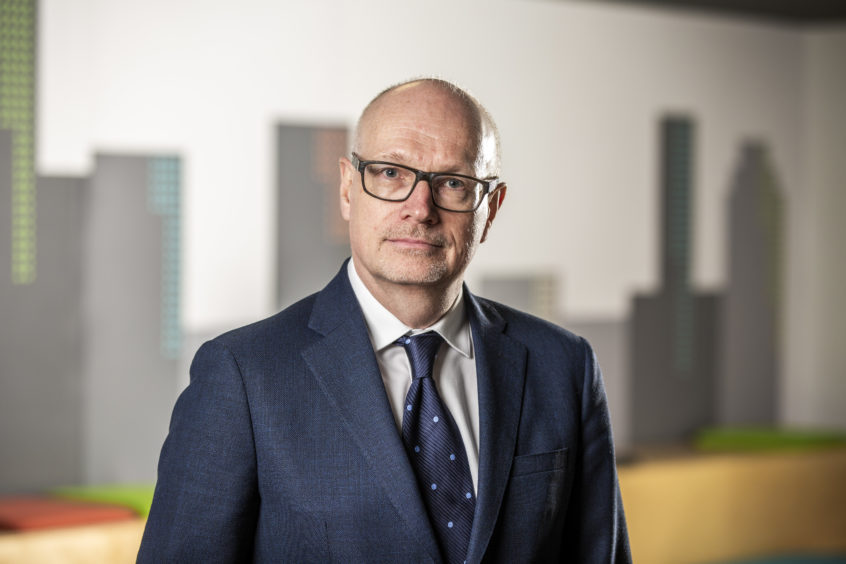 A boss at Petrofac said yesterday his confidence that the North Sea market is picking up in 2021 is based on real activity, rather than mere hope.
John Pearson, chief operating officer of Petrofac's engineering and production services (EPS) business, said 2020 would go down as one of the most difficult industry had experienced.
The Covid-pandemic and crude price slump hit energy service firms hard as clients delayed and cancelled projects in an effort to protect their balance sheets.
Among those affected was Petrofac, which slid into the red, recording pre-tax losses of £122 million in 2020, against profits of £137m the previous year, on revenues of £2.8 billion, down 26%.
However, Mr Pearson said Petrofac's EPS division had shown resilience during a "super tough year" and "navigated" the market really well.
EPS bucked the trend, delivering a 5% year-on-year increase in revenues and securing £645m worth of contract awards.
Petrofac's engineering and construction (E&C) wing suffered a 31% drop in revenues and its integrated energy services branch recorded a 43% decline.
Mr Pearson has seen signs of North Sea project work "coming back" and says he is "feeling good" about 2021, adding that his team is "very busy tendering".
Projects include subsea tiebacks, which involve connecting new wells to existing infrastructure, rather than building new platforms, and therefore fit in better with the low-carbon agenda.
Operator Repsol Sinopec recently struck up an alliance with Petrofac and TechnipFMC to give other oil firms a quicker and cheaper way of developing their fields, by using its North Sea platforms.
In addition, Petrofac's well plugging and abandonment business is performing strongly.
Mr Pearson said: "The market has been down after the worst hit that any of us can remember and it is starting to pick up.
"So my hope for 2021 is based on real prospects and activity in the market, rather than just hoping this year is better than 2020."
Mr Pearson said Petrofac had a "strong mandate" to grow revenues from "new energy" schemes, such as carbon capture and storage (CCS), offshore wind and hydrogen, in the UK.
The London-listed company is already active in these areas, having been picked to support the Acorn CCS and hydrogen project at the St Fergus Gas terminal near Peterhead, which Mr Pearson believes could build up to be "really material" for Petrofac.
Meanwhile, the E&C division's most "significant" new award in 2020 was for work on substations for the Seagreen wind farm project, off the coast of Angus.
Mr Pearson said: "For us, the energy transition is not a set of PowerPoint slides, it's a real set of current activities and real growth opportunities in the UK."
He also said the North Sea Transition Deal, announced last month, was "terrifically positive" and a "considered approach" to the transition, which "recognised the worth" of the UK supply chain.
Also yesterday, new Petrofac chief executive Sami Iskander said he was focused on rebuilding the company's reputation.
Mr Iskander said Petrofac had faced headwinds, some "self-inflected" due to poor execution, and others generated by market challenges.
An on-going Serious Fraud Office (SFO) investigation has also had a "very real and material impact" on the business.
Adnoc Group said last month that Petrofac had been suspended from competing for contracts while the probe rolls on.
The Abu Dhabi firm made the decision after watchdogs announced in January that former Petrofac employee David Lufkin had pleaded guilty to three further bribery offences.
Mr Iskander, a former Shell vice president, became group CEO at Petrofac on January 1 2021, replacing Ayman Asfari, who had been in the hot seat since 2002.
He said Petrofac aimed to "reinforce" clients' confidence by demonstrating the "highest levels of governance" and delivering "exceptional" project execution.
RBC Europe analyst Victoria McCulloch said: "Petrofac remains highly leveraged to the oil price and capital spending of the majors and national oil companies, with just 5-10% of its revenues and bidding pipeline coming from renewables.
"The past year has been materially impacted by bidding suspensions, which we think materially impacts the company's medium-term outlook."
Petrofac shares dropped 8% to 120.7p in London yesterday.
The company employs 2,320 people in Aberdeen and offshore UK.
Recommended for you

SFO recovers almost £600k from bank accounts of former Petrofac fixer