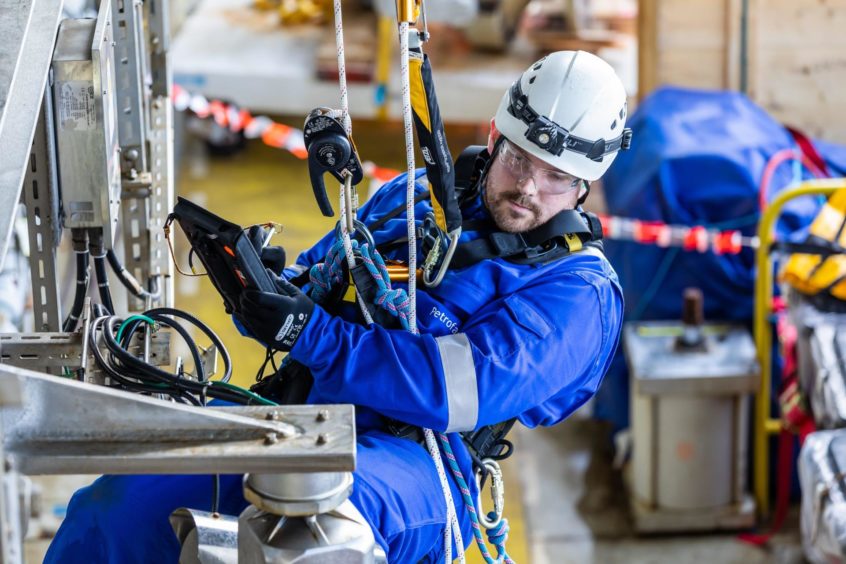 A new collective bargaining agreement covering around 5,000 UK North Sea workers is now in force at all signatory companies.
Bosses at operators, suppliers and unions said delivering the Energy Services Agreement (ESA) was a "critical milestone" and that the deal would provide transparency and stability for the industry.
Fourteen companies agreed to sign up earlier this year, while a majority of offshore workers who took part in a poll also supported the deal.
It has taken employers several months to update contracts and commercial agreements – allowing them to implement the deal.
All 14 reached that point at the end of last week.
One of the more interesting features of the ESA is its rate adjustment mechanism, which automatically calculates changes to salaries using a formula based on average inflation and oil and gas prices.
It means employers and unions no longer have to hold annual pay negotiations, which often turned bitter and took months to resolve.
This will free up time for companies to focus on "value-adding activities".
ESA manager Irene Bruce said: "The mechanism is calculated in August and implemented in January, which gives companies time to plan their budgets.
"There is no need to backdate pay, so everything should run smoothly."
Ms Bruce said the new system would hold "no surprises" for workers, who would be able to calculate whether they are in line for an annual increase – above or below inflation – or not.
Ms Bruce said there had been "bumps in the road", but that all sides had adopted a more pro-active approach to solving issues that arose.
The ESA has replaced the Offshore Contractors' Partnership Agreement (OCPA), which was dissolved at the end of 2020.
The OCPA, which set minimum rates of pay and standards for employees, had been negotiated by the Offshore Contractors' Association (OCA) and unions since 1995.
OCA members felt it was outdated, convoluted and deserved to be scrapped — but they agreed to hammer out a new deal.
Initial ESA signatories include Aker Solutions, Altera, Brand, Kaefer, Muehlhan, Navitas, ODE, Oleochem, Petrofac, Ponticelli, Semco Maritime, Stork, Wood and Worley, along with the GMB, RMT and Unite trade unions.
It is hoped that more energy service firms can be persuaded to sign up over the coming months.
Ms Bruce said: "The ESA needs to continue to grow. This will include welcoming additional signatory and utilising the flexibility built into the agreement to expand the reach.
"In the last month, two of the signatory companies have agreed to include the Shetland Gas Plants within the scope of the bargaining unit.
"This is a significant step in the right direction as it will allow greater opportunities for employees to be utilised across different locations aiding the transferability of skills."
Unite's John Boland added: "The structure of the ESA opens up many possibilities of applying it into other areas within the energy sector, whether this is offshore, onshore, decommissioning, or renewables.
"This gives major advantages of consistent terms and conditions, training, and competencies, which will benefit both employers and the employees, by ensuring there is a stable, highly skilled, transferable workforce for the future."
Craig Shanaghey, president, operations EMEA, Wood, said: "Delivering the Energy Services Agreement is a critical milestone on that journey and provides assurance to thousands of employees operating across offshore assets with a guarantee of base terms and conditions."
The deal has also received support from North Sea operators.
A spokesperson for BP said: "We is supportive of the ESA and recognises its intent to drive simplification, more productive dialogue between parties and the principle of fair working conditions and reward for the benefit of the basin and the workforce."
Phil Kirk, of Harbour Energy, said: "While the establishment of the ESA provides future opportunities to improve safety and productivity across a range of activities – for instance training – this opportunity will only be fully realised when the full spectrum of operators and Tier 1 contractors treat their supply chain fairly and with respect.
"We all have a duty to nurture the talent the industry needs to meet the challenge of the energy transition and develop the next generation of talent.
"Collaborative initiatives like the ESA are an important step on this shared journey."