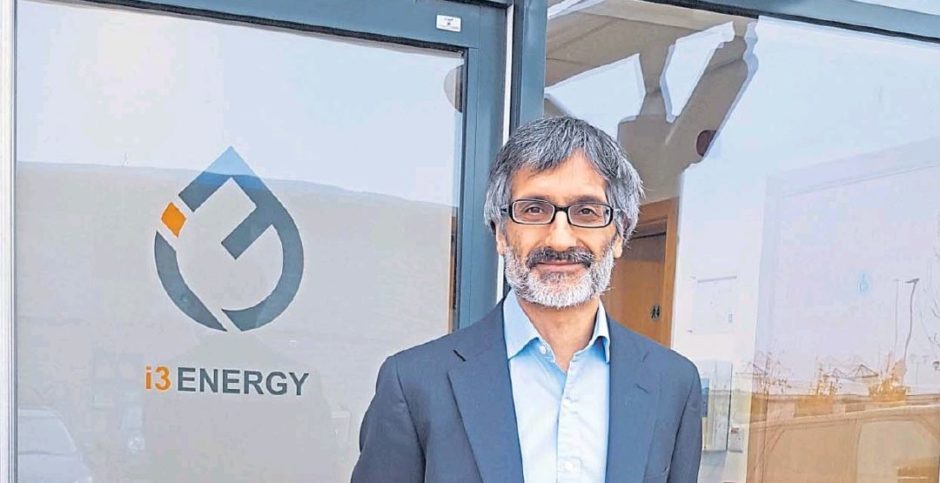 Westhill-based i3 Energy has said it will seek to drill an appraisal of its "company-maker" Serenity project as early as the first quarter of next year.
The firm is seeking to finalise agreements with farm-in partners on the project but awaiting sign off after finances are secure.
However chief executive Majid Shafiq said the firm is confident of reaching a deal before the year's end.
London and Toronto-listed i3 (I3E) is hoping for 100 million recoverable barrels from Serenity oil project in the Central North Sea.
The development has numerous "evacuation options" including the Bleo Holm floating production, storage and offloading vessel (FPSO), or the Captain field. However if resources are as strong as hoped, then I3 will go for a standalone FPSO for it.
Mr Shafiq said Serenity remains a "gem" in its portfolio.
"That would be a massively valuable reservoir worth hundreds of millions of dollars," he said.
"We own that 100%, process of farming out an appraisal well. Deals are on the table that will allow fully carried on the first appraisal well.
"What we're waiting for is the counter-parties to confirm they've got committed funds to pay their share of what's been agreed, at which point we can sign those agreements and move forward.
"What we would like to do then is to drill a well, ideally if we can spud it in the first quarter of next year. It might go a bit beyond that into the second quarter now."
A farm out would see i3 retain operatorship of the project and a sizeable stake, Mr Shafiq said.
An appraisal well would firm up reserves and help the company move forward to development, which could also mean combining with the nearby Tain field operated by Repsol Sinopec Resources UK.
It comes, however, after i3 relinquished the licence for its Liberator field in January after being deemed "sub-commercial".
i3 Energy has also been stocking up on production in Canada via a flurry of deals.
The firm released its results for the six months to June 30 on Monday, with pre-tax losses of £7.8m, rising from a £6.7m deficit in H1 2020
However revenues for the period were double that of the entire year of 2020, rising from £12.9m to £26.4m
Production averaged 9,000 barrels of oil equivalent per day (boepd), not taking into account its acquisition of Cenovus Energy assets in Canada, which will be reflected in H2 and averaged 18,741 boepd in the week ending September 18.
The company announced a dividend of £2.2 million or 0.2 p/share on Monday, with the I3E share price climbing nine percent to 14.75pence per share before reverting to 13.5p as of 11am.
But Mr Shafiq underscored that the company, which has been making a flurry of deals in Canada, has "not walked away from the North Sea".
He added: "As a development it would be almost double the size of our current production level in Canada, just from that one development from three wells.
"That's the difference between the North Sea and Canada, some of the wells in Canada produce a barrel a day."
i3 Energy, which has a team of just six in Westhill, will look to "staff up" if Serenity progresses to development, while a UK presence will help it retain a "competitive advantage".
The firm is also looking at North Sea assets, and said it will assess them "coldly" versus margins in Canada.
Mr Shafiq said: "We're listed in London, we do have a listing on the TSX now, but all of our institutional shareholders are London-based and our competitive advantage is accessing capital in London.
"So it is important that we have a presence in the UK to maintain that relationship."
Recommended for you

Europa eyes decision on Tain-Serenity combination in early 2023