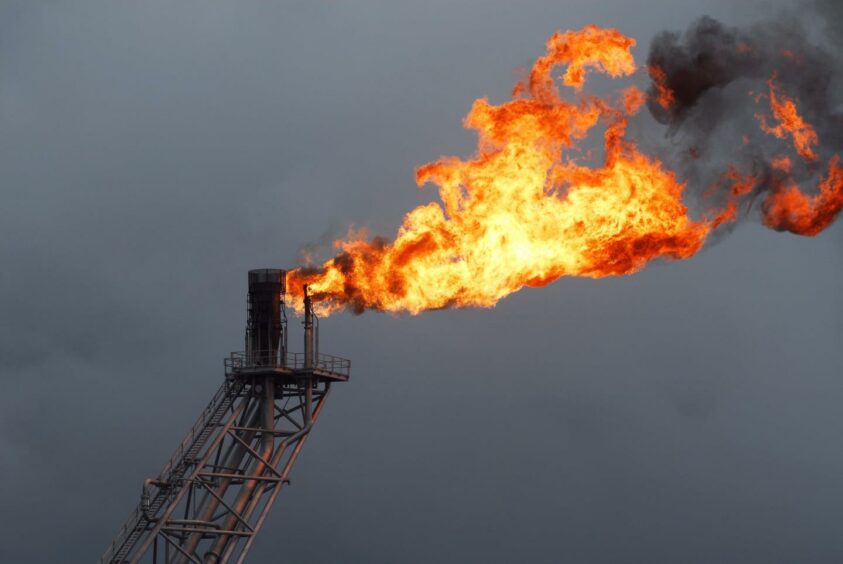 Increasing pressure is being put on upstream operators to decarbonise their operations, from investors, the regulator and the wider public. But while North Sea energy companies are moving to cut emissions, they still have challenging assets on their hands.
Five UK North Sea platforms emitted more than 1,000 tonnes of methane each last year just through venting, a controlled process done for safety or emergency reasons and one of the largest sources of methane emissions offshore. The worst vented more than 3,000 tonnes of methane alone, a more short-lived but hugely more potent gas than carbon dioxide.
There's also 'low confidence' in how well methane emissions are monitored, measured and reported with most currently based on estimated. An OGA official told Energy Voice that the regulator inherited a flaring and venting consenting regime from when associated gas was seen as a "nuisance", which it is changing to ensure the amount of emissions produced offshore are fully quantified.
Doug Griffin, head of measurement at the OGA, said that the body is now putting increasing scrutiny on operators, especially the top emitters. Since net zero was added as a stewardship requirement in March, operators have already been called in to discuss methane emissions levels of at least five facilities.
"We're focussing on the top 10 emitters in the UK North Sea and will be carrying out detailed discussions/reviews with all of them on understanding their emissions and what they can do about them over the course of this year," he said. "There are a few assets that vented quite a lot more than average and we are on their case."
"Methane tends to be the poor cousin when it comes to emissions," one operator told Energy Voice, not wishing to be named. "It's because methane hasn't been especially well understood, even in more recent years. It's been 2013 onwards that there's been more focus. It's not a lack of will, more a lack of understanding and appreciating its impact."
The five worst venters jointly emitted 7,349 tonnes in 2020, accounting for 45% of total reported vented methane emissions that year, according to the data from the Environmental and Emissions Monitoring System (EEMS), which operators submit emissions data to and is used by government to calculate overall UK emissions.
The highest venter was TotalEnergies' Elgin Franklin platform, which vented around 3,000 tonnes of methane. The other four were Brae A, operated by Taqa, the Ithaca-operated Alba Northern Platform, and Beryls A and B, operated by Apache, emitting more than 1,000 tonnes each. In total, the UK upstream industry (including onshore terminals) emitted 42,000 tonnes of methane in 2019 (18% less than in 2018).
Part of the challenge is that when these facilities were built, as far back as the 1970s for Beryl A, it was OK to vent and flare gas as part of normal production processes. Apache says it's "committed to environmental responsibility and continuous improvement" and taking venting and flaring seriously. But it said that "to maintain pipeline integrity, we must treat the gas to remove water prior to placing the product in the pipeline".
It added: "The system was originally designed to vent some portion of the gas in this water removal process. We continuously review plans to minimise emissions."
Taqa said that some venting and flaring is unavoidable for safety and operational reasons, but that it's "focused on improving our operations in support of a more sustainable future. We are also committed to managing flaring and venting across our UKCS assets within industry guidelines."
But fixes are not impossible. TotalEnergies, which is targeting net zero operations by 2050, is addressing the emissions at Elgin Franklin. "In 2020… We completed a project to change the way gas is treated on the platform and reduced vented gas by 90%, which is an emissions saving of 85,000 tonnes of CO2e a year," the firm said. It also says it was the first major UK offshore operator to be accredited as reaching ISO50001, which represents the highest standard for energy performance.
Others are also taking tangible steps, adding or replacing equipment on their facilities. BP has introduced flare gas and vapour recovery technology on the Glen Lyon floating production facility and Clair Ridge. Pauline Ruddy, environmental advisor at BP, said: "We're looking to see if there's opportunity to install these on other assets. For Glen Lyon it was designed into the system. The challenge is we're going to have to retrofit a design to install that and it might not be mechanically possible to do that and some of that is to do with age."
Ithaca Energy did not reply promptly to a request for comment.
"Methane has come up the agenda," said Will Webster, Energy Policy Manager, at Oil & Gas UK (OGUK). The trade body launched a Methane Action Plan in June, which expects operators to better understanding and quantifying their methane sources, similar to other global initiatives.
"Recorded methane numbers continue to fall," he said, having already halved since 1990 and dropped 18% in 2019[EM1] . "We are at about 42,000 tonnes a year of methane, and that's a really small proportion to the gas that we actually produce and we think we are quite close to the Oil and Gas Climate Initiative (an energy company CEO-led group) methane intensity target of 0.2%."
OGUK will publish guidelines on methane early next year, which will seek operators to produce asset specific methane action plans, something Taqa said it is already developing. Supply chain and wells actions plans are also expected by the end of next year.
Griffin, of the OGA, said that conversations are being had that were unthinkable 18 months ago. These include discussions around operators investing in gas export or reinjecting methane into reservoirs, to deal with so-called associated gas, which requires investment, and "that's the sort of thing you will start seeing happening," said OGA Area Manager for the Southern North Sea and East Irish Sea Aliastair Macfarlane. However, for or some assets near the end of their life, this kind of investment might not be realistic, said Keith Hogg, Project Manager at the Net Zero Technology Centre (NZTC).
There's also work to improve measurement, quantification and reporting of methane emissions, something Dr Daniel Zavala, a senior scientist at non-profit organisation the Environmental Defence Fund (EDF) said operators need to do to prove they are reducing emissions, as well as help understand and mitigate them.
BP trialled Flylogix' unmanned aerial vehicle (UAV) in 2019, and now Neptune Energy is working with the EDF to prove it works and potentially apply it across shareholder Carlyle Group's other portfolio companies and even introduce it as an industry standard.
Pete Jones, VP Europe at Neptune Energy, which has a "close to zero as possible methane target", said: "If you want to get to zero you have to validate that and focus on the steps we need to get there and we're quite excited about that."
Satellites could also be a game changer, but currently most don't work that well over water, says Barbara Scarnato, Principal Consultant, Satellite Earth Observation, Digital Solutions at DNV, however, there's work ongoing to address this.
But as well as these so-called "top down" measurements, from drones and satellites, "bottom up", or asset level measurements are needed, said Ruddy. BP is installing flare analysers on all its major offshore operating assets by the end of 2023. The company has also trialled special cameras that can analyse flare combustion efficiency and it's looking at predictive modelling on its gas turbines and flares, to better run these systems, she said.
The NZTC is due to publish a flaring and venting road map, developed in partnership with operators, which will guide further technology development in this area. It's also even looking at more nascent technologies like special materials that can absorb lots of gas at ambient pressure, which could offer a temporary storage to avoid venting.
Julien Perez, Vice President, Strategy & Policy, at the OGCI, said it's also about how different technologies are applied. "OGCI companies are testing and deploying a range of technologies to understand how they work together, how they can be improved and how they inform existing methodologies," he said.
Christophe McGlade, one of the lead analysts on International Energy Association's Methane Tracker said the key thing is that operators need to act fast. "If it (oil and gas) views itself as having a long-term future, the number one priority should be minimising the methane intensity of operations," he said. "Those reductions are necessary in a net zero world."
"There're good initial signals that regulators are moving to doing something about methane and industry taking voluntary action is encouraging, but it needs to be very ambitious. And we need transparent data that provides accountability," added Zavala.
Methane – the facts
Globally, the oil and gas industry is the third largest emitter of methane, after agriculture and waste (such as landfill).
Much of the UK's oil and gas emissions are attributed to gas transmission networks, with just 2.7% estimated to be from offshore operations.
Methane is between 25 and 85 times more potent than CO2, depending on how long it's in the atmosphere (it's worse over shorter periods), according to the UN Economic Commission for Europe.
Methane is the primary component (70-90%) of natural gas.