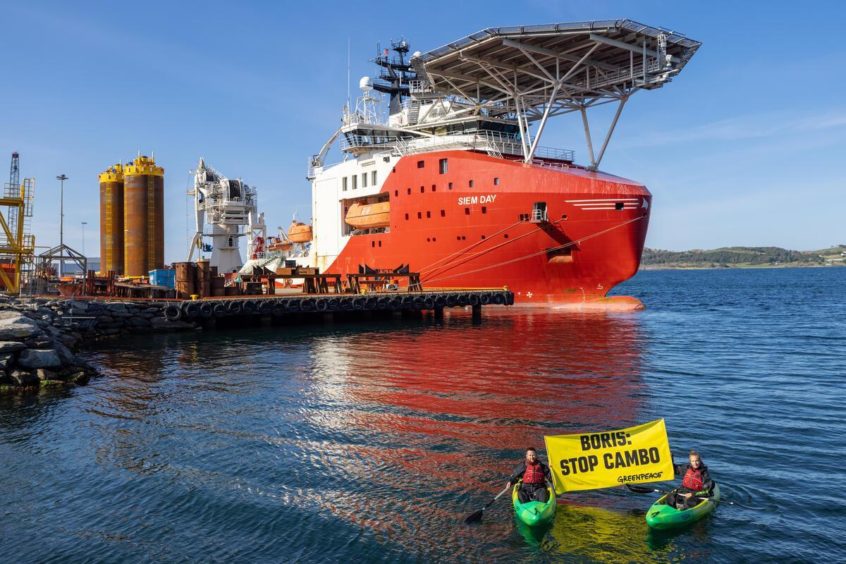 Huge doubt has been cast on the future of the Cambo oilfield in the west of Shetland after Shell decided not to progress the project.
The oil giant, who said it stood in firm support of Cambo in October, has decided not to move it to an investment decision, leaving questions over its future for operator and partner Siccar Point Energy.
It comes as industry has been holding its breath for approval of Cambo from the Oil and Gas Authority (OGA), then allowing for a key final investment decision being made by the operating partners.
Shell, which holds a 30% stake, said its reasons not to proceed were because "the economic case for investment in this project is not strong enough", as well as the potential for delays.
However the move will likely be seen as a victory for environmental campaigners, who have used Cambo as a key climate battleground in the run up to and during the COP26 summit in Glasgow, who said it was not compatible with Scottish and UK environmental goals.
The Shell move casts doubt over whether the project would be able to proceed, even with OGA approval. The OGA declined to comment when approached by Energy Voice.
Cambo is 30% owned by Shell, while the other 70% is held by operator Siccar Point Energy, who said it was "disappointed by Shell's change of position".
Shell acquired its 30% stake in the project for an undisclosed sum in 2018. Shell would not confirm whether it will continue to hold that interest, or whether it will be relinquished to the OGA.
Siccar Point, backed by private equity firms Bluewater and Blackstone, has been asked to confirm next steps, and whether it would seek to relaunch a new farm-out process.
'Disappointed'
In a statement, Siccar Point Energy chief executive Jonathan Roger said: "We will continue to engage with the UK Government and wider stakeholders on the future development of Cambo.
"Cambo remains critical to the UK's energy security and economy.  Whilst we are disappointed at Shell's change of position, we remain confident about the qualities of a project that will not only create over 1,000 direct jobs as well as thousands more in the supply chain, but also help ease the UK's transition to a low carbon future through responsibly produced domestic oil instead of becoming even more dependent on imports, with a relatively higher carbon intensity."
The West of Shetland project is in the first phase targeting 175 million barrels, but subsequent phases would go after additional resources, according to the phase one Environmental Statement.
A Shell spokesperson said: "Before taking investment decisions on any project we conduct detailed assessments to ensure the best returns for the business and our shareholders. After comprehensive screening of the proposed Cambo development, we have concluded the economic case for investment in this project is not strong enough at this time, as well as having the potential for delays.
"However, continued investment in oil and gas in the UK remains critical to the country's energy security. As Shell works to help accelerate the transition to low-carbon energy, we remain committed to supplying UK customers with the fuels they still rely on, including oil and gas.
"We believe the North Sea – and Shell in it – have a critical role to play in the UK's energy mix, supporting the jobs and skills to enable a smooth transition to Britain's low-carbon future."
Cambo – A political football
Cambo has been at the epicentre of political and societal debate about the future of the North Sea for months.
Many want to see the field axed entirely, believing it to be incompatible with the UK's net zero ambitions and wider concerns about climate change.
A letter signed by 80,000 people calling for the project to be blocked was dropped off at 10 Downing Street in the summer.
We called it a coalition of chaos – and here's why.

A Scottish Government minister is genuinely pleased to see Scottish jobs at risk. https://t.co/RP6RFrtwEf

— Douglas Ross MP MSP (@Douglas4Moray) December 2, 2021
Meanwhile others have underlined the need to maintain security of energy supply and the knock on impact to jobs of the project not going ahead.
It's also claimed that scrapping Cambo will do nothing to reduce demand for oil, and will instead lead to more imports, potentially from high polluting areas.
Big news as Shell pull out of hugely controversial Cambo oil field. They say it is not economic – but it is also not compatible with 1.5c target. Time to end investment in all new oil & gas fields and focus 100% on clean energy instead. https://t.co/OzI1LCsV0Z

— Ed Matthew (@Ed_Matthew1) December 2, 2021
Senior politicians north and south of the border have previously come down on either side of the fence.
When questioned about the field in August, Prime Minister Boris Johnson said "we can't just tear up contracts".
But First Minister Nicola Sturgeon said just last month that Cambo should not be given the green light, prompting the UK Government to say that oil couldn't be turned off "overnight".
Her comments were also met with backlash from within her own party.
Fergus Mutch, the SNP's former communications chief, said halting the project would lead to "unemployment and more imported oil for decades".
On the decision, a Scottish Government spokesperson said: "We have said previously that unlimited extraction of fossil fuels is not consistent with our climate obligations and we continue to call on the UK Government, who have the power to act in this instance, to urgently reassess all approved oil licenses where drilling has not yet commenced against our climate commitments.
"A just transition must be delivered across all of our communities, including those that have a dependency on oil and gas."
The Scottish Government added that its £500m Just Transition Fund, announced in August, will support north-east Scotland as a centre of excellence for the net zero economy, and called for the UK Government to match it.
OGUK
Unsurprisingly, Oil and Gas UK (OGUK) has backed Cambo to the hilt and the trade body's chief executive Deirdre Michie has been one of its most vocal supporters.
Responding to the shock news, Jenny Stanning, OGUK's external relations director, said: "This is a commercial decision between partners but doesn't change the facts that the UK will continue to need new oil and gas projects if we are to protect security of supply, avoid increasing reliance on imports and support jobs.
"However, we know that to deliver the transition to a lower carbon future, investor confidence remains essential. Gas and oil have a critical role to play in the nation's future energy supply and we will continue to work with governments, industry and politicians of all parties to make this case."
New oil and gas fields are being subjected to climate checkpoints which are being imposed by the OGA as a consequence of the North Sea Transition Deal.
However, due to its timing, "electrification-ready" Cambo has been seen as falling through the cracks, with climate campaigners pointing to this.
'This is the end for Cambo'
Shell's decision will be seen as a monumental win for many environmental groups that have campaigned in favour of ditching Cambo.
Numerous protests focussed on the project have taken place in the UK – Shell CEO Ben van Beurden was once the target of demonstrators.
A pair of kayakers even blocked a vessel in Norway in August amid suspicion it was taking drilling kit to the west of Shetland field.
Tessa Khan, director of Uplift, which is coordinating the Stop Cambo campaign, said: "This is the end for Cambo. Shell has seen the writing on the wall.
"Its statement makes it clear that the economics are against new oil and gas developments. But the widespread public and political pressure is what's made Cambo untenable. There is now broad understanding that there can be no new oil and gas projects anywhere if we're going to maintain a safe climate.
"This is a message to the UK government that there is no case for new oil and gas. It must put Cambo out of its misery and reject it now."
Friends of the Earth Scotland's climate and energy campaigner Caroline Rance said: "People power has made the climate-wrecking Cambo development so toxic that even oil giant Shell doesn't want to be associated with it any more.
"Shell could see what way the wind was blowing with the project facing fierce opposition, and costly delays, from the public, climate groups and politicians.
"This marks the beginning of the end for all new oil and gas projects.
"Climate science is clear that there can be no new fossil fuels , and now Shell has admitted there's no economic case in new oil and gas either.
"Both the UK and Scottish Governments must now officially reject Cambo, say no to any future oil and gas developments in UK waters and get on with planning a fair and fast transition for people working in this industry."
Hugely embarrassing for the UK Government if #Cambo stalls despite enjoying support until the very end. https://t.co/eYH0LuW5iV

— Christian Toennesen (@DrToennesen) December 2, 2021
Philip Evans, oil campaigner at Greenpeace UK said: "This really should be the deathblow for Cambo. With yet another key player turning its back on the scheme the government is cutting an increasingly lonely figure with their continued support for the oil field.
"The truth is rejecting the permit is the only practical option. Anything else would be a disaster for our climate and would leave the UK consumer vulnerable to volatile fossil fuel markets. It's time Boris Johnson put this distraction aside and got on with the urgent task of delivering a just transition for offshore workers and their communities to the green industries of the future."
Recommended for you

Serica completes shutdown campaigns on Bruce and Triton hubs