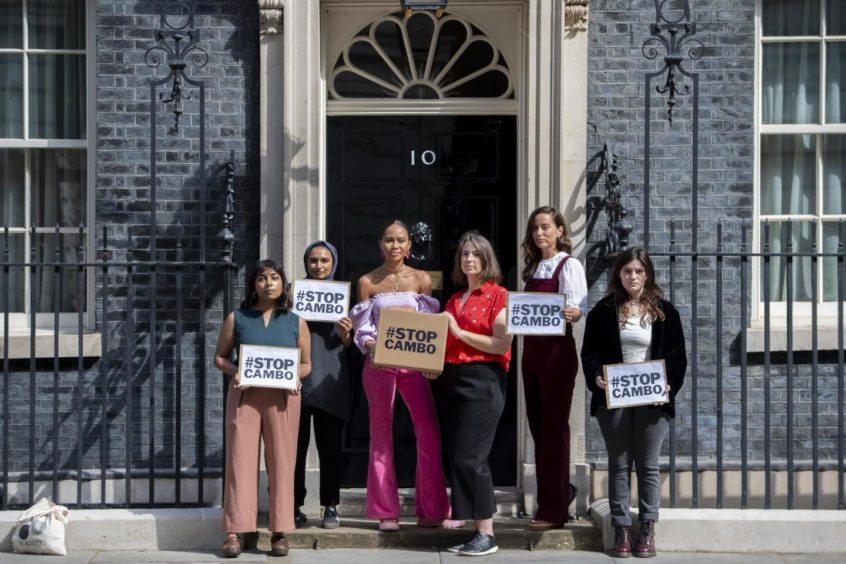 A letter signed by 80,000 people calling for the Prime Minister to block an oil project he claimed to have no knowledge of was dropped off at 10 Downing Street today by campaigners.
The joint letter from Friends of the Earth (FoE), FoE Scotland and Oil Change International says the Cambo development, west of Shetland, would devastate the climate and compromise the UK's net-zero goal.
Mr Johnson said yesterday in an interview with the BBC that he had no knowledge of the proposals from Siccar Point Energy and Shell, which seek to deliver more than 150 million barrels in the first phase.
FoE Scotland campaigner Caroline Rance said Mr Johnson didn't sound like a climate leader on top of his brief and that he needed to "get a grip" on energy policy.
During his visit to Scotland, Labour leader Kier Starmer opposed the project and said a timetable should be set out for the end of North Sea oil and gas exploration and production.
Scottish Tory leader Douglas Ross accused Mr Starmer of wanting to abandon the north-east, while the SNP said he was "out of touch".
Oil and Gas UK external relations director Jenny Stanning argued that announcing a premature end to UK-produced oil and gas would harm people's jobs, the country's energy security, and undermine the energy transition.
Private-equity backed Siccar Point Energy operates the project and holds a 70% stake, while energy giant Shell holds 30%.
The partners recently re-submitted the environmental statement for the increasingly hotly contested development to the UK Government.
Last month, protestors occupied a UK Government building in Edinburgh as part of the Stop Cambo campaign.
At the time, Siccar Point chief executive Jonathan Roger said the project would help secure UK energy supply and create more than 1,000 direct UK jobs.
He added: "The development has been designed to reduce emissions from the outset and will be built 'electrification' ready with the potential to import renewable power when it becomes feasible in the future."
Critics of the project have often cited a recent International Energy Agency report which said no new oil and gas fields should be developed – beyond those already sanctioned — if the global energy sector is to achieve net-zero emissions by mid-century.
But the IEA roadmap did also call for annual additions of solar PV to reach 630 gigawatts by 2030, the equivalent of installing "the world's current largest solar park roughly every day".
Meanwhile, the Climate Change Committee acknowledged earlier this year that current projections for North Sea oil and gas production suggested it was unlikely to be sufficient to meet future UK demand.