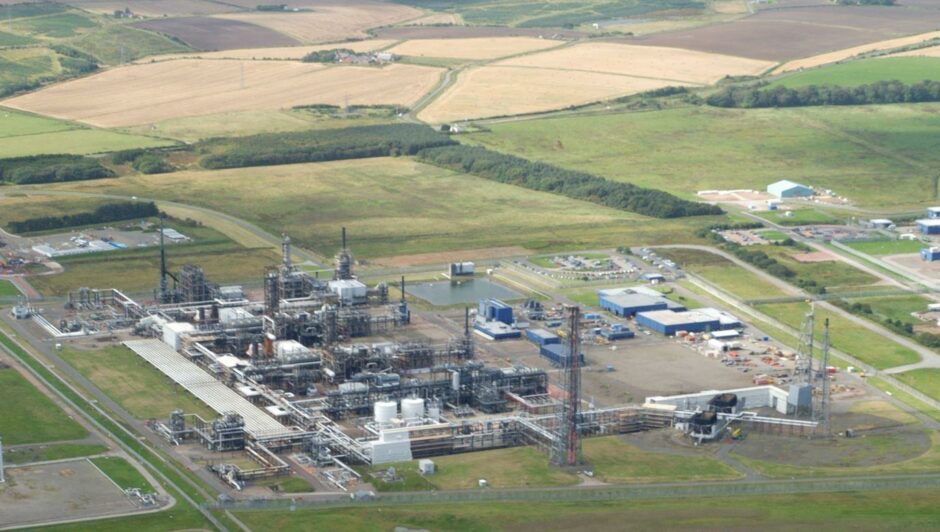 The owner of the St Fergus Gas Terminal in Aberdeenshire has bought in as a partner in the Acorn CCS project.
North Sea Midstream Partners (NSMP) has acquired a 10% stake in the carbon capture and storage development, joining Storegga, Shell, and Harbour Energy who each hold 30%.
Through its ownership of the St Fergus terminal, NSMP believes it can "accelerate the development of Acorn" through "synergistic" infrastructure and services opportunities for the CCS project.
The St Fergus terminal infrastructure is a key aspect of carbon capture development, using associated pipelines to store emissions in depleted North Sea gas fields.
North Sea Midstream Partners said the project is "vital" for meeting Scottish and UK emissions reduction targets in 2045 and 2050 respectively.
Over one-third of the UK's known CO2 storage resource is within around 30miles of the pipeline corridors from the St Fergus terminal.
Nick Cooper, chief executive of Storegga, the lead developer of Acorn, said: "We are very pleased to welcome NSMP as a strategic partner in the Acorn Project. NSMP has a track record of owning critical midstream infrastructure across the North Sea.
"We need to be developing as many UK CCS projects as possible now to support rapid decarbonisation. The UK cannot reach its Net Zero targets without the CCS capacity of projects such as the Acorn Project, and it has to be a priority for accelerated development. We do not have the luxury of choice, the climate issue is urgent, there is no time to lose."
It comes after Acorn was snubbed in the first-track awards of a £1billion government competition earlier this year, but remains a "reserve" should one back out.
Acorn is hoped to be selected in track 2, though this would put its timeline for development by 2030, rather than the mid-2020s.
Andy Heppel, CEO NSMP, said: "We are delighted to become a partner and look forward to working alongside the other Acorn partners to rapidly develop the Project in support of the UK Net Zero targets.
"Together with our long-term operating partner px Group, we are committed to playing a leadership role in the achievement of a net zero future and investing to ensure that we have the operational capability, resources and skillsets to deliver our energy transition objectives for our shippers and wider stakeholders."
NSMP bought 67% of the Sirge pipeline, 100% of the Frigg UK pipeline (Fuka) and 100% of St Fergus Gas Terminal from French oil giant Total for £583 million in 2015.
Conservative MP for Banff and Buchan, David Duguid, said: "I'm delighted that NSMP is now a partner in the Acorn Project, underlining the positivity surrounding the development.
"This announcement sends a clear message that 'Reserve Status' still means something which is the feedback I have also received from the project's partners during our meetings.
"The stakeholders are hopeful of being operational by 2026 and the UK Government continues to engage with them on this objective."
Recommended for you

New CCS report should spell end for Peterhead project, claim campaigners