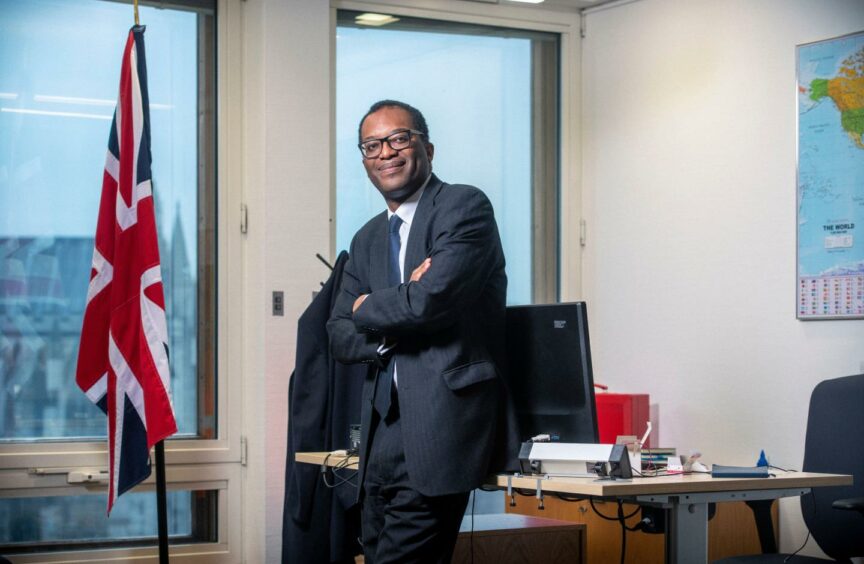 The UK energy secretary has responded to a letter penned by 58 Aberdeen business leaders which called for a more "reasoned debate" on the future of oil and gas.
Kwasi Kwarteng said Westminster is "backing the oil and gas sector to decarbonise in a way that protects jobs and energy security", adding that "turning off domestic supply overnight simply isn't the answer".
There will continue to be an ongoing need for oil + gas over the coming decades while we transition to low carbon alternatives

Turning off domestic supply overnight isn't the answer

We're backing the oil + gas sector to decarbonise in a way that protects jobs + energy security https://t.co/vC10dvtZXi

— Kwasi Kwarteng (@KwasiKwarteng) December 23, 2021
On Sunday, the Aberdeen and Grampian Chamber of Commerce (AGCC) released a letter, signed by dozens of civic and industry leaders in the region, to UK and Scottish politicians, warning that remarks calling for an end to oil and gas exploration in the North Sea "threatens future investment" and impacts jobs.
Gas prices
Mr Kwaseng's support comes as he is reportedly due to convene an emergency meeting with energy suppliers on Monday over skyrocketing gas prices, which have surged from 54p per them to £4.50 since September and bankrupted utilities firms.
Since 2019, energy suppliers in the UK have been subject to a price cap put in place by Ofgem, limiting the amount they can charge customers. With the rising prices, many say they were paying more for gas than they could charge.
Business Secretary Kwasi Kwarteng will meet with chief executives of major suppliers on Monday, according to The Times, which reports the bosses are likely to ask for tax cuts and the relaxation of green levies.
The price crunch and energy shortages have been used by industry body Oil and Gas UK (OGUK) to demonstrate the importance of a domestic industry for security of supply.
Meanwhile, the AGCC letter came hot on the heels of Shell pulling out of the controversial Cambo project in the West of Shetland, and after Scottish Greens co-leader Patrick Harvie said "only the hard right" continues to support new oil and gas extraction.
Mr Harvie, whose party shares power in the Scottish Parliament with the SNP, hasn't made any public statement on the letter, which was undersigned by the Scottish and British Chambers of Commerce.
The Scottish Government announced a £500m Just Transition Fund earlier this year, aimed at helping workers and industry transition to help north-east Scotland to establish itself as a centre of excellence for the net zero economy.
The document also came following revelations earlier this year that the UK Government was considering a Denmark-style ban on new exploration, although that has not come to pass.
Along with Mr Kwarteng's comments, UK energy minister Greg Hands issued a letter in response to the AGCC, saying that Westminster remains "absolutely committed to the sector".
He pointed to the recently-signed £16billion North Sea Transition Deal made with industry in March.
In an opinion piece this week, Scottish Government energy advisor Dick Winchester lamented a lack of new energy manufacturing in the region, and wrote that the Aberdeen 58 business leaders should "apply all that skill, knowledge and global market understanding to this problem, take less notice of lobbyists, trade bodies and politicians and determine their own future"
Recommended for you

'Inevitable' North Sea will remain a target for Treasury, says KPMG boss