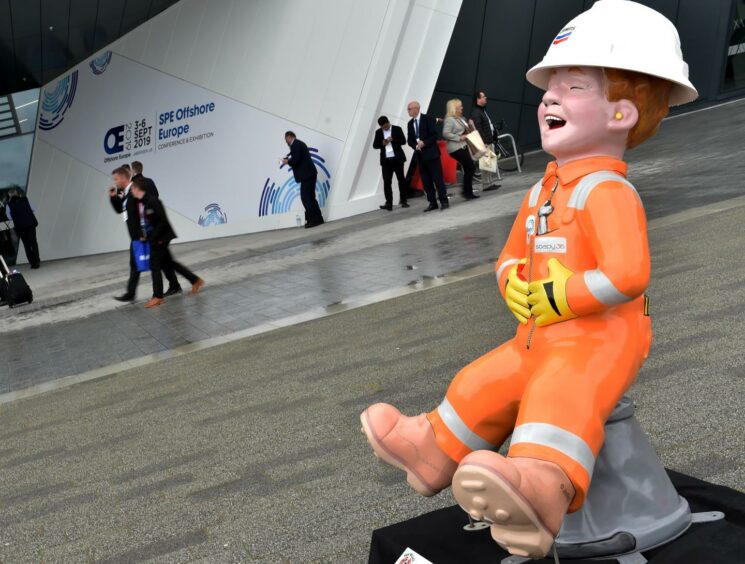 Organisers have postponed the Offshore Europe exhibition next month amid rising Omicron cases in the UK, dealing a blow to the events industry in Aberdeen.
The oil and gas showcase, which is the largest of its kind in Europe, was due to take place between February 1-4 at the P&J Live in Aberdeen.
Organisers SPE and Reed Exhibitions said a smaller, themed event may be staged later in 2022 if there is sufficient demand from the industry.
Meanwhile the main event, which attracted 38,000 people when it was last held in full in 2019, will be rescheduled for September 5-8 2023.
Exhibition space booked for next month will be guaranteed for the showcase next year.
Jonathan Heastie, portfolio director for energy at Reed Exhibitions, said: "The health and safety of our exhibitors, attendees and staff is our priority.
"We were excited for the return of SPE Offshore Europe to Aberdeen in February 2022, but it is clear that given the current situation it would not be in the best interests of our community to go ahead. The decision is made with a heavy heart and I am thankful for the wonderful support from exhibitors and all those who had been working so hard to make the show a success."
First Minister Nicola Sturgeon gave an update on Wednesday that there had been "rapid and very widespread transmission" of the Omicron variant of Covid over the festive period, with an estimated one in every 20 people testing positive.
A further 16,103 cases were reported on Tuesday.
Offshore Europe had originally been planned in person last year but organisers took the decision to postpone and instead held a virtual showcase in September.
Plans had seemed to be proceeding until the dominance of the Omicron variant called them into question and lead to further restrictions across the UK.
On social media, the industry widely viewed the decision as the sensible move to make, despite being a blow to the local economy.
Louise Edwards, an events organiser at industry body Oil and Gas UK, said: "Sad to see the decision to postpone SPE Offshore Europe until September 2023 but I fully support the decision.
"Covid continues to pose significant challenges for many, in particular the hospitality and events sectors but the safety of attendees and staff must always come first."
Alan Stewart, an operations and maintenance engineer said it was "understandable and sensible", though the move will be a blow to bars, hotels, taxis and other facets of the hospitality industry in Aberdeen.
Organisers had originally held firm, saying in December that there were no plans to have Offshore Europe postponed.
On the potential for a smaller event later this year, Mr Heastie of Reed Exhibitions added: "We will have discussions with industry and our stakeholders about the possibility of holding an event focused on the energy transition in Aberdeen later in 2022.
"This would build on the extensive, high-quality content that we had lined up for February to support a fair energy transition."
Meanwhile plans remain in place to hold Subsea Expo, another industry showcase, on February 22-24.
Recommended for you

'The bikinis may be gone' but diversity is still an issue at Offshore Europe