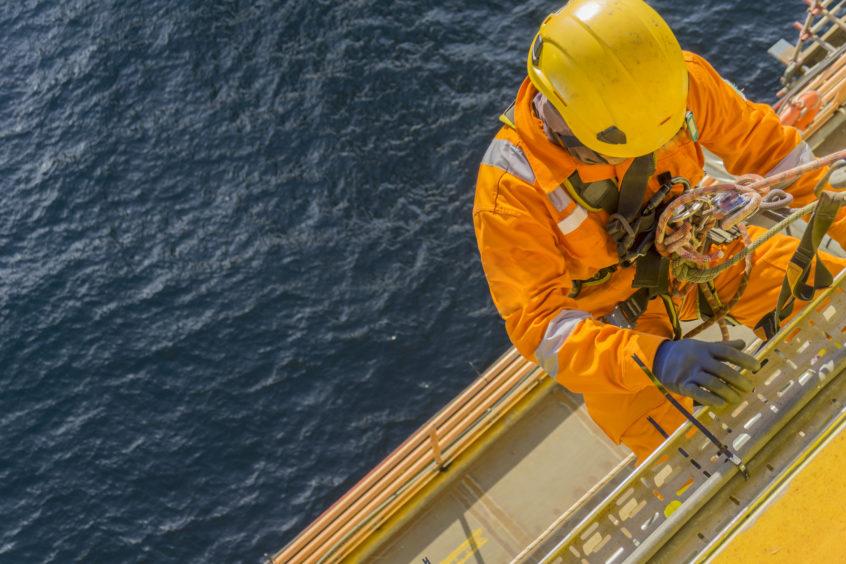 Environmental campaigners and trade unions have called for MPs to back the creation of an offshore training scheme to help workers move between the oil and gas and renewables sectors more easily.
The groups are seeking to address warnings raised by oil workers who say they have had to pay to repeat similar training courses to get jobs in offshore wind, which stands as a major barrier to accelerating a "just transition" for the workforce.
The passport has been backed by the oil and gas workforce, including RMT and Unite Scotland, and MSPs from all parties expressed support for the scheme when it was debated in the Scottish Parliament in October 2021.
The Skills and Post-16 Education Bill is currently making its way through the UK Parliament, with the final vote to take place on Monday 21 February.
Caroline Lucas MP has tabled three amendments – NC14, NC15 and amendment 11 – which would require the UK Government to publish a strategy for the creation of an offshore training scheme within a year, and is urging other parties to back the vote.
NC14 inserts a duty on the Secretary of State to publish an Energy Sector Skills Strategy, which will facilitate cross-sector recognition of core skills and training in the offshore energy sector, and would ensure did not have to hold duplicate training to move between the sectors.
This would be done "where possible" across roles and sectors, recognising that there may be sector specific top-ups required.
NC15 would provide a retraining guarantee for oil and gas workers wishing to transition to careers in the green energy sector, with the aim of ensuring those workers have access to training, grants, resources and other support facilities to assist that transition, and in finding well-matched, good jobs for the skills they already hold.
A 2021 survey of 610 offshore workers by Friends of the Earth Scotland, Platform and Greenpeace UK found that 97% of workers were concerned about training costs.
On average, each worker paid £1,800 every year to maintain the qualifications required to work in offshore oil and gas. For any worker looking to move into renewables, they are expected to duplicate much of their existing training, at even greater cost.
Nearly two-thirds of workers received no financial support from their employers to help cover the costs.
'I know people who've packed it in altogether because working offshore is just too expensive'
Jack – not his real name – works as a lifting operations and lifting equipment regulations (LOLER) focal point for rigs, and has been in the offshore industry for 12 years.
He says that companies used to cover the costs of training once someone was established in a role, but that "now it's very different."
"You've got to cover all these costs yourself, and they need redoing every couple of years so you're in this constant cycle, and often the courses do overlap. And some of these agencies are making you pay for your own Personal Protective Equipment that you need to work on an oil rig.
"I have thought about working in renewables, but that'd be thousands of pounds you'd have to pay to work in both industries. It'd just be too much, it costs an absolute fortune just to stay in one sector."
He said that following layoffs, his certificates lapsed, forcing him to pay £3,000 in training costs for only four months of work.
"Shelling out all this money does cause stress, and it does have an impact on your family and your living costs. There's lots of people worrying about how they're going to pay the mortgage. I know people who've packed it in altogether because working offshore is just too expensive."
'We need an intervention now'
Almost all (94%) of those surveyed by the campaigners supported an offshore training passport to standardise offshore training.
Friends of the Earth Scotland's Just Transition campaigner Ryan Morrison said: "The skills and experience of offshore workers are vital to enable a rapid shift to renewable energy, but workers cannot be expected to fork out thousands of pounds from their own pocket to duplicate qualifications they already have.
"It is time for MPs to listen to these workers by creating a regulated training passport to ensure a just transition for offshore workers. They have a golden opportunity to do exactly that this week by supporting these amendments."
RMT regional officer Jake Molloy added that the urgency of the issue "cannot be overstated."
"The Trade Unions have been banging this particular drum since the oil and gas downturn of 2014 and the industry and their standards bodies have collectively failed the workforce."
"We need an intervention now; we need the political will and support of MPs across the country to address the injustice of having to pay for work, which is the situation faced by thousands of UK workers!" he said.
"All of the talk about a "Just" transition will continue to be nothing more than 'talk' if MPs fail to support this initiative."