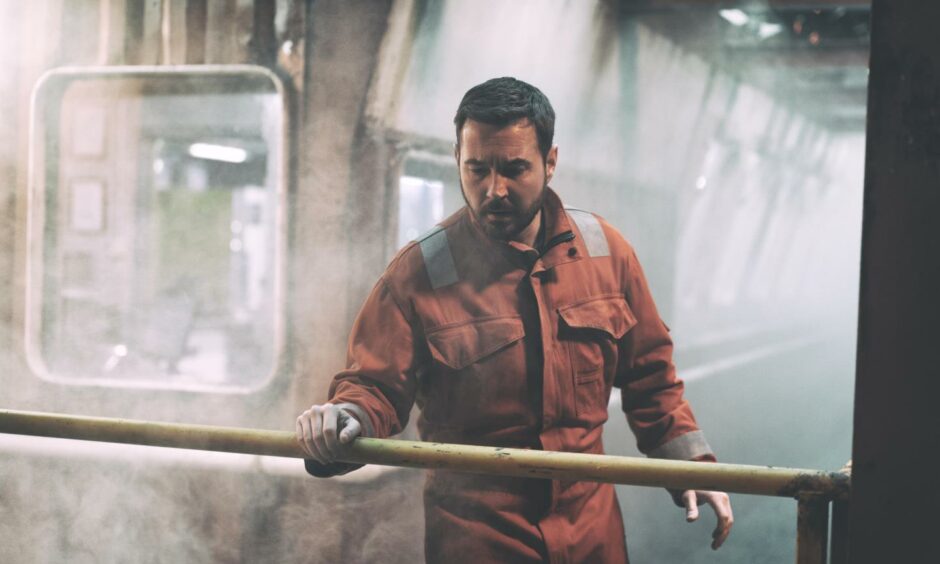 Supernatural thriller 'The Rig' is one of Amazon Studio's "biggest investments", it has told MPs, helping create hundreds of jobs.
The TV show, set on a North Sea production facility, will air later this year, starring Line of Duty's Martin Compston as "Fulmer Hamilton".
Speaking to the Scottish Affairs Committee at Westminster, director of European Prime Original Series at Amazon, Georgia Brown, said the show, along with "Good Omens and Anasi Boys" has created more than 750 jobs.
The show is being filmed in Leith, and 60% of the jobs are Scottish, Ms Brown said.
The six-part drama – also starring Game of Thrones actor Iain Glenn – follows a group of workers in the Kishorn Bravo oil rig who are due to return to the mainland when an eerie fog descends and a mysterious force begins to take hold.
Ms Brown said: "I think 'The Rig' will prove to the world that shows can go out that are hyperlocal: north of Inverness in a place that people probably will never have heard of with very Scottish accents, very thick accents.
"I don't think that is going to put people off viewing it. It is a really compelling story. For us, it is more about having a bespoke approach to each individual programme."
Chris Bird, managing director of Prime Video UK, said that when the studio launches The Rig TV show later this year "you won't be able to move in Scotland without seeing advertising for the availability of that show".
Excitement has been building for the TV show, which has even hired a pair of Aberdeen oil and gas firms to help supply the set; North Sea Core and HRH Geology.
Some workers have even gone so far as to pick holes in Martin Compston's PPE from on-set photos.
A release date has not yet been set for the TV show.
Recommended for you

'Does anyone have any Amazon stop cards?': Workers react to The Rig