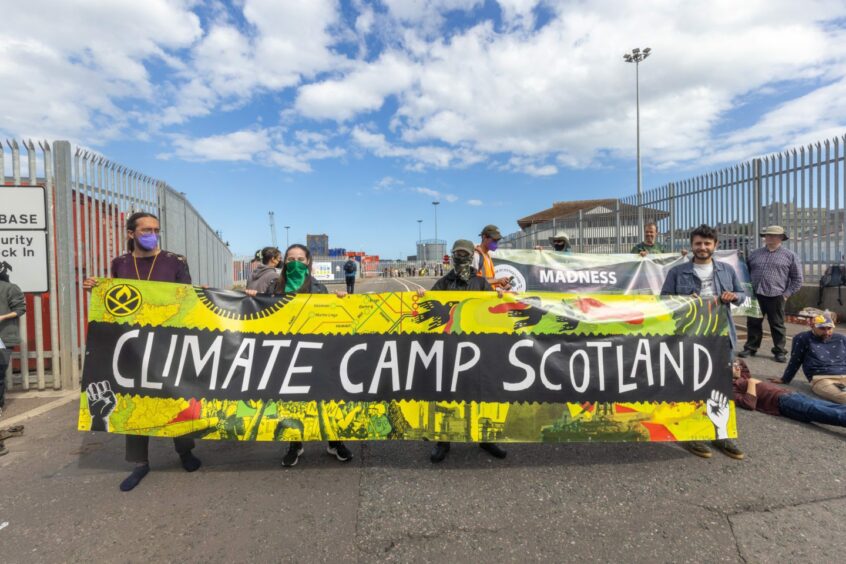 Dozens of climate change protestors from the Aberdeen Climate Camp and MSP Maggie Chapman entered a restricted area at Aberdeen Harbour on Sunday.
They ignored warning signs and entered the fenced-off area of the harbour on the south side of the River Dee shortly before 4pm, and remained there until about 6pm.
The demonstration came just hours after more than 150 people associated with the climate camp — which has been in Aberdeen since Thursday — attended an earlier protest in Aberdeen City Centre.
The activists said both protests were to stand against the fossil fuel industry and plans to develop an Energy Transition Zone in a Torry park.
Joined by Green MSP Maggie Chapman, the group made their way into a restricted area beyond a fence in the port of Aberdeen.
Holding up signs and banners, the group continued to protest against new oil and gas, the extension of the harbour and against development at St Fitticks Park.
After they entered the restricted area, the gate the protestors used to gain entry was closed and was manned by police to stop anybody else going through.
North East regional Green MSP Maggie Chapman said she had joined the group from Aberdeen's Climate Camp for the non-violent "direct action".
Speaking from through the fence, she said: "We're on harbour grounds, which was originally old Torry, and Torry community facilities and homes were the demolished to make way for this harbour facility.
"It's a non-violent direct action protest, to raise awareness of what already been done to Torry and I suppose what we need to make sure is that people actually hear what the proposals are around St Fittick's Park."
One of the main themes at the Climate Camp over the past few days has been to highlight the importance of park and to save it from being built on.
Ms Chapman said the protest was not in opposition to an energy transition.
"But that transition has to be a just transition," she said. "And if Torry lose their last remaining green space, that is not justice for Torry so that's why we're here.
"We know the climate crisis is affecting people. Now it's killing people and we need urgent action to change our economic system, to change our energy economy to create a sustainable future."
'People are willing to break the law to make that message heard'
The Green MSP said protesting was was one of the "available tactics" to emphasise this.
Ms Chapman said: "In Aberdeen we have, in what should be an incredibly wealthy city, very, very high levels of inequality.
"We know the people on one side of the river live 14 years longer than people on the other side of the river.
"People in Torry have lower life expectancies and generally have lower health than people elsewhere in Aberdeen.
"And I think if we didn't take these kinds of actions then I think it would be easier to ignore.
"It's about raising the profile and it is about making sure that people actually hear what we are trying to say here and to recognise that people are willing to break the law to make that message."
When asked is she was worried about the legal implications of the protest as an MSP, Ms Chapman said: "I am an MSP, but I am an activist and a campaigner.
"And I think one of the really, really important things that I can do in my role is to show that there are elected politicians who stand with people who are campaigning, who have been active in climate justice, in community justice and environmental justice campaigns for decades."
Torry's park will be developed 'over our dead bodies'
One of the protestors, Esme Houston, said she wanted to ensure Torry's history was not repeated.
She said: "Really, the point here is we're trying to send a message to the big oil companies, the boats and the offices with the big plushy chairs that the people of Aberdeen, the people of Torry, the people of Scotland, the people of the world are not going to take this kind of exploitation of our natural resources.
"We're really here to express that this same destruction won't ever come to St Fittick's Park, over our dead bodies, because they want to build an energy transition zone in St Fittick's Park but it'll just end up looking like this.
"This used to be a beautiful area. We don't want St Fittick's Park to end up looking like this in 10 years."
While she said they realised the protest is "certainly questionable legally", they walked in knowing what the risk was.
A statement from the Port of Aberdeen said earlier: "The Port of Aberdeen supports peaceful demonstration and debate, but we are a busy, operational port and the security breach at Torry Marine Base puts both the protesters and personnel operating within the port at risk.
"We are coordinating with Police Scotland to safely resolve the situation and continue port operations.
"Our vision is to be Scotland's premier net zero port, offering world class facilities and services, at the heart of the nation's energy transition efforts.
"Our expanded port will be at the heart of the development of high potential sectors, including offshore wind, and green hydrogen."
That's the @ScotClimateCamp protesters left the restricted area of the harbour they've been sitting in for more than two hours. No arrests as far as I can see. pic.twitter.com/lxFkgALjMS

— Kieran Beattie (@KNBeattie) July 31, 2022
At around 6pm, the protesters left the restricted area in a slow-moving procession, accompanied by drumming.
Police shut the gates behind them, and no arrests were made at the site.
Recommended for you

Aberdeen St Fittick's Park and Doonies ETZ plans unveiled amid ongoing legal row