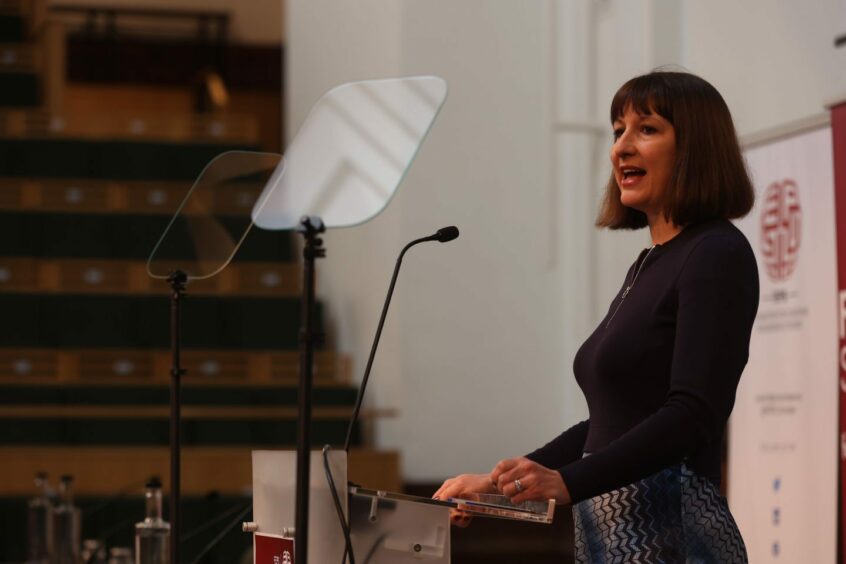 Labour shadow chancellor Rachel Reeves has pledged her party will increase the North Sea windfall tax, in a move industry says will spell "disaster".
Ms Reeves said a Labour government would "extend the windfall tax, closing the fossil fuel investment loophole, and taxing oil and gas giants at the same rate at which they're taxed in Norway", during a Fabian Society speech in London.
Norway taxes its companies at 78% – which is, on paper, greater than the 75% headline rate in the UK – but companies enjoy greater investment incentives in Norway than the UK sector, and Norway has had far greater fiscal stability in recent years.
Various mechanisms in Norway include, for example, a yearly refund for losses made through pricey oil and gas exploration.
Labour, which is polling 20 points ahead with two years at most until a general election, has made clear it would cut the investment incentive linked to the windfall tax in the UK – currently a 91% return on new oil and gas projects for energy security.
Would be 'disastrous'
Responding to her speech, oil and gas bosses said the impact of such changes "would be disastrous for the UK's energy supplies and future energy security" making many projects "economically unviable".
Trade body Offshore Energies UK said that Rachel Reeves had been "inaccurate and misleading" in her comparison with Norway's regime when discussing the windfall tax.
"This is because, although Norway imposes headline tax rates like those proposed by Reeves on profits from oil and gas, it also give its offshore industry investment allowances and other tax concessions far more generous than would be the case in the UK.
"It means Reeves' proposals would actually see the UK industry facing significantly higher taxes than their Norwegian counterparts.
"This would, in turn, make many UK projects economically unviable, and lead to a rapid decline in output. OEUK has estimated that if investment in new fields were to halt now then oil and gas production would decline 50% by 2030."
The trade body also pointed to the fact that, as the UK continued to need oil and gas, imports would surge.
"There is no sign of any similarly steep decline in demand for oil and gas – so imports would surge, making the UK increasingly reliant on other countries for its energy."
Household bills
Ms Reeves said the measures would save households £500 on energy bills, compared to the Government's plans, by keeping the energy price guarantee at its current level of £2,500 rather than letting it rise to £3,000 in April.
It comes as Harbour Energy, the North Sea's largest producer, announced last week it would cut jobs, understood to be in the hundreds, from Aberdeen base, blaming the windfall tax.
Analysts have also pointed to Harbour's bloated staffing levels as a driver for the cull.
According to Cornwall insight, the outlook for typical annualised energy bills dropped to £3,209 for the quarter through June – 10% below the estimate two weeks ago.
That figure continues to drop to £2,241 in the final quarter of 2023.
Davos, Labour and the windfall tax
Ms Reeves' comments come as Labour leader Sir Keir Starmer said last week at the World Economic Forum in Davos that there would be no new investment in oil and gas under Labour.
Also at Davos, independent producer EnQuest pointed out that, if oil firms are to invest in the energy transition then they need cash flow to do so – meaning the tax is the "last thing" the government should be implementing.
OEUK external relations director Jenny Stanning said: "The companies providing those fuels are the same companies that are investing in the transition. They are already building the offshore wind farms, the CO2 capture and storage systems and the hydrogen production facilities that will power our country in future. Labour has acknowledged that it can only deliver this in partnership with business and our members stand ready to work together to achieve this.
"We have an obligation to warn all policymakers that, if you undermine those companies now, and send the sector's 200,000 skilled workers into other industries, you will damage both the nation's current energy security and our hopes of a rapid transition to low-carbon energies."
Recommended for you

Video: Aberdonians voice opinions on future of oil and gas