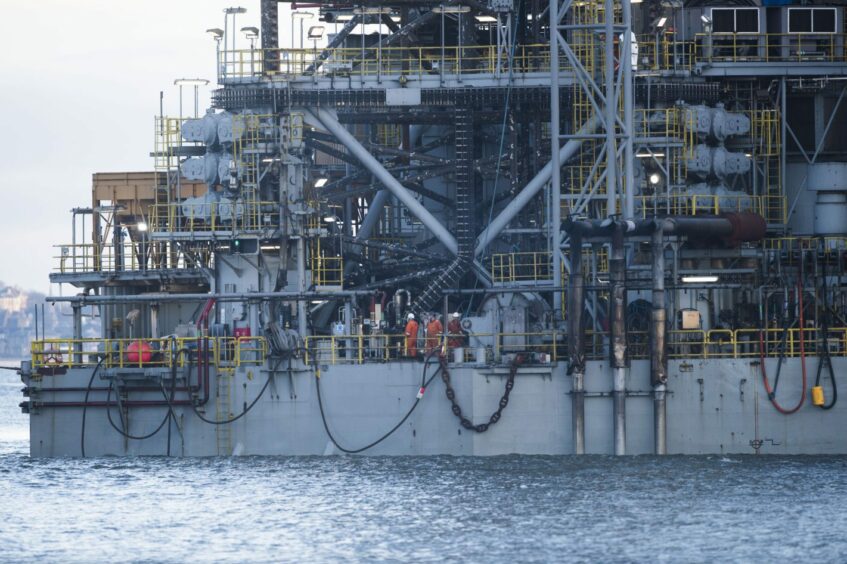 Police officers will board an oil rig in Dundee this week after a worker went missing in the North Sea.
The Valaris 121 arrived at the port on Tuesday following the incident on Sunday night, while the rig was being towed, which sparked a man overboard search.
It's understood Police Scotland will join the rig later this week to carry out enquiries when it is fully docked.
The Health and Safety Executive said that it is also "making enquiries" but has not escalated it into a full investigation.
The incident took place around 100 miles south-east of Aberdeen, according to the coastguard, which is beyond the UK territorial waters of 12 nautical miles out to sea.
As a result of that, and the rig not being UK-flagged, the UK's Marine Accident Investigation Branch (MAIB) is not involved in the operation.
An MAIB spokesperson said that, in circumstances where accidents take place in international waters, it's up to the country where the vessel is registered to consider investigating – in this case Liberia, in West Africa.
EV has contacted Liberia's Maritime Authority for comment.
Police Scotland has not issued any details of the missing worker, beyond that it is a 50-year-old man.
A spokesperson said "enquiries are ongoing and officers are continuing to liaise with partner agencies to establish the full circumstances".
Sturgeon: 'Tragic circumstances'
As the vessel in question is a rig – rather than a stationary platform – the majority of employees on board would be Valaris' own crew, a source told Energy Voice, particularly when a rig move operation was taking place.
Last night when asked for an update Valaris reissued its holding statement, adding that the "company's emergency response procedures were activated immediately after the incident was reported".
The 121 rig is now stationed in Dundee, having been on contract with Harbour Energy, but information has only dripped through since the incident on Sunday night.
Asked about the incident on the sidelines of the Scottish Renewables Offshore Wind Conference in Glasgow today, First Minister Nicola Sturgeon said: "These are tragic circumstances and I don't think it would be helpful for me to comment beyond saying that my thoughts are obviously with the loved ones of this individual."
Speaking separately at Eyemouth Harbour today, Scottish energy secretary Michael Matheson said: "I hope that this is a matter which will be resolved in the next day or so. But again, it's clearly a matter of serious concern and clearly a particular concern for the gentleman's family. "
Following the incident, Valaris said all the remaining 53 crew aboard were safe and accounted for.
Recommended for you

'Staggering situation' as UK regulators not investigating North Sea rig incident