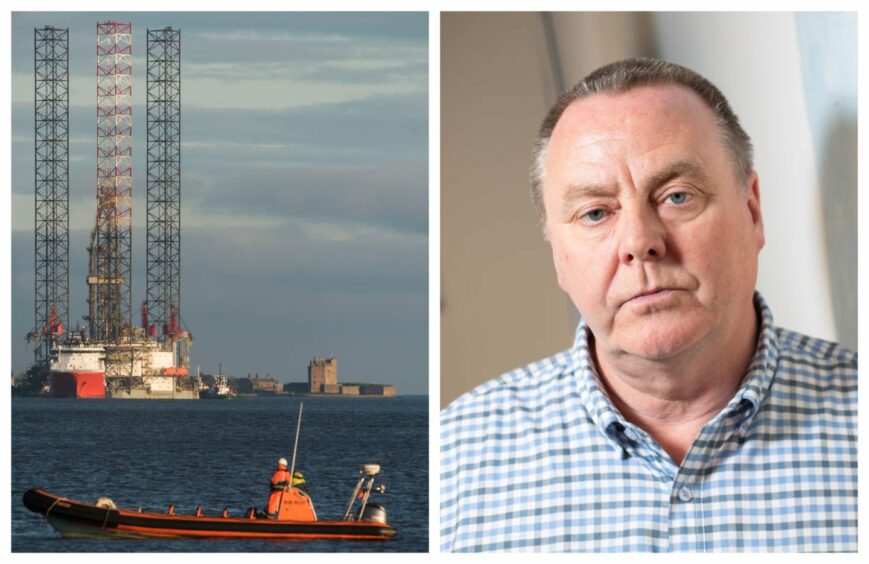 A North Sea union boss has called out the "staggering situation" whereby UK regulators are not investigating Sunday's offshore rig incident when a worker went missing.
The 50-year-old man went missing around 9pm on Sunday night, while the Valaris 121 rig was around 100 miles off Aberdeen and being towed to Dundee.
Five days on, Police say "enquiries are ongoing" but still haven't disclosed any details around the circumstances, inclusive of whether it is being treated as an accident or otherwise.
Maritime union RMT has outlined fears the case could fall into a "vacuum of regulatory cover" due to jurisdictional issues between the bodies; a problem the union has flagged before for offshore wind and North Sea diving.
The Health and Safety Executive (HSE), Maritime and Coastguard Agency (MCA) and Marine Accident Investigation Branch (MAIB) all told Energy Voice they are not presently investigating, raising concerns over an issue of regulatory oversight.
Jake Molloy, regional organiser of the RMT, said having an incident on the UK Continental Shelf (the region for oil and gas resources for Britain) but no UK regulators investigating was "shocking" and a "staggering situation".
Meanwhile, an offshore HSE legal expert, who did not wish to be named, told Energy Voice "it may well be there is a gap in terms of who would actually pick up the regulation of the activity" due to jurisdictional issues identified by RMT.
It's up to Liberia
The MAIB and MCA both indicated that, as the vessel is not UK-registered and the incident took place in international waters (beyond 12 nautical miles to sea), they are not investigating.
MCA highlighted that the Valaris 121 rig is registered to Liberia, in West Africa, whose "authorities will lead on any subsequent investigation".
But the oil and gas industry would normally look to HSE for coverage of its industry, though that may not be the case here, particularly as the vessel was moving – being towed to Dundee – at the time.
For its part, HSE said it was carrying out "enquiries" but that has not escalated to an investigation.
Jake Molloy of the RMT union said he raised a similar issue with the MCA this week as relates to offshore wind vessel workers, highlighting the "flaw, a gap in that whole process" where workers may not be covered by HSE "because that vessel can be moving from site to site on a windfarm" and HSE "doesn't cover maritime operations".
Mr Molloy said a similar incident took place when a small explosion occurred in 2020 when an oil and gas diving bell was being lifted back onto a ship, 80 miles off Aberdeen, and HSE was being asked to investigate.
"Because they weren't diving, because they were doing sea trials, the HSE couldn't look at it," he said.
"This individual ended up doing just what we're looking at here (for the 121 rig) with MAIB. They can't look at it, you need to look at the flag state which was Isle of Man.
"Greatest of respect to Isle of Man, they've not got the resource, they've not got the ability to go and investigate and subsequently provide reports on an event on a vessel working 80 miles off the coast of Aberdeen. It's not gonna' happen – and neither is it going to happen with the 121."
In-depth investigation needed on missing North Sea worker
Mr Molloy said a joined-up regulatory process is needed to ensure nothing slips through the cracks.
"There has to be a robust, comprehensive investigatory process.
"Not just to give the family answers, but as a means of preventing occurrence or recurrence.
"If we don't investigate this properly and we don't have a regulator reporting and telling industry what they got wrong then what's to prevent it occurring again?"
A legal expert on health and safety offshore told Energy Voice that HSE is likely the regulator with jurisdiction in this case.
They said: "HSE's role, for that to be triggered, there would need to be effectively a workplace incident. Now obviously something that's offshore like a rig is a workplace and that is absolutely under the umbrella of the HSE.
"To be honest, I haven't ever really thought about what is the position with something that is being moved, mobile. It could still be a workplace, it seems to me, but it may be that there is an intervening activity that brings it under the authority of a different regulator."
There may be a gap
As regards the potential for a regulatory gap, they added the HSE "would be concerned only if there was a workplace activity going on", whereas MCA – whose role covers UK territorial waters – would be interested in rescue and recovery at sea or maritime regulations, "which it doesn't sound like is going to be in play".
"The MAIB will investigate an incident or accident but alongside a regulatory investigation. They're a no-fault body. They're tasked with making recommendations to prevent that kind of thing happening again, as opposed to them taking some kind of enforcement action.
"It may well be that there is, as you've perhaps identified, a gap in terms of who would actually pick up the regulation of the activity."
Police Scotland, which did not head onto the Valaris 121 until after the vessel arrived in Dundee, rather than fly out on Sunday, said "enquiries are ongoing".
Mr Molloy of RMT said his thoughts are with the worker's family and crewmates.
"When you lose when you lose one of your crew mates like that it hurts and yeah our thoughts are with the family of the individual lost, but also with the crew who have lost one of their family, if you like.
"He's gone out on the deck and just hasn't come back and it's the unknowns associated with that."
Recommended for you

Safety watchdog finds hole in deck of North Sea missing worker rig