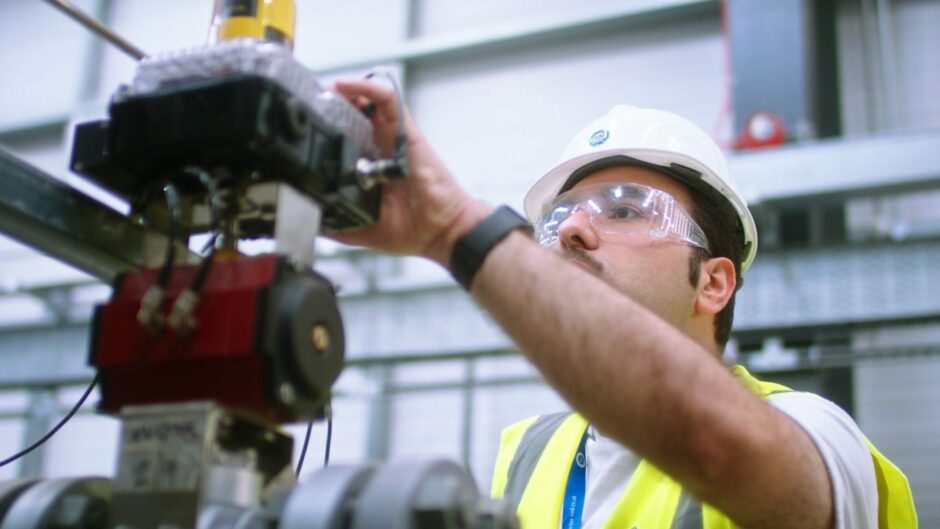 A "desperate" supply chain employing tens of thousands of North Sea workers needs offshore contracts in the energy industry that are both fair and timely.
These were some of the messages being made at Sharefair, an annual event aimed at stimulating business between oil and gas operators and the businesses that supply them with goods and services.
It was the first time Sharefair has taken place since 2018 and, in addition to oil and gas firms, businesses also had a change to set up face-to-face sessions with buyers for developers of renewables projects as well.
Katy Heidenreich, the supply chain and people director for Offshore Energies UK (OEUK), the trade body which organised the event, said it was an "important tool" to support the supply chain which is "in crisis".
OEUK recently published a report highlighting that supply chain firms, whose workforce makes up around 80% of the roughly 200,000 people employed by the offshore sector, are facing problems of spiralling inflation, a dearth of contracts and shills shortages.
On the day that oil and gas giant Shell reported the biggest profit in its 115-year history, Ms Heidenreich said the UK needed to "pull its socks up" and ensure it remained competitive.
Katy Heidenreich, supply chain and operations director, OEUK said the "race really is literally on for the UK to pull its socks up" to ensure companies like Shell continue to invest in the UK.
"This is an important tool to help the supply chain who is, as you say, in crisis," she admitted.
"Companies like Shell – companies large and small – need to have confidence to be able invest in the UK. They need to be able to know they have long term support for their investment, whether that is investment in oil and gas or in new energy," she said.
"We live in a competitive world where many other countries are also investing in oil and gas and new energies.
"The race really is literally on for the UK to pull its socks up and to make sure the UK is a great place for companies, whether they are operators whether they are wind developers or whether they are contractors to invest and do business."
She added: "The supply chain desperately needs projects and activity.
"That is what will sustain them now, keep them here in the UK so they are thriving and ready for the new energy opportunities when they come in three to five years' time – because it will take time for that new energy activity to build up."
Less 'adversarial'
Stuart Payne, the new chief executive of the North Sea Transition Authority (NSTA), also urged more co-operation. The sector's regulator has estimated that the North Sea is set for investment worth £220 billion by 2030, split between oil and gas, wind, hydrogen, CCS and other green energy technologies.
He said: "There needs to be less adversarial relationships between operators and the supply chain
"We need to see a more mature approach to things like campaigning, we need to get the risk and reward balance fairer for the supply chain so that we can encourage that supply chain to invest in the UK.
"The prize is our world class supply chain anchored in the UK can position itself as an offshore energy services provider."
Representatives from operators including BP, Equinor and Spirit gave presentations to a wider audience.
This included offshore wind developer Ocean Winds, the consortium involved with the Moray West and Moray East offshore windfarms off the north coast, as well as new projects awarded through the recent ScotWind licencing round.
Roger McMichael, stakeholder manager for Ocean Winds, admitted that developers "sometimes get a bad rep" among businesses in the local supply chain but that he thinks the consortium, a joint venture between Spanish EDP Renewables and French-owned Engie, "has done a good job".
Ocean Winds stirred controversy after handing major "tier one" contracts to foreign investors, including one to build the huge steel foundations for Moray West to a Chinese firm.
Mr McMichael said the Edinburgh-based group has set up operations in Fraserburgh and Buckie and has also awarded work to Global Energy Group on the Cromarty Firth that was "pushing the boundaries" of the group's capacity.
He said the group's next development, the Caledonia wind farm, also in the Moray Firth, would offer more opportunities for local firms.
This will start construction phase in 2027 he added.
He said projects such as this would attract investors to set up operations in the area that would secure the supply chain's fortunes in Scotland.
He said: "As developers get more experience doing these projects and we understand who the players are, there is enough will in the developer room to make it happen and to help bring one or two key investors from overseas that we have worked with to come here and set up shop in the right place.
"There will be a major high value manufacturer in Scotland."
Inaugural Supply Chain Principles awards
The event also hosted an inaugural awards scheme for companies "demonstrating an outstanding commitment to strengthening business relationships with their supply chain".
Supply Chain Principles awards gold awards were presented to Equinor, Spirit Energy, Baker Hughes, Dana Petroleum and Petrofac.
Companies achieving silver awards include CNOOC, CNR International, Harbour Energy , NEO Energy, Neptune, SLB and Serica Energy.
Companies that earned a bronze award were Apache North Sea , EnQuest , Ithaca Energy, Shell, TAQA Bratani, Total Energies, Wood plc and Worley.
Pauline Innes, director of supply chain and decommissioning at the NSTA, who presented the Gold Awards, said: "Well done to all of the companies who have been honoured today for their commitment to improving behaviours and treating suppliers fairly.
"Only by displaying the right attitudes and collaborating can we sustain a strong supply chain capable of delivering the energy transition.
"It is important that industry does not rest on its laurels, and instead keeps pushing to raise standards even higher. Everyone should go for gold."
More than 450 people gathered to share market intelligence about upcoming business opportunities available to the supply chain at the event supported by OEUK and NSTA.
Recommended for you

North Sea giants win big through INTOG floating wind auction