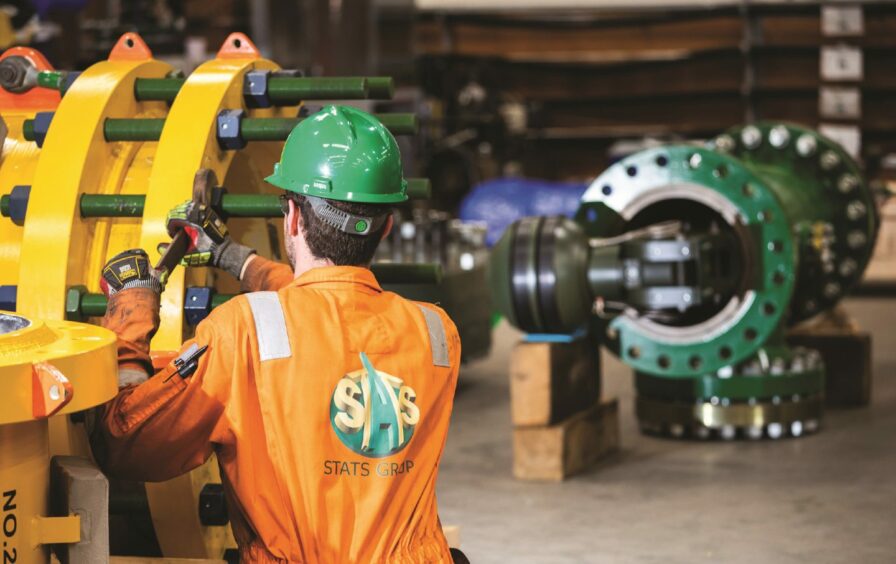 North-east pipeline engineering specialist Stats Group is targeting a 20% jump in revenue and 60 new jobs globally, taking its total headcount to 400.
The company, based in Kintore, Aberdeenshire, said business was booming, particularly in North America and the Middle East.
New jobs are expected to be mainly in international locations, with about one-fifth of the intake comprising graduate trainees.
Stats has bases in Edmonton, Canada, and Houston in the US, as well as Abu Dhabi, Oman and Qatar in the Middle East, Kuala Lumpur in Malaysia and Perth, Australia.
The growth forecast comes about a year after a £73 million Australian buyout of the firm fell through.
It also coincides with the company celebrating its 25th anniversary this month.
Stats chief executive Leigh Howarth said: "We're experiencing substantial growth, particularly in North America and the Middle East, and are expecting that revenues will grow by some 20% in 2023, adding to what has already been a successful 2021-22.
"There's growing market awareness of the integrity of our patented equipment and the sustainability features offered by our technologies, particularly in helping reduce carbon emissions.
"The decommissioning of oil and gas assets, and repurposing of infrastructure for use in generating and storing renewable energy is another important area where Stats will play a key role as operators continue their energy transition journey."
New markets are also expected to play a role in future growth.
Stats said there was growing demand for its services to support major gas transmission networks in the UK.
This mirrors the success of the company's North American business supporting land-based gas infrastructure operators, it added.
Mr Howarth continued: "As our technology becomes better understood and accepted in this sector, we believe that over the next 10 years we can secure a substantial market share of work on the UK and European gas transmission networks."
Another international base coming
Buoyed by a strong pipeline of project work for the coming year, Stats plans to further grow its global footprint by opening another strategic base.
"We'll be recruiting up to 60 new staff across our operating regions to support and enhance our reach into the global pipeline market, the CEO said, adding: "In our first 25 years we've passed many important operational and commercial milestones.
"We're excited about the opportunities which lie ahead in the next quarter of a century."
Where did it all start?
Founded in 1998 by angel investor Lorraine Porter and her brother, Pete Duguid, Stats supplies pressurised pipeline technology and services to the global oil, gas and petrochemical industries.
The group's core business remains in the operational maintenance of oil and gas pipeline and piping infrastructure.
But it is also attracting new clients engaged in energy transition because of its emission-reducing technologies.
Silver lining as STATS Group mark 25th anniversary with 20% revenue growth forecast.

STATS Group will celebrate 25 years in business with an expected 20% rise in revenue and an increase in its headcount to 400 staff.

Read more: https://t.co/RCnRptgdHI pic.twitter.com/tPm8lWnbBn

— STATS Group (@Stats__Group) February 22, 2023
The award-winning company posted revenue of just under £50m for 2021. Yet-to-be published accounts for 2022 are expected to show an increase of about £10m.
Stats revealed in late 2021 it was being acquired by Jersey-headquartered and Australia-listed SRJ Technologies in an all-share deal.
But the takeover collapsed last year, with Stats citing macro, geopolitical and supply chain events as the reason.
Recommended for you

Kintore engineering firm Brimmond marks best ever year