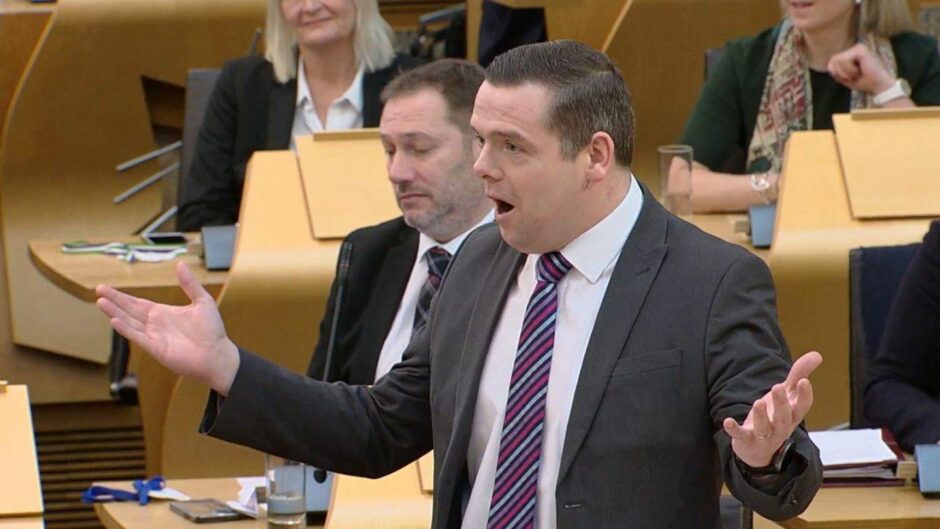 Oil and gas protestors have become a regular fixture disrupting proceedings at the Scottish Parliament – and the Scottish Tory leader has apparently had enough.
Douglas Ross apologised for his "industrial language" after swearing on Wednesday, having been was caught on camera uttering "F**Ks Sake* when protestors shouted from the galley.
The man protesting isn't clearly heard, but the word "Jackdaw" can be picked up – an upcoming central North Sea gas field in development by Shell.
Watch the moment (and the apology) below:
@scotnational

The moment Douglas Ross is caught on microphone at FMQs exclaiming 'f***'s sake' in response to oil and gas protesters disrupting the session 🤭
Douglas Ross then gave an apology for swearing . . .
@holyrooddaily

Douglas Ross says sorry after Scottish Parliament mics picked up his swearing. "To you, the Chamber, and everyone listening – including my mother, probably – I apologise…" #FMQs
Protestors have been busy this week in Scotland – in Stirling they decided to target artefacts owned by Scottish legend William Wallace.
A pair of climate activists smashed the glass encasing the sword of the Scottish national hero.
It happened at around 11.30am on Thursday, when the two demonstrators targeted the display at the Wallace Monument in Stirling.
They are part of 'This is Rigged', a new campaign group that is calling on the Scottish Government to "vocally oppose" all new fossil fuel projects in Scotland.
It is also demanding that funds be freed up to oil and gas workers move into new jobs.
Earlier this year Holyrood declared a "presumption against" new North Sea exploration, though energy remains a matter reserved for the UK Government.