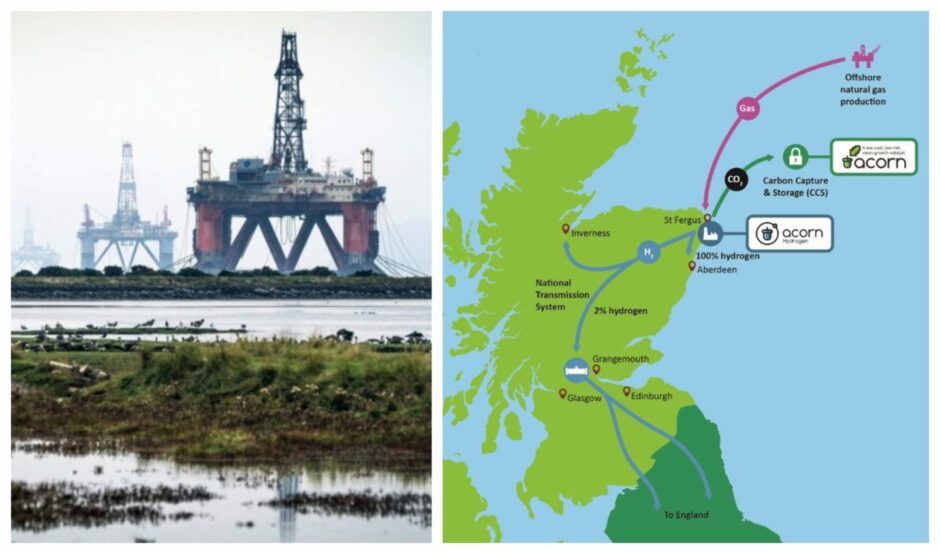 The Acorn Carbon Capture and Storage (CCS) project in Aberdeenshire is a "leading contender" for development in a newly-launched funding round, the UK Government said today.
However details on a timeline for the actual selection and funding award have not been disclosed, meaning the project is not yet any further forward, as part of the UK's "Energy Security Day".
Acorn, at St Fergus in Aberdeenshire, missed out on "Track 1" funding in 2021, which is part of a £1bn package to get the first two clusters up and running, and has long been considered a front runner for "Track 2".
Trade group Scottish CCS said a deadline on the Track 2 bids has been set for April 28.
Nick Cooper, CEO of Storegga, which runs Acorn, said: "We support the Government's drive to move this forward as quickly as possible now, in order to reach the target of 20-30Mt CO2 captured and stored pa by 2030. Acorn, as the reserve cluster, is ready to step up as soon as the Government asks us to do so."
Acorn and Viking CCS
This morning, the UK Government has launched "Track 2" and said Acorn "is one of the two best placed" for funding.
However the "Energy Security Day" plans have provided no detail on when an actual selection will officially be made and funding allocated.
Acorn CCS is expected to create tens of thousands of jobs in construction and operation, storing millions of tonnes of CO2 in empty gas fields under the North Sea.
The news comes amid a package of funding, announced last night, by the UK Government.
However, critics said late last night that the "devil will be found in the detail".
Aberdeen and Grampian Chamber of Commerce policy advisor Fergus Mutch said it would be a "hammer blow to the industry" if a clear timeline isn't unveiled for Acorn CCS.
Last night, Aberdeen South MP Stephen Flynn said: "While the US and EU pump cash into green investment and carbon capture technology, the Tories can't even get their act together on the long promised, yet continually snubbed, Scottish Cluster – this plan is a mere drop in the ocean compared to what's required."
Alongside Acorn "as a leading contender" is Harbour Energy's (LON:HBR) Viking CCS project inm the Humber.
Formerly named V Net Zero, Viking CCS is aimed at capturing emissions from across the south Humber region – the UK's most industrialised area – and storing it in reservoirs at the offshore Viking field.
It is capable of storing 300 million tonnes of CO2.
Professor Stuart Haszeldine, who heads the Scottish CCS group, said: "The Government is trying to ride a green industrial CCS horse and a black oil and gas stallion simultaneously, making this a long overdue start to carbon clean up, but an incomplete carbon transition."
Once it has selected its Track 2 cluster candidates, it must also accelerate their development much faster than Track 1 through assessment and planning because these Track 2 UK investors have already been designing their projects since 2015, then on hold since 2021.
"Attractive CCS opportunities are emerging globally in the USA, Denmark and Norway. The UK is now in a race to keep the best global talent and to grow project numbers fast enough to create world leading industries which can design and supply this new immense offshore opportunity globally."
Oil and gas
The Energy Security Day is designed as a response to the US Government's Inflation Reduction Act (IRA); a huge policy and regulatory package attracting investment in the States for energy transition.
Despite the UK relying on oil and gas for energy security, there are no measures being announced on windfall tax as part of the package.
The UK Government also advised that no decision has yet been taken on Rosebank.
Business leaders have been seeking a price floor on the windfall tax, which would see the levy removed if oil and gas prices fall.
It comes days after it was revealed billions of pounds of investment are being driven out of the UK due to the windfall tax, while the UK spent over £100bn last year importing energy from overseas.
What is in the Energy Security Day plan?
The "multi-billion pound investment in energy revolution" includes measures designed to deliver a "radical shift" from "expensive, foreign fossil fuels" to clean, affordable power.
The venue,thought to be Aberdeen last week, has since been changed from Aberdeen to Hull, and then, finally, to Oxfordshire.
Hundreds of millions of pounds is being made available for floating offshore wind and green hydrogen.
A £160m fund for the former is being launched for port infrastructure projects in support of the technology – though commentators have noted striking similarities to this previously announced fund announced in 2021, and suggested it is the same package.
Other measures include an investment accelerator of £30m for heat pump manufacturing, plans to rebalance gas and electricity costs and speeding up planning approvals for energy infrastructure will also be included, alongside £391m for local electric vehicle infrastructure.
Work will also be discussed on a competition for small modular nuclear reactor technologies, for development in the Autumn.
Green hydrogen for Aberdeenshire and North Scotland
Green hydrogen is meanwhile getting £240m under the "Net Zero Hydrogen Fund", and a £205m budget is being allocated to incentivise renewable electricity under the fifth contracts for difference round.
Several projects have been given funding under the green hydrogen scheme, including London-based Statera Energy, which has announced a huge 3GW hydrogen electrolyser project in Kintore.
The project will use surplus Scottish wind power to create green hydrogen to supply to industrial clusters using existing gas pipelines.
Through "strand 1" of the Net Zero Hydrogen Fund, Kintore Hydrogen will recieve 50% funding for its initial Front End Engineering Design (FEED).
Statera said the FEED study is due to complete in 2024, with the wider project due to investment decision in 2025, and production expected in 2030.
Elsewhere H2 Green's Inverness Hydrogen scheme, to produce up to 10 tonnes of green hydrogen per day, has won a £500,000 grant, and Storegga's Cromarty Firth development has also been selected.
Prime Minister Rishi Sunak said: "When global energy supplies are disrupted and weaponised by the likes of Putin, we have seen household bills soar and economic growth slow around the world.
"We have stepped in to shield people from its worst impacts by helping to pay around half the typical energy bill. But we are also stepping up to power Britain and ensure our energy security in the long term with more affordable, clean energy from Britain, so we can drive down energy prices and grow our economy.
"That's why we're driving forward plans to boost renewables, revive nuclear and build new thriving industries like carbon capture, which will in turn create good jobs across the country, provide new opportunities for British businesses at home and abroad, and maintain our world-leading action to reach net zero."
However, activist group Greenpeace described it as a "piecemeal, re-heated and confusing announcement", appointing to a lack of measures on home insulation and the ban on onshore wind in England.
RenewableUK, whose members have been hit by the Electricity Generators Levy, akin to the windfall tax for oil and gas, also said it "does not go far enough" to attract investment.
Professor John Underhill, Aberdeen University's director for Energy Transition, welcomed the announcement.
"The package of measures in wind and nuclear energy, hydrogen and carbon capture, utilisation and storage (CCUS) that have been announced will collectively help accelerate the Energy Transition by providing green energy, reduce our industrial emissions, and help the UK meet its net zero targets.
"The measures will continue the build out of our renewable energy capability as we seek to reduce our reliance on oil and gas, which provides three-quarters of our current energy needs."
Recommended for you

Gillian Martin 'bitterly disappointed' over lack of Track 2 information