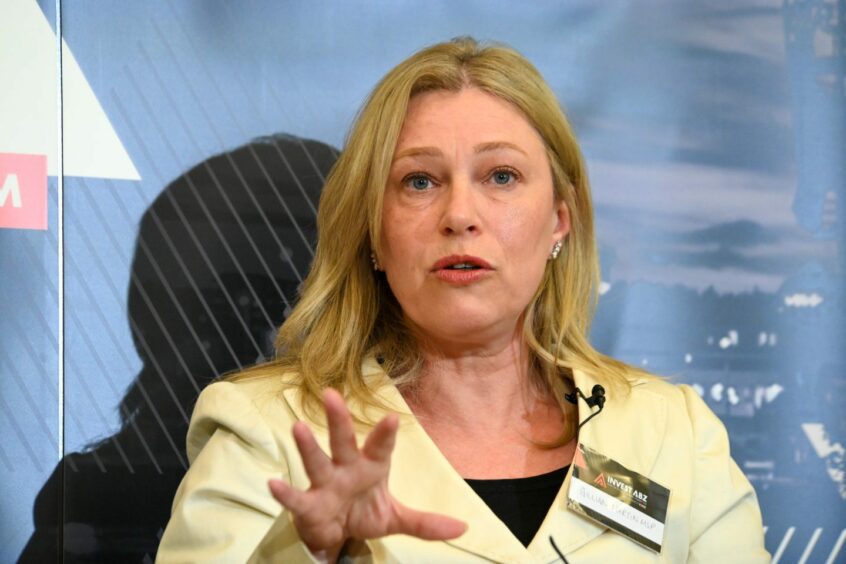 Labour is being "tone deaf" with its plan for no new North Sea oil and gas licensing, said Scottish energy minister Gillian Martin at an Aberdeen event today.
The SNP minister and MSP for Aberdeenshire East told Energy Voice: "I think it's too simplistic. Effectively they're positioning themselves to be the next Government of the UK, which has control over all the licences and all the activity in the North Sea and West of Shetland."
She said Keir Starmer is "really going to have to work on your policy here because it's not as straightforward as that."
This was in response to the controversial statements made by a Labour source in the Sunday Times, which also laid out that the UK would use "existing oil and gas wells over the coming decades".
'Surprised at the lack of nuance in Keir Starmer's statement'
Ms Martin's own Scottish Government policy, through its draft energy transition plan published in January, has a presumption against new North Sea exploration.
Last week Scottish Government cabinet secretary for net zero and just transition, Màiri McAllan, told an Aberdeen and Grampian Chamber of Commerce event that"unlimited extraction of fossil fuels is not consistent with Scotland's ambitious climate obligations."
However, the cabinet member added that "simply stopping all future activity is wrong" and that Labour's policy "could threaten energy security while destroying the very skills we need to transition to the new low-carbon economy."
Speaking on Labour's policy today, Gillian Martin, a north-east native, said: "I was really quite surprised at the lack of nuance in Keir Starmer's statement because he didn't really mention anything about maybe climate compatibility checkpoints or anything around that.
"I would imagine that would make the people in the oil and gas industry feel a little bit uneasy."
This goes without saying as the energy sector has been criticising the comments since they were made public.
Chief executive of Offshore Energies UK has warned this week that Keir Stramer risks "importing the energy transition", and jobs will not be created in the UK.
'Tone Deaf'
Ms Martin said that Aberdeen voters would see the Labour policy as "a little bit tone deaf."
"The north-east has not traditionally been a Labour heartland, and I think that shows."
The energy minister also suggested that labour candidates in the region may resent the statements made by party leaders.
She said: "The prospective candidates may have actually been a little upset about the lack of nuance."
The Holyrood energy minister added that Keir Starmer has shown "how little he knows about the north-east."
Scottish Labour back the North Sea policy
Anas Sarwar's Scottish Labour Party has shown support for its Westminster counterpart's policy, however, it has said it will not pursue a "cliff edge" stop for the sector.
A Scottish Labour spokeswoman said: "Labour will not impose a cliff edge end to oil and gas production while we transform the UK into a clean energy superpower – existing licences will continue and using existing wells sensibly is baked into our plans.
"Labour is committed to a just transition that works for all of our communities – lowering bills for good and creating tens of thousands of skilled, long-term jobs in Scotland and across the UK."
Humza Yousaf says no drilling unless 'good reason to do so'
Despite criticism from the SNP on Labour's energy policy, First Minister Humza Yousaf has recently shared similar views.
At the beginning of the month, the SNP leader told the All Energy event in Glasgow that there should be "no new extraction" of North Sea oil and gas unless there is a "good reason to do so".
Humza Yousaf said there are "a number of different factors" that need to be taken into account when assessing the future of new fields.
Earlier in the year Nicola Sturgeon's government published its draft energy strategy that had also looked at new oil and gas unfavourably.
However, Mr Yousaf stressed that the draft blueprint is just that at this stage, and the consultation on it has just closed, with over 1,500 responses submitted.
Scottish Conservative shadow net zero, energy and transport secretary Liam Kerr MSP commented on Ms Martin's stance: "This is a very cynical piece of posturing by the SNP, who abandoned oil and gas workers more than 18 months ago by coming out against any future developments.
"Now – after seeing the outcry in the North East to Labour's reckless policy of blocking all future drilling – they are trying to wedge a cigarette paper between Keir Starmer's position and theirs.
"The reality is that if the decision on granting licences for new projects was not reserved to Westminster, the SNP would be forced – by their partnership with the Greens – to block every application.
"The public know that only the Scottish Conservatives can be trusted to deliver a just transition to net zero without decimating livelihoods and the economy of the North East, as well as Scotland's energy security."
Recommended for you

Sir Keir Starmer 'no show' in Aberdeen despite promised summer visit