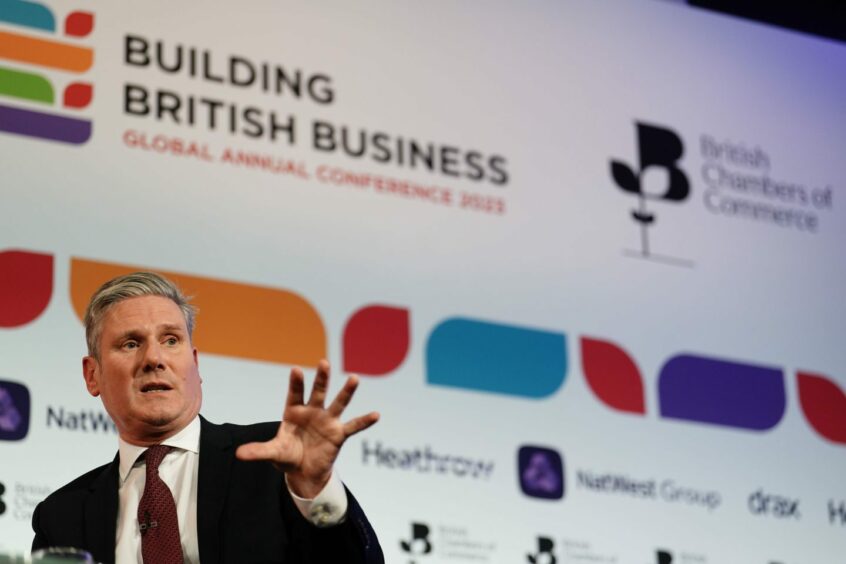 Labour's plan to oppose new North Sea licensing poses a "clear and present danger" to energy security, the industry has warned, as investment confidence drops.
The Sunday Times reports that Labour would oppose "all new North Sea oil and gas developments" and goes on to state this is in relation to granting of new licences.
On the BBC's Good Morning Scotland programme this morning, David Whitehouse, CEO of Offshore Energies UK (OEUK) said the plan risks  "importing the energy transition", and jobs will not be created in the UK.
"Sir Keir Starmer has committed to me that Labour would engage meaningfully with the sector, and I would expect him to fulfull that commitment in the coming days, ahead of any Labour announcement.
"There's deep concern over the announcement we read about yesterday. There's 200,000 workers in this industry, there's 90,000 workers here in Scotland. These are the people who powered the UK for the last 50 years. They have the critical skills we need going forward.
"And if these reports are true, this is no way to treat people and communities across the UK and across Scotland".
When the only ones happy with your policy are #JustStopOil & Putin you may want to flip-flop again @Keir_Starmer

Your plan will mean stalled growth, higher emissions from hydrocarbon imports, British workers jobless and energy insecurity by failing to power Britain from Britain https://t.co/QfDpu3YP7r

— Rt Hon Grant Shapps MP (@grantshapps) May 29, 2023
Mr Whitehouse said that, while the industry supports the energy transition, jobs for workers in renewable sectors aren't available right now, setting out the need for a multi-year journey.
UK energy secretary Grant Shapps said it "will mean stalled growth, higher emissions from hydrocarbon imports, British workers jobless and energy insecurity by failing to power Britain from Britain".
Significant negative investment impact
Elsewhere, an industry source told Energy Voice: "Never mind the future developments, you're impacting investment now, today, which people will feel in the next couple of years.
"That rhetoric, those signals they're sending out are going to have a significant negative impact on investment right now, a clear and present danger for energy security right now, as a result of what they were saying.
"You're massively discouraging oil and gas companies from continuing to invest – in future low carbon developments as well as day to day production."
They also highlighted that oil and gas firms are "supposed to be investing in the low carbon energy developments of the future, and if they don't see any future here,  or just the constant churn, the unreliability of the economic environment, the fiscal instability, they'll simply go elsewhere."
It comes as the industry is already grappling with the windfall tax – which has seen 90% of operators cut spending – and as financiers like BNP Paribas reduce funding to the sector.
Harbour Energy, the UK's largest producer, has cited government policies for its reason for job cuts and not investing in the current North Sea licensing round.
Meanwhile, evidence produced last week by the Aberdeen and Grampian Chamber of Commerce also pointed to operators spending money away from the UK.
No new North Sea licensing under Labour
A Labour source told the Sunday Times that the UK would use "existing oil and gas wells over the coming decades".
But, according to the NSTA, the industry regulator, current reserves in the UK can sustain the industry through to just 2030 without new projects being brought online.
Near-field exploration – drilling 0f new wells close to existing infrastrucutre – has been the main driver of discoveries in recent years, facilitated by new licensing.
In a Sky News interview today, shadow work and pensions secretary Jonathan Ashworth said it is not about "shutting down what's going on at the moment", but rather ensuring current developments are managed "sustainably".
Affordability a greater issue than supply
Speaking later on the Good Morning Scotland programme, Uplift director Tessa Khan disagreed with Mr Whitehouse's characterisation of the policy, noting it would only apply to new oil fields, while existing assets could continue to operate for "many years to come."
Ms Khan said the main issue facing the country was an "energy affordability crisis not an energy supply crisis."
"This is an industry that ultimately is owned by private companies; it's not our oil and gas. We simply don't own it and they will sell it to the highest bidder," she said.
"We export 80% of our oil at the moment. At the height of the gas price crisis last year our gas exports actually spiked and we know that no matter how much we produce domestically it's not going to make a difference to what we pay for it."
She instead made the case instead for a "harder and faster" roll out of renewable energy, which could be "transformative and much more economically important than oil and gas."
"We keep hearing from the oil and gas industry about how they will be the ones to contribute to this transition but the fact is that three-quarters of UK oil and gas companies currently don't invest anything in UK renewables."
Meanwhile, she said Uplift had spoken to oil and gas workers who felt they were getting the support they have asked for to reskill and retrain to be able to move into renewables.
Amid months of strike action from offshore workers, Ms Khan said their conditions "simply aren't good enough, especially given the record profitability" of oil firms.
'There isn't any chance we will become a net exporter again'
The UK currently produces about half of the gas it uses domestically, and is a major importer of gas – and a significant importer of oil – on a net basis for energy security.
"We will be a substantial net importer of both oil and gas – particularly of gas – all the way to 2050," said petroleum economist professor Alex Kemp of Aberdeen University, citing figures from the UK Government's advisors, the Committee on Climate Change.
"The main point is that we would be importing quite a lot of gas and the CO2 content of that import of gas would be higher than the CO2 content of gas produced domestically."
He added: "From an economist's point of view, from my point of view, new field developments should be allowed to go ahead. There isn't any chance that we will become a net exporter again, that's completely out of the question given the decline rates of existing fields.
"The (Labour) statement will have a negative effect on investors' perceptions, investor confidence, and we will get less employment, less taxation from the production if it goes down more quickly than it otherwise would."
According to the Sunday Times, Keir Starmer is due to unveil his energy policy to ban North Sea oil and gas licences during an event in Scotland next month.