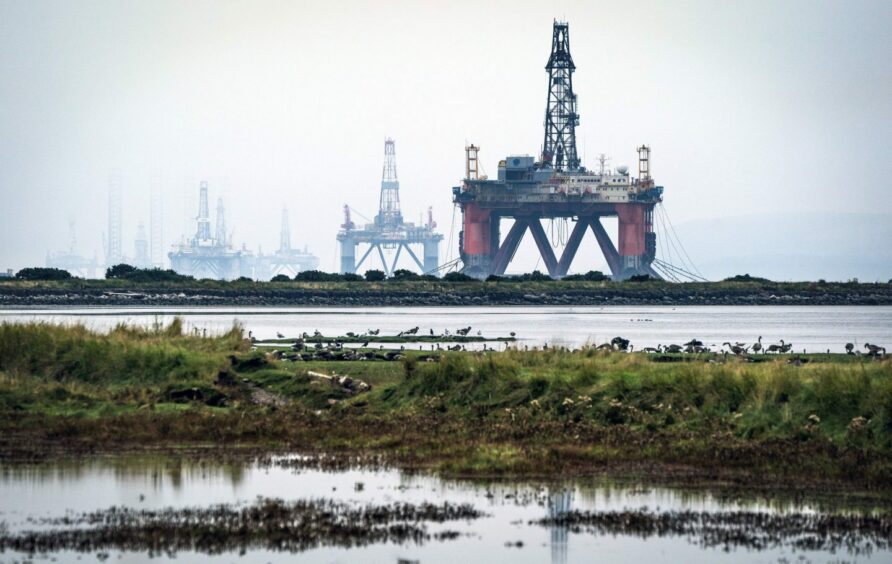 Around £100 billion of North Sea projects are being held up over political uncertainty – while UK oil production hit its lowest in nearly 30 years.
In a new economic report, trade body Offshore Energies UK (OEUK) said around half of a projected £200m spend projected to 2030 – split between oil and gas, CCS, hydrogen and offshore wind – is in doldrums.
Policy support, stable and competitive tax regime and improved planning timelines are "critical", warned the group.
It said that securing private capital will be key to meeting the country's energy needs, with the Office for Budget Responsibility (OBR) warning some £1.4trillion is needed to get to net zero, with £1 trillion of that from private sources.
While the UK has grappled with policies like the windfall tax for oil and gas – and other issues like grid connection for offshore wind – the United States is over a year since unveiling its Inflation Reduction Act package for green investment.
"The UK mustn't just become a good place to do energy business, it must become irresistible," said OEUK CEO David Whitehouse.
North Sea projects in doldrums
"Our Economic Report shows that as the global race for energy investment accelerates, the UK must compete by making the most of its diverse homegrown industry, from oil and gas to offshore wind, hydrogen and carbon capture."
"Globally, this is the lesson other countries have learnt. We must not get left behind."
As well as stability for oil and gas, key enablers like grid connection and port infrastructure were cited for areasc like offshore wind.
OEUK economic report
Much of the delayed spend is in new and low carbon energies, as well as oil and gas.
Policy manager Ross Dornan said 50% of UK energy consumption currently comes from domestic sources, but that may shift to 80% reliance on imports within 10 years without new investment.
Over 180 fields, which produced 45% of UK output last year, are due to shut this decade.
That comes as UK oil production in the first half of 2023 hit its lowest since records began – in 1995 –  and gas the second-lowest.
This year, two fields are expected to be sanctioned while 20 others will be shut down.
"I think we should be concerned about these trends," said Mr Dornan.
"They'll leave us more exposed to imports, and they're really harming the economic contribution of our industry in the future."
OEUK said up £80bn of offshore wind investment, of which its members are helping to develop 13 GW of the offshore wind pipeline capacity by 2030. These projects alone require almost £30bn of private investment
A possible spend of up to £20bn is projected for CCS and hydrogen, and there's £35bn of  potential oil and gas capital investment over the next 10 years, of which about half will go on projects in existing fields and half on new fields.
This is part of wider oil and gas expenditure that could be £90bn through to 2030, according to the group.
However around the £100bn of that is waiting to be sanctioned.
For oil and gas, production could drop more rapidly – to about 15% per year – without new investment, OEUK has previously warned.
Mr Dornan said: "I wouldn't want to put an exact figure on the next year or two right now, but I think we are moving closer to that worse-case scenario at the moment, rather than the better-case scenario.
"I think there are opportunities to manage that in the years to come. The pre-FID pipeline is actually relatively strong compared to what it has been in the last few years, but the challenge is converting that opportunity into an investment decision, and we're not really seeing that happen at the moment.
"If we do see progress in the next few years I think there's a chance to stem the decline a little bit, especially for oil compared to gas, but I think we are looking at forward production declines in the basin now."
Scottish Government Minister for Energy, Gillian Martin said:"OEUK's Economic Report 2023 underlines the vital importance of our energy sector. As Scotland transitions to a net zero economy, we must simultaneously focus on meeting our energy security needs, reducing emissions and – critically – ensuring a just transition for our oil and gas workforce as North Sea resources decline.
"The Scottish Government is wholly focussed on unleashing the economic and energy potential of Scotland's renewables sector while investing £500 million in a Just Transition fund for Aberdeen and the North East to ensure that we fully capitalise on the enormous benefits our energy transition offers."
Recommended for you

Businesses lambast 'historic mistake' as Sunak confirms net-zero policy slide