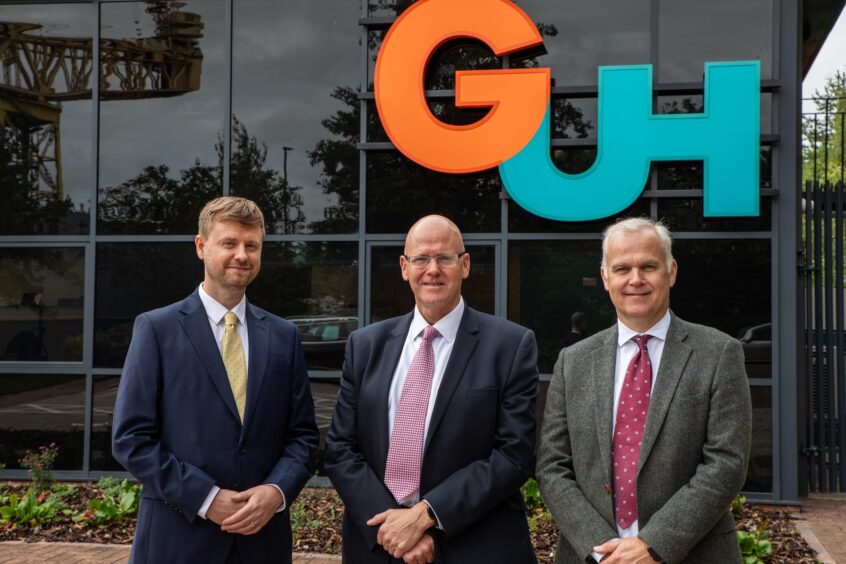 The Global Underwater Hub (GUH) has officially opened its new north England regional office in Newcastle upon Tyne.
The trade and development body, which represents the UK's £8 billion underwater industry, said the inauguration of its new premises marked the next phase in its plans to support the growth of the "world-leading" sector.
With funding assistance from UK and Scottish governments, the base will serve as a hub for GUH's members across the north of England.
Featuring a dedicated event space, the building will bring together companies working across the oil and gas, offshore energy, defence and subsea cable sectors in the region, and further afield, to enable collaboration and facilitate the exchange of ideas and technology across the sectors.
The group announced plans for two new locations in Newcastle and Bristol earlier this year, adding to its existing HQ space in Westhill, Aberdeen.
As part of this expansion, Ricci Boston joined the organisation as its regional manager for the North of England.
Mr Boston said the Newcastle base was not a new location; but "a statement of our commitment to improving opportunities for the underwater industry, and all those businesses and organisations connected to it, in the north."
"From Merseyside, The Humber and up to the Scottish Borders, I'm looking forward to helping our members and partners drive innovation, foster connections, and open doors to new opportunities. It's a great time to become a part of the GUH journey," he added.
Global influence
The office is also expected to welcome overseas trade delegations, helping cultivate global relationships.
Over the past year, GUH has hosted groups from Barbados, China, Estonia, France, Latvia and Lithuania to learn about the knowledge, technology and expertise possessed by UK companies working across the underwater supply chain.
The "northern hub" will allow the trade body to provide regional members with access to market intelligence and business growth support to enable the companies to capitalise on opportunities.
GUH chief executive Neil Gordon said: "Opening our Newcastle office is a vital part of GUH's vision for the future of the underwater industry.
"By establishing our presence here, we are strategically located to champion and connect underwater businesses across the UK to ensure that the country remains at the forefront of the industry and creates a robust and transparent supply chain that leads the world and others can learn from.
"It's an exciting milestone for GUH and we're looking forward to meeting new faces from the underwater sector to support them along their growth trajectory."
The opening event saw industry and regional leaders come together to find out more about GUH and how it will benefit the region. There was a technology demonstration from SMD featuring its latest development, SMD Horizon, which enables remote controlling of autonomous vehicles from any device with an internet connection.
SMD has been a member of the Global Underwater Hub and its predecessor for 18 years. Mike Jones, chair at SMD, said: "This is a huge achievement for the region. The North has a long track record of spearheading developments within underwater technology and this hub will help accelerate this even further.
"There are a lot of challenges within the underwater industry as we transition but by coming together via GUH we will have a stronger industry voice and better access to intelligence so we can remain ahead of the game.
"We're looking forward to using the hub's facilities, connecting with like-minded businesses, and working on groundbreaking projects to help our industry continue to thrive in the north."
GUH said it also intends to work with regional partners to help drive local community interest in science, technology, engineering, and mathematics.
Newcastle City Council leader Nick Kemp added: "The north east is fast becoming an epicentre of sustainable, clean technology and renewable energy.
"With our ports – both in Blyth and the Tyne – the hub is another reminder of how important the north east is when it comes to leading the way in developing innovative underwater technology and cutting-edge solutions for modern businesses."
Recommended for you

Royal opening for £420m Port of Aberdeen expansion