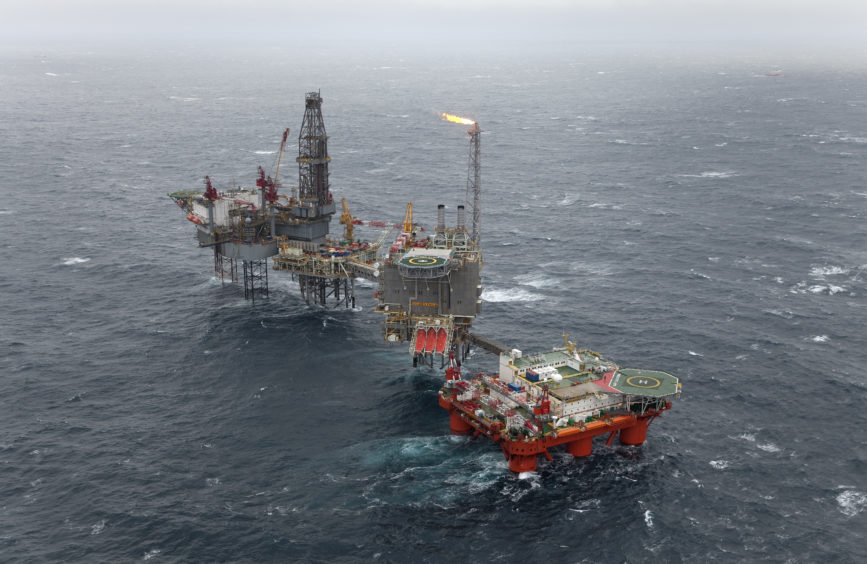 NEO Energy, the UK North Sea's fifth-largest producer, has reported a huge boost to its production and profits.
The Aberdeen-headquartered firm, owned by Norwegian private equity house HitecVision, has given a glimpse of its finances in consolidated group accounts just published on Companies House.
After a spate of acquisitions and a year of high oil and gas prices, it saw production and profits more than double during 2022, while revenues skyrocketed.
After tax, profits climbed from $455.9m in 2021 to $940.1m in the year to December 31, 2022, on revenues of $3.6bn – more than four-times that of 2021's $878.9m.
Production climbed from 32,359 barrels of oil equivalent per day in 2021 to 80,999 in 2022.
That's after a full year of production from portfolios taken acquired from ExxonMobil and Zennor Petroleum in 2021.
It also includes several months from an acquisition of JX Nippon's assets in March 2022.
NEO's 18% stake in TotalEnergies' Culzean asset, which it acquired via the JX Nippon deal, was its biggest producer, contributing 16,307 barrels of oil equivalent per day to NEO.
That's followed by Shearwater (13,259/d to NEO) and Finlaggan (10,624/d).
Based at Aberdeen's Silver Fin building, NEO said it had an average of 204 employees through the year.
Tax, debt and spending
Before tax, NEO's profits were $2.8bn, up from $540.5m the prior year,  but an income tax figure of $1.9bn brought down the post-tax results to $940.1m.
NEO's tax figure includes the energy profits levy – windfall tax – in the UK. That includes a "current tax" figure of $320.1m for 2022, plus a recognition of deferred liability on the EPL of $956m.
Meanwhile net debt has increased due to borrowing, increasing from $1bn in 2021 to $1.71bn as of Dec 2022.
It comes amid a series of spending programmes for NEO in the UK, with capex climbing to $389.9m, up from $92.2m the prior year.
Penguins problems
Significant activity during the year included work to develop the Shell-operated Penguins project, which NEO holds a 50% interest in.
In the accounts, published last week but signed in March, NEO said it expects Penguins to reach first production during 2023.
Shell said in July that the FPSO isn't likely to head to the North Sea before 2024. It was then revealed in September that Penguins had faced issues over legacy brownfield infrastructure for the redevelopment.
NEO, meanwhile, said it has already given ExxonMobil $37.5m which was only payable if first oil cargo is offloaded during 2023 – as management "expects the Penguins redevelopment to complete before 31 December 2023".
Western Isles and other activity
Other spending has included life extension activities at the Quad 15 area to 2026 and sanctioning of a third well at the Finlaggan field.
CNOOC's Golden Eagle, which NEO holds 31.56% in, had two more subsea wells sanctioned in 2022. The first, which spudded in Q3 2022 did not locate reservoir quality sands so was plugged and abandoned. NEO said the second was drilling (as of March when the accounts were signed).
A new well – Gannet B – was brought online at Shell's Gannet cluster during the year, and another was sanctioned – Gannet F – with drilling in H1 2023. NEO holds a 50% stake.
NEO also recently received the green light for its Affleck North Sea redevelopment.
The accounts meanwhile revealed it took an impairment charge of $77.3m over the Dana Petroleum operated Western Isles field, which NEO holds 23.08% in.
"This was driven primarily by a reduction to the expected life of the field," it said.
Earlier this year, Dana Petroleum set a production end date for the field "on or around" March 21, 2024.
That's despite it starting up in 2017 with a 15-year field life; the reasons for the early shutdown aren't known.
There may be a reuse option for the FPSO, which has a 20-year design life.
Recommended for you

Shell threatens lawsuit over Greenpeace North Sea vessel protest