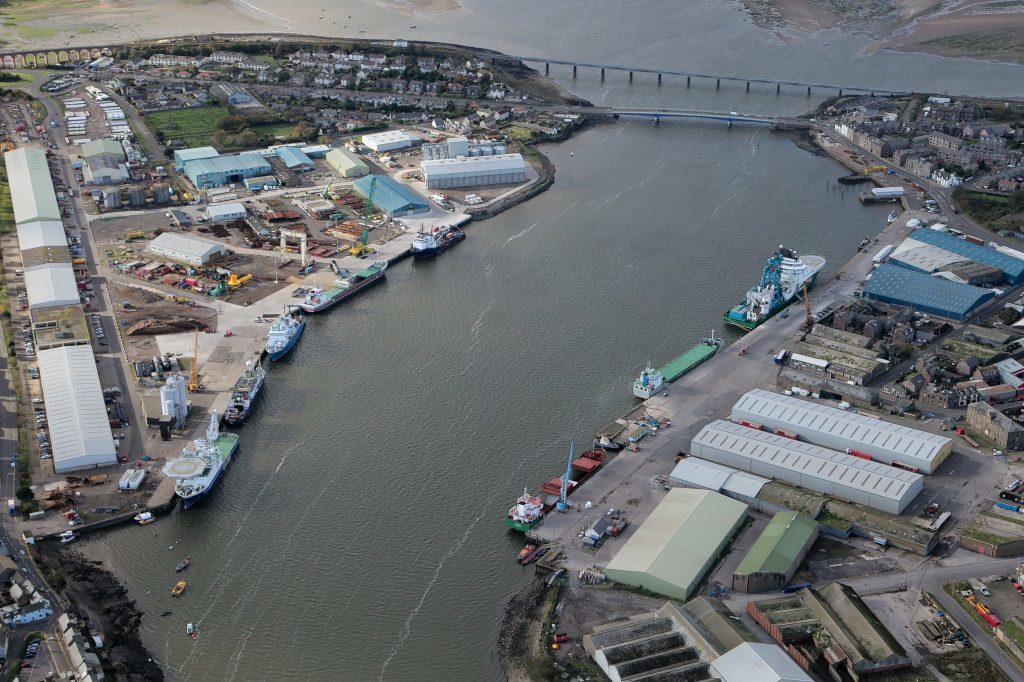 The port of Montrose might not leap out as the most obvious choice of facility for decommissioning work.
The port is well sheltered and within a mile of open sea, but access is through a fairly narrow channel which can accommodate oil and gas support ships and cargo vessels, but nothing significantly larger.
The roads leading into the Angus town are mostly winding and narrow, which is not ideal for transporting heavy kit.
But the harbour has a reputation for being a cost-effective, east coast alternative for vessels.
It supports a wide range of industries, including timber, grain, scrap, fertiliser and oil field support services − and its bosses have ambitious plans for renewables.
They also believe they can make hay while the North Sea is in its twilight.
Nik Scott-Gray, chief executive of the Montrose Port Authority (MPA), said: "We hope to develop our decommissioning capabilities.
"We already have a track record for handling heavy indivisible loads, and that's part of what we are looking at for the business."
Like many of the ports on Scotland's east coast, Montrose has put thought into figuring out exactly where it fits in the market.
"It is difficult to understand all the processes operators have to go through long before they pick a port," Mr Scott-Gray said.
"If companies take a topside away in one piece it can't come here. That's not for us.
"But we can do a lot of piecemeal work. Parts will come into the port on platform supply vessels to be broken down into smaller bits.
"That's where we want to feature. It's about having the land available when the projects start."
The port has benefitted from major investment in recent years.
More than £15million has been invested since 2012, with the cash going towards upgrades to quays on both the north and south sides of the harbour, and the installation of heavy lift pads.
In all, Montrose has about 1,000 metres of quayside, 30 acres of open ground for storage or fabrication, up to 425,000 square feet of warehousing, and a waste oil processing facility.
MPA is now looking into replacing another 300 metres of quayside on the north side.
"That quayside was built in the 1920s," Mr Scott-Gray said. "At the time it was good quality, but now ships and machinery are so much bigger.
"We will continue to spend money on our infrastructure. The port has been here for hundreds of years so when we're investing we take a long term view to future-proof the port.
"How deep do we want the berths to be? On the south quay we have berthing space with up to 8 metre depths.
"In 50 years' time, will oil and gas still be as strong? Well, we will still have our cargo business and will need space for fertilizer."
Montrose would benefit from better road access and Mr Scott-Gray is keen to see a Tayside region deal come to fruition.
He will also be pleased to see other ports on the east coast push the button on investments, including Aberdeen's £415million Nigg Bay development, in hope of seeing more work flow into Montrose.
Mr Scott-Gray added: "We have grown because of activity levels in Aberdeen. We do get business in our own right, but hopefully they will make an investment that will drive activity and we can pick up business on the back of that."
The series so far:
Turf wars and the North Sea's next 30 years
Lerwick confident experience will tell in hunt for new work
Aberdeen harbour sees supply chain as its 'strong suit'
Gap between P&A and platform removal full of opportunities
Recommended for you

NorthLink ferries to plug into Port of Aberdeen's carbon-busting mission