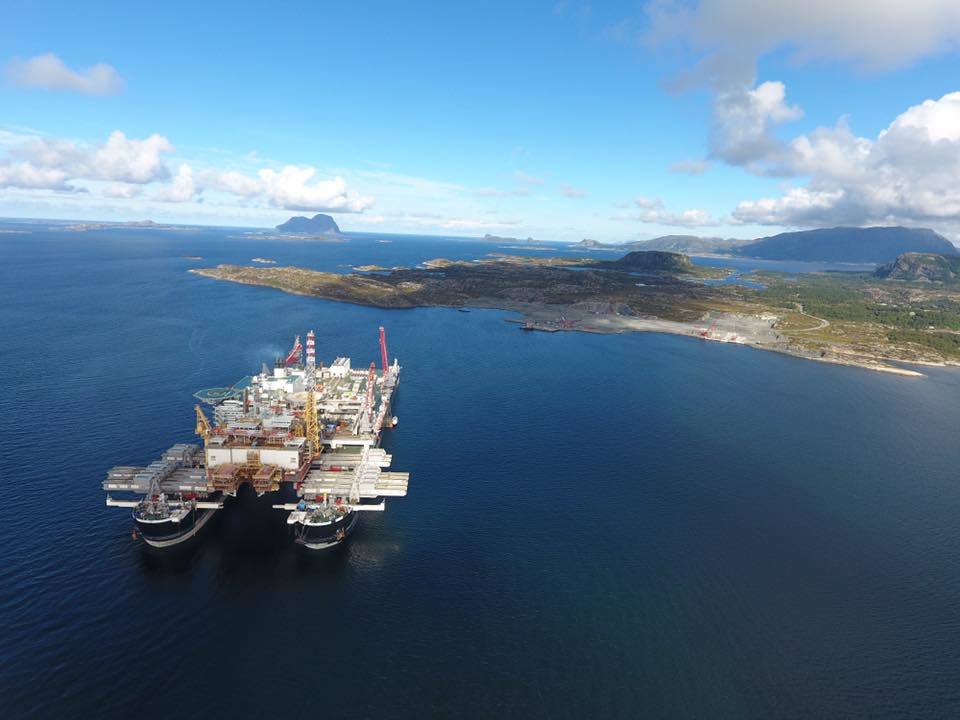 The sight of a 14,000 tonne topside on the Norwegian island of Lutelandet is slightly surreal.
The picturesque surroundings do not suggest there is much by way of a bustling oil and gas supply chain near the island, 95 kilometres up the coast from Bergen.
But the arrival of the Yme platform could be the start of an influx of similar projects at Lutelandet, whose bosses say the site has sufficient capacity to meet all North Sea decommissioning demand for the next five years.
Yme's delivery to the island in August was a groundbreaking moment for the North Sea.
The job was the maiden single lift for Allseas' giant, twin-hulled Pioneering Spirit vessel, which has been booked to transport Shell's Brent Delta to Teesside, where it will be dismantled at Able UK's site.
The vessel picked up the Yme platform, which is 72metres in length and 87metres high, in one fell swoop before taking it to Lutelandet.
The structure was placed on the quayside via a barge transfer and is now being dismantled on site by resource management firm Veolia.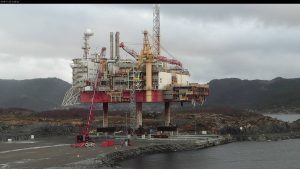 Lutelandet Offshore (LLOF), the company responsible for developing and operating the base, expects single lift to be the preferred decommissioning method and is planning accordingly.
The site already has an advantage over UK competitors. It has water depths of 35metres in close proximity to the transfer location, providing easier access for ultra-heavy-lift vessels, while quay 1 has a depth of about 20metres alongside.
And last month LLOF signed a collaboration agreement with Dutch firm Mammoet, which will provide manpower and equipment for heavy lifting and transportation.
Plans are also afoot to expand the vast site, which offers up to 1.4million square metres of space, and add new facilities.
Perhaps the most innovative item on the wish list is a "finger peer" that would allow the Pioneering Spirit to directly place entire topsides on the quayside without the need for a barge transfer, a process which adds costs and risk.
LLOF chief executive Tor Gjertsen said the expansion project had a construction time of about two years.
He said LLOF is trying to work out how to pay for the project, and to gauge when the right time would be to go ahead with it.
"There's always a timing issue," Mr Gjertsen said. "The market has been very unpredictable in relation to volume and numbers so we need to build a business case.
"We have a good dialogue with Allseas. We know the capacity of their vessels so it's easy for us to develop something, but it's about the timing. Is now the right time?"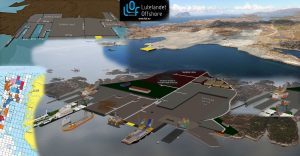 Though the decision is pending, Mr Gjertsen still aims to attract a range of decommissioning jobs, including single lift, reverse installation and piece small.
The construction of offshore installations, including wind turbines, is another revenue stream LLOF wants to exploit.
Its bosses do not wish to place all of their eggs in the decommissioning basket, as they expect the market to be highly competitive.
Mr Gjertsen said: "Our site has enough capacity to carry out all North Sea decommissioning projects for the next five years, but we know there are different players and suppliers in the market.
"It is always healthy for customers who need decommissioning services to have more players to choose from. I think that will keep the decommissioning market healthy in relation to competition.
"But it will be interesting to see if we can get more single lift topsides onshore because I think it's quite obvious we've got an advantage due to the scale of our site.
"If you compare us with other sites in the UK, such as Lerwick, Able and Yarmouth, it's hard for them.
"It will be interesting to see how Able will resolve the Brent topside single lift."
The series so far:
Turf wars and the North Sea's next 30 years
Lerwick confident experience will tell in hunt for new work
Aberdeen harbour sees supply chain as its 'strong suit'
Gap between P&A and platform removal full of opportunities
Montrose to punch above its weight in decommissioning market
New simulator to 'massively reduce' well decommissioning costs
Dundee strives to shape the market by investing early
Harland & Wolff banks on 'Holy Grail' of decommissioning
Able Seaton tells other UK ports to think hard before investing in decommissioning
The complexities of decommissioning tax relief – Derek Leith
Recommended for you

Petrofac considering bringing FPSO from overseas to UK for decommissioning