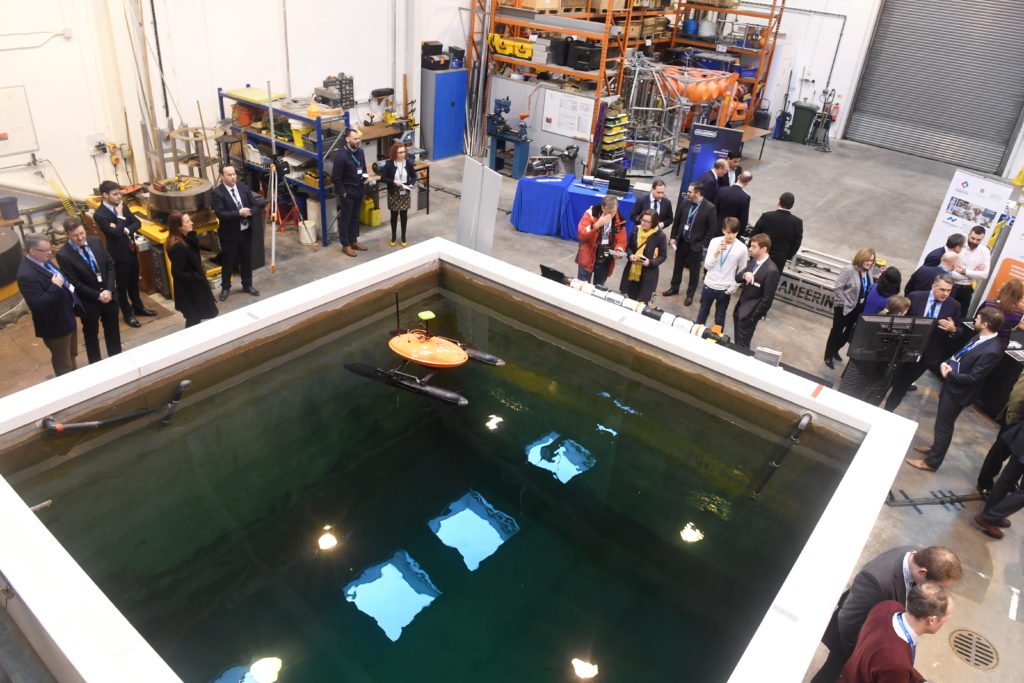 A new research base with the tools to transform the UK into a global leader in oilfield demolition has opened in a tiny Aberdeenshire village.
The National Decommissioning Centre (NDC) was unveiled by excited ministers at a souped-up version of the former Oceanlab test facility in Newburgh.
Supported by the Aberdeen City Region Deal, the Oil and Gas Technology Centre (OGTC) and Aberdeen University have joined forces to launch the £38million initiative.
Its creation fulfils a key proposal from the UK oil and gas industry's application for a sector deal.
NDC bosses hope to turn the mammoth engineering challenge of North Sea decommissioning into a "competitive advantage" for Britain.
Disposing of UK North Sea infrastructure is expected to cost almost £60 billion, and taxpayers will have to cover nearly half of that expense.
As the North Sea is the world's most mature oil region, its infrastructure will have to be scrapped earlier than in other petrol producing nations. About 100 platforms must be retired in the next decade.
It means there are plenty of opportunities to develop technology that can take the sting out of costs.
Regulators have set a target of slashing the UK's bill by 35%, to below £40bn.
If the UK can perfect the art of decommissioning, its skills and products will be in hot demand worldwide.
More than £80bn will be spent globally on decommissioning in just the next 10 years, so the prize is huge.
Much of the technology envisioned by the centre will also have applications in other sectors, such as renewables.
The partnership hopes to generate a return of £12bn on the £38m investment by increasing exports and lowering costs.
To help with the task, the facility is kitted out with an array of contraptions, including one of the UK's most high-powered lasers for cutting steel underwater.
It has a chamber for testing materials at extreme temperatures of up to 180C, and as low as -40C.
And it boasts a hyperbaric test vessel that can simulate ocean conditions found at depths in excess of 21,000 ft.
Several projects are already underway at the centre, which is in "advanced discussions" to attract several "anchor partners" from industry.
Launching the centre, Scottish Energy Minister Paul Wheelhouse said the "eyes of the world" would be watching how decommissioning is carried out in the UK.
Lord Duncan, UK Government Minister for Scotland, described the NDC as a "real and tangible benefit" of the city region deal.
OGTC chief executive Colette Cohen said: "Decommissioning is not tomorrow's problem. It's today's opportunity. We need to embrace that or we won't realise the 35% cost reduction. This can be a massive global export opportunity. If we achieve the 35%, just think what we can bring to rest of world."
Aberdeen University principal George Boyne added: "We have the expertise to be an international centre that everyone wants to come to. It will attract business and investment, giving us the economic future we all deserve."
Oil industry doyen Sir Ian Wood hailed the new centre as a vehicle for driving innovation, reducing costs and anchoring jobs in the north-east.
Sir Ian also described the investment as another step in the north-east's transformation "from oil and gas to wider energy technology and activities".
Labour energy spokesman Lewis Macdonald said the facility would play a key role in finding new technologies that create jobs and keep oilfields producing for longer.
The centre's success will ultimately be measured in the share of decommissioning work which comes to UK companies, he said.
But Dick Winchester, who is on the Scottish Government's energy advisor board, said he was "mystified" by the initiative and questioned whether its impact could be accurately judged.
In decommissioning, the big bucks are to be made from heavy-lift vessels which bring oil platforms ashore, Mr Winchester said.
"Those vessels are what's needed for this business," he said. "I just can't see this centre generating a sizeable income."