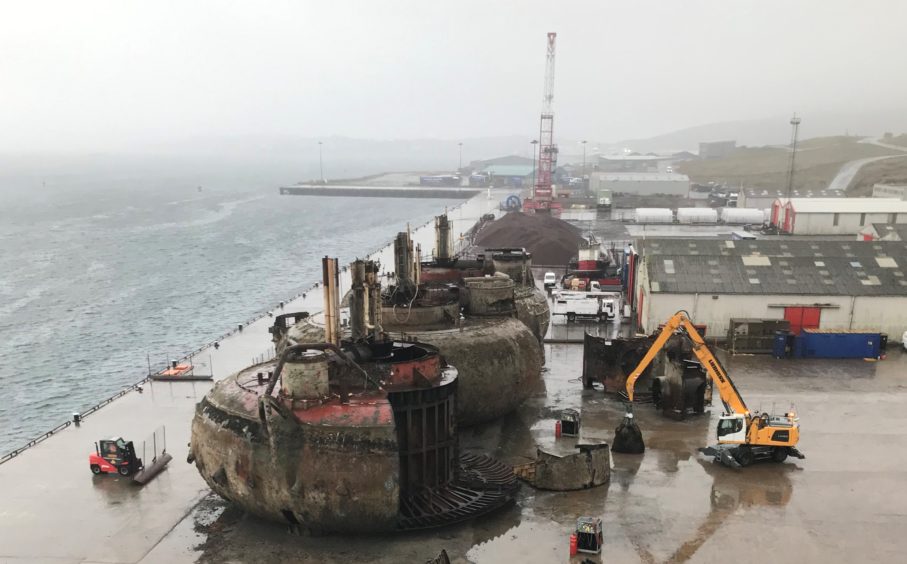 The remains of the Buchan Alpha oil platform have now been broken down and sent for recycling, completing the final stage of the long-running project.
John Lawrie Decom, headquartered in Aberdeen, has processed 2,841 tonnes of steel from the pontoons and associated steelworks in Shetland. The work took 37 days and 1,628 manhours.
John Lawrie said it achieved a 100% recycle rate with no lost time or environmental incidents.
The Buchan Alpha, first delivered to Shetland in August 2017, has had something of a chequered history in its decommissioning.
After the main platform was decommissioned, the substructure (including the huge pontoons) attached to Dales Voe, broke off in a storm and became a local "eyesore".
It was in August last year that Ocean Kinetics, who had been awarded a contract worth more than £1million to remove it, celebrated completion of the work.
However the following month, video emerged of the decommissioning job which union bosses slammed as "dangerous".
The night-time footage showed a worker, blowtorch in hand, running to safety after the structure he was standing on and cutting into became detached and off-balance while in the water.
Ocean Kinetics said "while the footage looks dramatic" the outcome was considered a possibility and "safely carried out".
The same firm subcontracted John Lawrie to break down the huge pontoons, weighing hundreds of tonnes each.
Managing director of John Lawrie Decom, Dave Weston, said: "We are delighted to have been part of the final stages of this project, with our local facilities in Shetland being utilised to process all the waste metal.
"The team have done a superb job; this is another example of how having an experienced specialist metal downsizing crew working together with a clear understanding of what is to be achieved can ensure minimal disruption and maximum benefit for all parties."