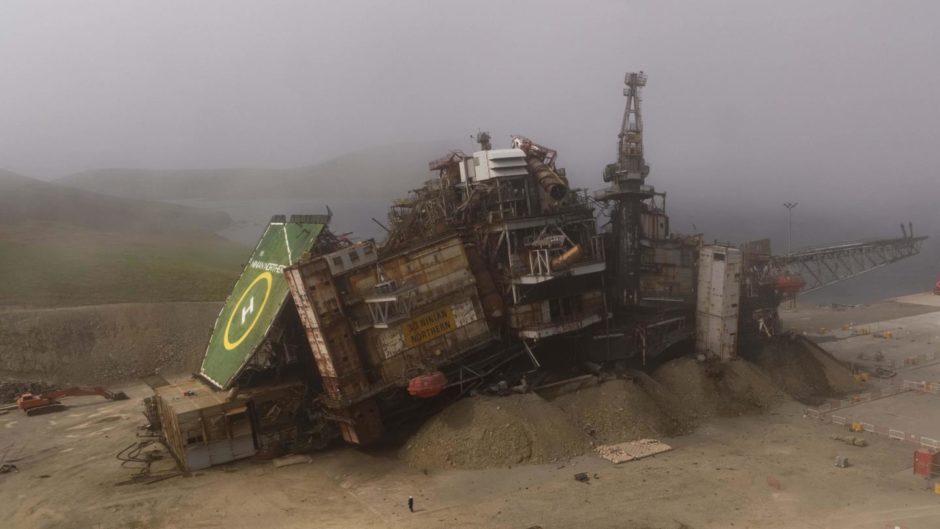 A trade union boss has said the Ninian Northern platform, which had its legs blown off as part of a decommissioning project, now looks "really scary" and at risk of "falling over at any time".
RMT regional organiser Jake Molloy said he wouldn't want to be "within 100 feet" of Ninian Northern, which is resting on top of mounds of earth at the Dales Voe base in Shetland following the blast.
Veolia, a waste, water and energy management services firm which is managing the project, defended its approach and described the explosives operation as an example of "meticulous planning and execution".
A spokesman for Veolia said nine months of preparation with stakeholders — including the Health and Safety Executive, NatureScot, Lerwick Port Authority and the Scottish Environment Protection Agency — had gone into the "complex operation".
The company said it removed the 100ft-tall legs to "reduce the need for personnel working at higher levels and use of high capacity cranes", as well as lessening "exposure" during bad weather.
Mr Molloy said: "It looks to be in a precarious situation. It looks like it has split in two places, with the helideck and accommodation unit hanging over on one side and the flare stack on the other.
"When I saw the pictures, I thought, 'my god, how are you going to get onto that installation to safely do the destruct side of it?'.
"It just does not look like it has landed the way that was anticipated. I'm pretty sure you wouldn't want the structure splitting the way it has."
Mr Molloy said he would have "real concerns" if contractors were considering putting anyone onto Ninian Northern to remove parts of the platform.
He said: "I hope I'm wrong. I hope they've got some innovative way of using remote gas axes on the end of an electronic arm to do the work without putting anybody at risk.
"I just don't see how. I've never seen such a piece of kit, but if the technology exists, great, then get on with it."
Veolia's spokesman said: "By bringing the topside nearer to ground level, we have eliminated, and designed out, over 90% of working at height exposure for the site team, and will make use of remote machine work using Veolia's specialist demolition plant and equipment."
Mr Molloy said he would "love to see" the remote machinery in action.
A decommissioning industry expert, who asked not to be identified, said demolition was a "messy" business.
But he said that Ninian Northern "doesn't look right" following the operation and that the dismantling task now looks "much more complex than it was" before the legs were removed.
He said: "I'm not too sure it went exactly as planned as there are all sorts of things that look unstable.
"The real issue is, 'what next?' It looks like they will need long-reach shears to get to things safely, but there aren't many in the UK and they need booking way ahead of schedule."
Ninian Northern arrived at Dales Voe in August 2020 for dismantling by Veolia, which plans to recycle 97% of the materials.
The structure used to serve Canadian operator CNR International's Ninian field, 100 miles north-east of Shetland.