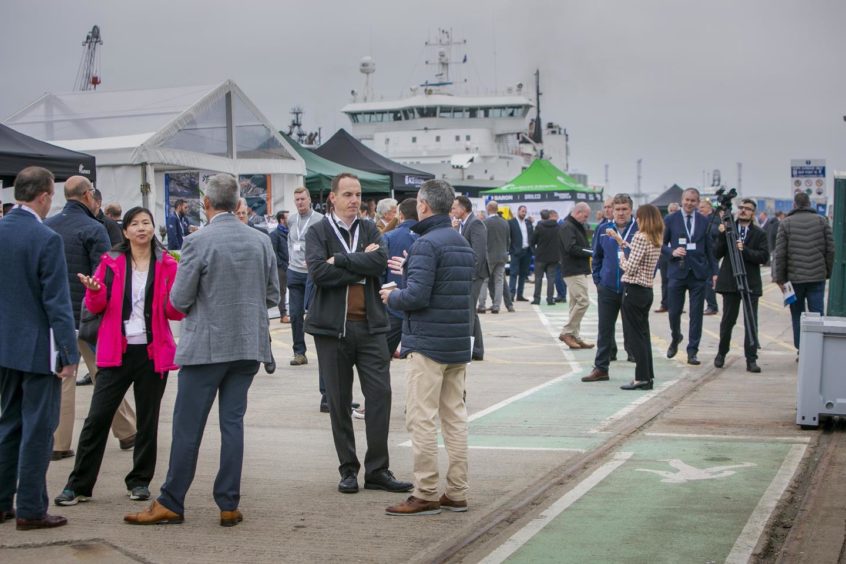 Decommissioning offers an "exciting" growth area for oil and gas at a time when much of the industry is in decline, according to a leading market analyst.
Will Rowley said the next few years are "looking good" for the decommissioning sector, both in the North Sea and internationally.
He was speaking at the opening day of Decom Live at Aberdeen Harbour on Thursday.
Organised by Decom North Sea (DNS), the two-day, in person event allows companies to network and share "ideas and good practice" in the late life and decommissioning sector.
A recent report published by industry regulator the Oil and Gas Authority (OGA) found that £420 million less was spent retiring assets in the UK in 2020 than had been forecast the prior year.
That drop was primarily put down to Covid and projects being deferred.
However, spend is forecast to "rebound and increase" in 2021-2024, reaching a peak of more than £1.8 billion in 2022.
Mr Rowley, who was, until relatively recently, interim managing director at DNS, said: "A report came out a few days ago from BP which reinforces the whole idea that oil and gas is a declining sector that's going backwards. What they really mean is that there isn't a lot of new stuff coming.
"But from a late life and decommissioning point of view, it's now the expanding part of the whole industry. As a separate part of the life cycle, we're actually the growth part and that's exciting.
"That's backed up by the volume of activity we're seeing. Next year will be a bit better than 2021, but 2023 and 2024 are looking good here in the North Sea and very good elsewhere as well.
"There's a positive message to show there's actually growth opportunities, locally and internationally."
The prospect of decommissioning spend in the not too distant future will come as welcome news for much of the industry.
Deferrals to North Sea work in recent times has put increasing pressure on the supply chain, which was only just getting back on its feet after the previous downturn.
On what can be done to ensure the north-east feels the benefit of the decommissioning boom, Mr Rowley said: "We've got to take on the lessons we've all learnt over the last few years about how we all communicate, cooperate and collaborate.
"We can't just go back to working the same way as an industry that we did three of four years ago. There isn't enough money, there isn't enough margin and there aren't enough people.
"If we're going to make sure we have profitable businesses and that we maximise the resources we've got, both in terms of physical equipment and people, learning from the past is really going to make a difference.
He added: "We run the risk of having supply crunches in a few years time if we don't think about things now. There's an opportunity, but we need to think about how we maximise it."
Reflecting on Decom Live, Mr Rowley said: "To have everyone here and a degree of normality is so important to remind us that we do have work to do in terms of networking and connectivity."
Among the companies in attendance at Decom Live, which wraps up today, are Bilfinger, Boskalis and Schlumberger.
It is one of the first industry events to take place in-person in Aberdeen in more than a year, with Covid putting a halt to large gatherings in recent times.
Dawn Robertson, vice-chairwoman at DNS and global strategic sales director, global services, for Bureau Veritas Marine & Offshore, said: "The feedback from everyone here has been so positive. They're so pleased to be getting out, socialising and re-establishing networks.
"A lot of people have said that, since the start of the pandemic, things have become very formal because everything has to be done online so it's great to get back out."
Jinda Nelson, chairwoman at DNS and decommissioning development manager at Bilfinger Salamis, added: "There's been a lot of change since lockdown began. The industry has changed and the world has changed.
"A lot of people are here today to learn about what's actually happening in the marketplace, to find out what opportunities there are and to network."
She added: "People are inspired to know that decommissioning is a market where you're actually seeing growth – it's one of the few in the industry."
Recommended for you

Decom liabilities: how do they work? and what's the bearing on North Sea M&A?