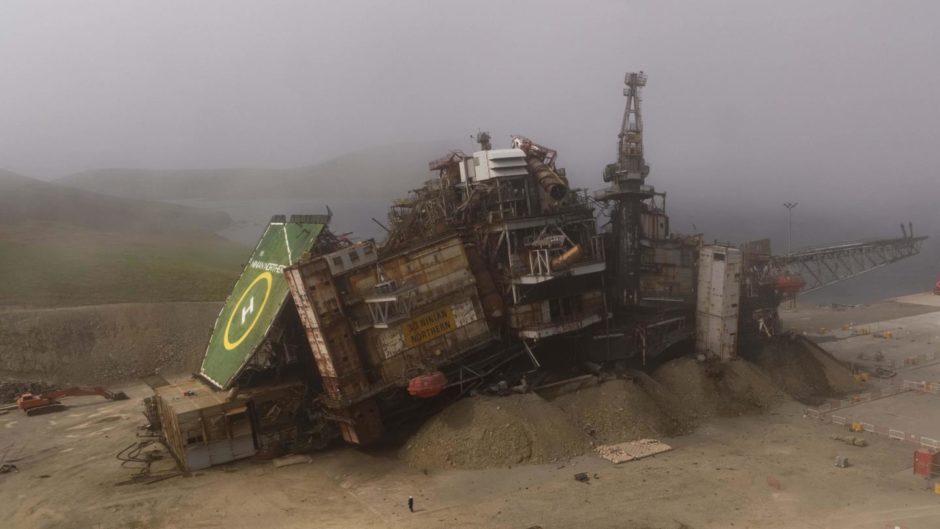 The managing director of CNR International UK has pointed to a controlled explosion at the Ninian Northern in Shetland, which raised safety concerns earlier this year, as a decommissioning "innovation".
Speaking at the Oil and Gas UK (OGUK) decommissioning conference at St Andrews, David Whitehouse hit back at those who questioned the operation earlier this year, and used it as an example of improving efficiencies in removing and breaking down oil and gas platforms
In June a controlled explosion brought down the Ninian Northern legs at Dales Voe, leaving it in what some described as a precarious position, though HSE said the operation went as planned.
RMT regional organiser Jake Molloy said Ninian Northern looked at risk of "falling over at any time" and that he wouldn't want to go "within 100 feet" of it.
Mr Whitehouse defended the operation, and said that supply chain innovations of this type are needed by the decommissioning community.
"Up at Shetland at Dales Voe, we've got the Ninian North platform. Effectively, that platform, once you get it on land it's still sitting 100feet up in the air. With a controlled explosion we brought that platform down and basically demolished it.
"We had quite a lot of people saying 'gosh that doesn't look safe, that's the wrong thing to do'. But in truth, what the team there did is they took an activity and they turned it into an industrial demolition activity.
"Totally safe, no one went near it and it's that kind of innovation…pieces that are less risky, turn them into industrialised processes and it will drive an immense amount of efficiencies."
Updated: Ninian Northern platform has legs blown off at yard in Shetland
Mr Whitehouse was speaking on the panel on Tuesday about work still needed to be done to improve North Sea decommissioning, including aggregating work through mutli-operator campaigns and industrialising simpler parts of the decom process, such as the Ninian Northern example.
Platforms to be shut down sooner than expected
He was also asked about the impact of the North Sea Transition Deal (NSTD) on the overall decom process in the North Sea.
The deal, signed with industry earlier this year, commits the North Sea to emissions reductions of 10% by 2025, 25% by 2027, and 50% by 2030 ahead of becoming a net zero basin by 2050.
What that will mean in reality, Mr Whitehouse said, is that some installations will be decommissioned sooner than expected in order to meet the targets.
He said: "I think the NSTD is a really important milestone for us in the industry. I think it's absolutely right that we set aggressive targets to reduce our emissions, it's exactly the right thing to do.
"I think, in reality, the consequences for us as a decommissioning community…I think we will strive over the next number of years to reduce our emissions. I think the targets that are set are aggressive. They'll be achieved through some cessation of production and through a number of key hubs which we'll find alternative ways to power.
"There's no way you can get beyond 50% reduction in emissions… you can't achieve that simply through operational changes. That's got to come through significant projects.
"So in terms of what that means for us in the decommissioning community. My own view would be is there'll be a number of hubs which actually, in reality, will come to cessation of production somewhat earlier than previously we had.
"I think that's true, I think we will see some additional activity in the next number of years. I think that will happen. I think you'll also see, though, there is a fantastic opportunity for re-use and repurposing of our assets."