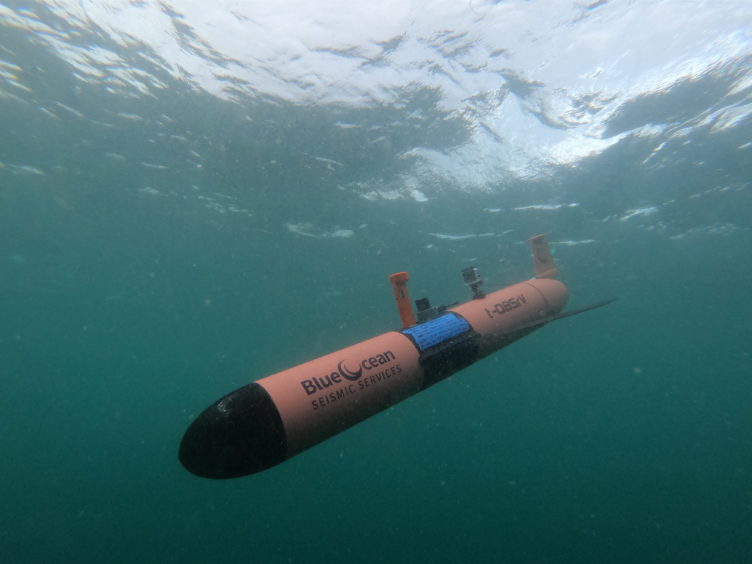 Following the completion of tests in Australia, Blue Ocean Seismic Services (BOSS) is preparing to carry out work in the North Sea in June.
"We've made really good progress," BOSS CEO Simon Illingworth told Energy Voice. "We're on track to be commercially ready at the end of next year."
The company carried out the first tests over three days in areas offshore Perth.
BOSS chief technology officer Ben Hollings explained that these tests had focused on the electrical and command and control aspects.
"We tested sensors and data, and ran a series of trials. They looked at concepts around vehicle navigation and subsea positioning," Hollings said.
Data from this will feed into the next trials, he continued. "The trials mean a lot of the design decisions we've taken are on the right path. They help with component selection and tuning some of the algorithms."
The next step will be the less clement waters of the North Sea. Illingworth expressed confidence in the plans.
"In June, we'll do real world testing in the North Sea. A number of units will be deployed and then we can carry out some seismic acquisition in the third quarter, probably also in the North Sea," he said.
Woodside Energy is aiming to use BOSS' technology in a survey in 2022, north of Darwin. Woodside was an early backer of BOSS. BP and Blue Ocean Monitoring have also invested in BOSS.
Erin Hallock, the managing partner of BP Ventures said the sea trials "are an exciting development as BOSS makes a substantial step forward in its development of a revolutionary underwater vehicle. We are delighted to be working with BOSS as it heads towards its goal of disrupting and innovating the marine seismic acquisition and carbon capture and storage sectors.
"Once in production, this vehicle will make global offshore oil & gas exploration, reservoir optimisation and other marine seismic applications cheaper, faster, safer, and importantly, less carbon intensive."
While BOSS' plan stems from the oil and gas sector, there is scope for alternatives uses. Changing sensors on the vehicles would allow them to check factors such as carbon, temperatures or current changes.
Swarm plans
At the heart of BOSS' underwater plans are for a swarm of autonomous vehicles. Scaling up from one, to many, is essential.
"The concept is many thousands of these things, so command and control is critical," Illingworth said.
Hollings reiterated the point, noting that testing had to demonstrate that the design could scale. "We're testing in a way to test that real world commercial scenario. We're not just building a system for one vehicle, but for many."
A focus on the cost per unit has "been factored in from early on", he said. "We have to minimise the cost per vehicle in order to be able to build up a large fleet. That jump doesn't work if it's too expensive."
BOSS aims to deploy "many thousands" of its vessels for a survey, Illingworth said. "One of the key advantages we have is cost. It's cheaper to do the survey and we provide good, or better, results."
Life is moving fast for BOSS. This time last year, the company employed two people. Today, it is 30, with the aim of reaching 50 employees by the end of the year. It is aiming to recruit its first commercial teams by the end of the year.
Illingworth went on to note that the company aims to open an office in Houston, in order to access the North American market.
Recommended for you

Exclusive: 20 Winners unveiled for £10m NZTC net zero tech competition