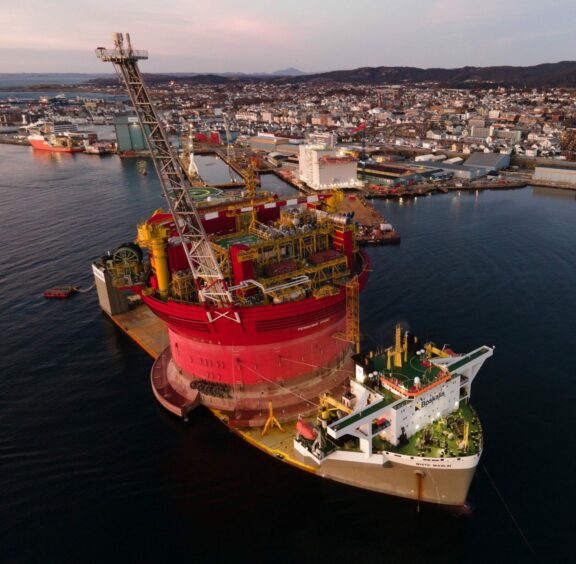 Those eagerly awaiting the arrival of Shell's (LON: SHEL) first new manned vessel in the UK for 30 years will have to wait a little longer after a delay to sailaway was confirmed.
Wael Sawan said he expects the Penguins floating production storage and offload vessel (FPSO) vessel to depart Norway for the North Sea in 2024, rather than 2023 as originally thought.
There was clarity on a revised start-up date though, with Mr Sawan voicing hope that the field will be in a position to start producing at some point next year.
The vessel is currently in Aibel's yard in Haugesund after completing its maiden voyage from China earlier this year.
Addressing journalists in the wake of Shell's second quarter results, he said: "On the target sailaway of Penguins, it is expected to be next year. Because of Covid there were some challenges completing some of the key works required for the facility.
"It is now of course in Norway going through the last technical works, and we would hope to see it in position and able to start producing next year."
Penguins profile
A redevelopment of a former tie-back field to the Brent Charlie hub, Penguins lies around 150 miles north-east of Shetland.
The project will comprise eight wells, tied back to the new-build FPSO – the Ocean Endeavour rig will carry out further drilling at nearby Penguin East this year.
First production from the Northern North See project had been expected in 2022, but delays forced Shell to revise the timetable.
Despite having yet to produce a drop of oil the FPSO has already made national news after Greenpeace protestors targeted Penguins on its journey from China.
More than a dozen activists boarded the structure, which was sat atop the Boskalis White Marlin transport vessel.
And it's likely that campaigners will be on hand again when the Penguins FPSO makes its final journey to its new home off Shetland.
Other projects on the go
Away from Penguins Mr Sawan used the results media call to spotlight Shell's other activities in the UK North Sea.
He added: "We are excited this year to have welcomed first production from Pierce – that's an important addition. And of course we are investing at the moment in Jackdaw, another important gas project in the UK. There's quite a bit of activity in the North Sea for us."
Shell revealed a big year-on-year drop in profits on Thursday, primarily due to oil and gas prices falling from last year's landmark highs.
Between January and the end of June the group recorded income before tax of $19.7 billion, compared to $36.9bn in H1 2022.
It is far from alone there though, and in recent days rivals Equinor, TotalEnergies and Var Energi have all bared similar balance sheets.
Recommended for you

2024: A lost year for North Sea FIDs?