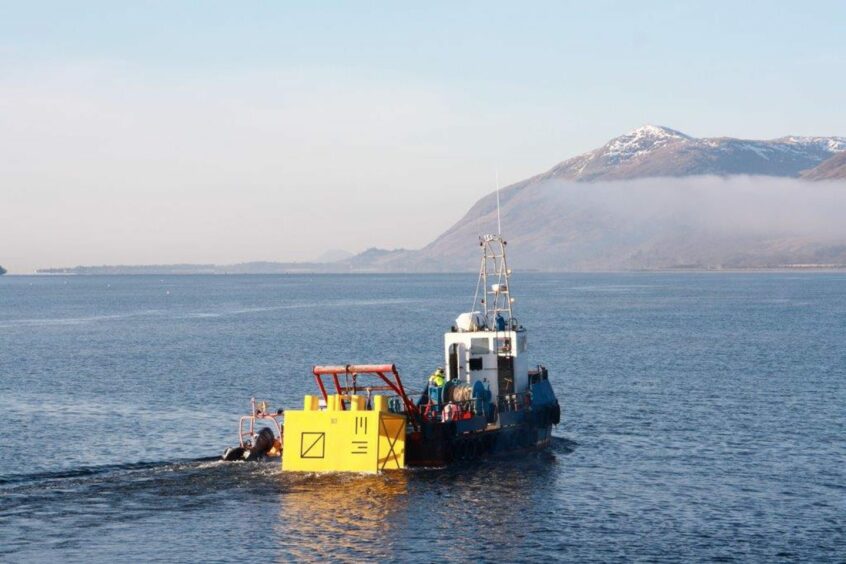 Reversing the fortunes of its predecessor, Fort William's Underwater Trials Centre (UTC) has built a world-leading business with an outsized impact on the global subsea sector.
The collapse of the Underwater Centre in 2018 cast a long shadow over the region and the Scottish subsea sector, however its acquisition by Highland businessman Iain Beaton opened new potential for the "unique" site on the shores of Loch Linnhe.
Now overseen by Seafast ROV operations manager and former centre staffer John MacLellan, the fortunes of the UTC appear reinvigorated as the UK cements its role within an increasingly global subsea industry.
In his last conversation with Energy Voice in 2020, Mr MacLellan told of a "long road" to re-establishing the brand and to remind the rest of the sector the facility was still in operation. Three years on – and despite the challenges of a global pandemic – that journey is well underway.
Speaking in January this year, he notes that the impact of COVID was "difficult for everybody" with several trials pushed back due to various lockdowns and travel restrictions. However, with the that backlog now resolved, a pipeline of work has been "building and building" – returning the centre to profit in recent years.
"This year we will do considerably better looking at the opportunities we have – there are new clients are coming on all the time," he said.
"We can pick up the phone and somebody completely out of the blue, a company I've never even heard of will say: 'We understand that you have a testing facility… and this is the scope.'"
Much of that success is down to a shift in strategy which saw the centre move away from diver training and into technology trials.
"Initially when the business was the Underwater Centre, [trials] probably offered about 30% of revenue," he explained. "The focus was always on diver training and commercial diving – it was a training establishment and trials was just a kind of afterthought. We have a very different approach."
Keeping a lean team of around four key staff, UTC pulls on contractors – mostly staff from the former business – which enables it to scale according to the demands of its clients.
Coupled with that is access to larger suite of vessels through sister companies Seafast and Caldive, with a fleet that includes crew and DP2 vessels, crane barges, tugs and more, four of which are permanently based in Fort William for the centre's exclusive use.
"We want to be available if a client comes in and says: 'I need testing done, but I need it done next week," he added. "If we can accommodate them, we will find a way."
Aquaculture shift
Coupled with a strategic shift is a more diverse pool of clients. Where previously 80% of the company's business was oil and gas, this has fallen to around 25%, mixed with 15% renewables.
In its place is a healthy roster of defence clients, including the UK's Ministry of Defence, who now form roughly 60% of the UTC's pipeline.
Mr MacLellan said the coming months will see an array of defence trials on the loch, one of which is now on its seventh contract with the centre.
At the same time, he is keen to point subsea technology firms towards aquaculture – an oft-forgotten but lucrative global market equally keen for new innovations, particularly as commercial farms move into deeper waters.
"A lot of the industries that we use design for oil and gas, but they are very similar to the requirements used in aquaculture. It's the same trajectory, maybe a few years behind, but everything in aquaculture now is subsea," he noted.
"It's all cameras, robotics, ROVs, AUVs, surveys, so it's quite interesting the fact that some of the technology we see here, we can actually point the customer in the right direction, which is a win-win for them."
In fact, the largest challenge faced by UTC at present is not a lack of resources of interest, but a shortage of accommodation for clients in the popular highland town.
Nevertheless, the fact that visitors are "practically guaranteed" the ability to deploy equipment in the sheltered sea loch still outweighs the uncertainties of trials on either coast, where weather windows and vessel hire mean costs can quickly ramp up – even if testing has to be curtailed.
Exciting times
Looking to the rest of this year, Mr MacLellan says the team are looking at "a very busy calendar" with between £500,000 and £600,000 worth of work expected – far surpassing the roughly £350,000 record for trials under its previous incarnation.
Alongside trials work, UTC is also on the verge of reintroducing ROV training courses, in partnership with the University of Highlands Islands and West Highland College.
The centre owns the educational IP for the training through its acquisition, and the college now plans to starting delivering an ROV Pilot course at the end of February, with offshore training undertaken at the UTC itself.
Longer term, he said the business may even look at a larger "subsea campus" that could offer wider training, though saturation diver training will remain in the hands of James Fisher and is unlikely to resume imminently.
"It's exciting times. We're very positive about the future and where we can go with this," Mr MacLellan mused.
"I think we're just scratching the outside edges of where we want to go."