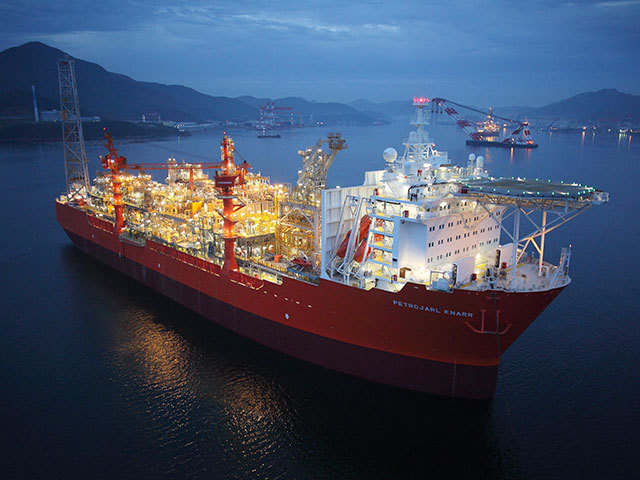 Rosebank, the largest untapped oilfield in UK waters and a major climate protestor battleground, has been approved by the UK Government.
Equinor (OSLO: EQNR) and Ithaca Energy (LON: ITH) have taken a final investment decision. They will together invest $3.8bn on the project, targeting 300 million barrels of oil in the West of Shetland over two phases.
Climate groups have slammed the decision from the UK regulator, the North Sea Transition Authority (NSTA), which granted approval to Rosebank today, and have threatened legal action.
The approval will be seen as a boon to the UK industry, hit with uncertainty over the windfall tax and project approvals, though the NSTA decision may follow others in being legally challenged by activists.
The Equinor development, 80 miles north-east of Shetland, is one of the most controversial projects in the sector, with environmentalists and members of the academic community arguing its approval isn't acceptable for net zero targets.
However, the industry says it is needed in order to mitigate reliance on oil and gas imports, which have larger CO2 profiles.
The move comes a day after the International Energy Agency (IEA) said no new long-lead oil and gas projects are needed for the world to hit climate goals.
Equinor has said Rosebank could be producing through to the year 2051 but, due to a process of electrification, its emissions will count for 1.6% of the overall UK offshore sector.
Equinor and Ithaca take FID on Rosebank oilfield
Equinor, which is operator, and Ithaca, which holds 20%, said first production is expected in 2026-27.
Rosebank is mainly an oilfield, though Ithaca said it will produce in excess of 21 million standard cubic feet of natural gas per day, the equivalent daily use of Aberdeen city.
Geir Tungesvik, executive vice president of Projects, Drilling and Procurement at Equinor, said: "Developing the Rosebank field will allow us to grow our position as a broad energy partner to the UK, while optimising our oil and gas portfolio, and increasing energy supply in Europe.
"Rosebank provides an opportunity to develop a field within the UK Continental Shelf which will bring significant benefits to Scotland and the wider UK."
Equinor and Ithaca said Rosebank is expected to lead to £8.1bn of total direct investment, 78% of which is likely to be in UK-based businesses.
It will also support around 1,600 jobs at the height of construction and 450 UK jobs during the lifetime of the field.
Ithaca chairman Gilad Myerson said: "Rosebank stands as the largest undeveloped field in the UK, and with the receipt of development consent from the NSTA, we are now poised to embark on a journey that will not only provide critically important domestic energy but also ignite substantial economic impact.
"The Rosebank project will create thousands of jobs and contribute significantly to securing the UK's energy needs for many years to come."
While investors welcomed the news, climate groups have responded with fury at the decision.
What is the Rosebank oilfield controversy?
Industry figures have framed Rosebank as a "test case" for the future of the UK industry.
Former BP exec Jim Halliday said "failing to develop this national asset with the consequences on the supply chain, highly skilled jobs and tax revenues would be an act of national self harm".
Climate activists meanwhile say the UK doesn't need Rosebank's oil, with the majority of which will be exported on the global market, and added that its approval will not bring down household energy bills.
Caroline Lucas MP, the former leader of the Green Party said: "Giving the green light to this huge new oil field is morally obscene. This Government must be held accountable for its complicity in this climate crime.
"Energy security and cheaper bills aren't delivered by allowing highly-subsidised, foreign-owned fossil fuel giants to extract more oil and gas from these islands and sell it overseas to the highest bidder."
The UK is a significant net importer of both oil and gas, with domestic energy production falling at a faster rate than consumption.
A key contention for Rosebank is that, due to market forces and a lack of refineries in the UK, oil will be exported overseas.
The majority of UK oil (and 100% of gas) is used in the European and UK market, and the regulator has previously pointed out that much of what is exported as product A, returns as product B.
Equinor UK senior vice president Arne Gurtner said: "The question I always get asked is 'how can Rosebank contribute to energy security when the oil is being shipped from the field to the open market'.
"Well, the fact is, if the UK needs the oil, it will come to the UK. The reason why most of the UKCS production goes elsewhere is limited refining capacity. But the UK is producing corn too, but not all cornflakes are necessarily produced in the UK, right? That's the duty of the international markets which today are ensuring that the UK is able to import more oil and gas than it produces domestically.
"I understand that for some people this decision will be counter intuitive, even divisive, but we know that by developing Rosebank we are investing in homegrown energy to provide a secure supply of oil and gas, while ensuring it has low production emissions."
The industry has highlighted that 70% of UK oil (and 100% of gas) is used in the European and UK market, and pointed to the economic and emissions benefits of development for Rosebank.
Analyst firm Wood Mackenzie said Rosebank, and neighbouring field Cambo, would go some way towards addressing an ongoing UK supply gap to 2050, with resources of roughly 540 million barrels of oil equivalent (boe).
The group forecasts that, between 2023 and 2050, the UK will see a deficit of oil and gas, of around 5 billion barrels and 1,000 billion cubic metres, respectively – even in a 1.5C compliant scenario.
Rosebank – will its emissions blow the UK carbon budget?
According to the Equinor environmental statement, Rosebank will, on average, emit 165 kilotonnes of CO2 per year – that's around 1.6% of the annual emissions of the UK offshore sector, compared to North Sea Transition Authority (NSTA) figures.
That makes it a much cleaner field than many of the existing – and far older and less efficient – platforms operating in the UK sector.
The intensity of Rosebank's emissions – how much CO2 it produces per barrel – will depend greatly on electrification of the floating production unit (FPSO).
That's a process of replacing power, typically supplied from gas-fired generators, with clean electricity via cable from shore or a link to a wind farm.
Equinor says, with Rosebank electrified, it will have emissions of 3 kg of CO2 per barrel, "one of the lowest ever CO2 footprints" in UK waters, compared to a sector average of 20 kg per barrel.
However, if it isn't electrified, Rosebank will emit four times as much; 12 kg of CO2 per barrel of oil produced.
Activist group Uplift told the Guardian that Rosebank's emissions would blow the UK carbon budget for 2028-32 and in 2033-37.
The NSTA, which regulates the UK's production emissions, has challenged the claim.
On today's decision, an NSTA spokesperson said: "We have today approved the Rosebank Field Development Plan which allows the owners to proceed with their project.
"The FDP is awarded in accordance with our published guidance and taking net zero considerations into account throughout the project's lifecycle."
Recommended for you

Orcadian agrees seven day extension with potential Pilot operator