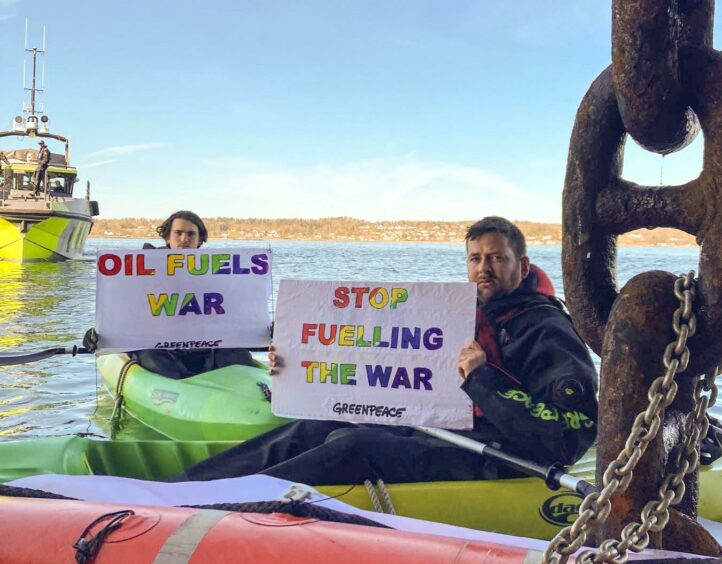 Activists from Greenpeace Nordic blocked a tanker moored in Norway, with the intention of preventing it from offloading Russian oil products at an Esso-owned terminal.
Protestors in kayaks and boats chained themselves to the anchor chain of the Ust Luga on Monday morning, as it was moored in Oslo Fjord near the Slagen oil terminal, around 40 miles south of the country's capital.
The terminal is owned by Esso, a Norwegian subsidiary of ExxonMobil.
The Hong Kong-flagged Ust Luga is reportedly operated by Novatek, Russia's second-largest natural gas producer, and laden with 95,000 tonnes of jet kerosene with a market value of $116 million, Greenpeace said.
Separate reports suggest the kerosene is to be used for blending in marine gasoil.
The activists hoped to prevent the Ust Luga from going to pier and offloading, and called on the Norwegian government to ban the import of Russian fossil fuels.
They also demanded that Esso cancel its contracts to buy fossil fuel from Russia, following the country's invasion of Ukraine.
BREAKING: Activists from @GreenpeaceNorge in kayaks and boats are blocking the oil tanker Ust Luga, preventing it from offloading thousands of tonnes of Russian oil at the Slagentangen oil port (owned by Esso, a Norwegian subsidiary of @exxonmobil)https://t.co/E3Zq9BfT4c pic.twitter.com/gIlQr2AtE0

— Greenpeace PressDesk (@greenpeacepress) April 25, 2022
Activist and head of Greenpeace Norway, Frode Pleym, said: "Oil is not only at the root of the climate crisis, but also of wars and conflicts. I am shocked that Norway operates as a free port for Russian oil, which we know finances Putin's warfare."
"During these two months of Russia's war of aggression, we have seen horrific images and know the unimaginable suffering of the innocent civilian population of Ukraine. The fact that our government still allows the import of Russian fossil fuels in the current situation is unfathomable."
"The Ukrainian president has called on Europe to halt Russian fossil fuels. And with good reason. Putin's sources of revenue must be dried out immediately and banning oil import is a very good place to start. We need to make this war stop," said Pleym.
A spokesperson for Esso Norge told Energy Voice that these deliveries to Norway were in fulfilment of "contractual obligations" in place prior to the invasion and are "not subject to sanctions at this time."
They said Esso Norge has not made any new contracts for Russian products since the Russian invasion.
"We recognise the right of individuals and groups to express their views legally and peacefully. Our top priority is to ensure the safety of our people and neighbours, including the ship's crew, terminal employees, those who deliver and pick up products at the Slagen terminal, and protestors," they continued.
"Esso Norge is fully complying with all sanctions. We support the internationally coordinated efforts to bring Russia's unprovoked attack to an end."
As of late Monday, Norwegian police said all activists had been removed from the area.
The largest shareholder in publicly listed Novatek is oligarch Leonid Mikhelson, who has close ties to Vladimir Putin, alongside board member and Gennady Timchenko.
The second-largest shareholder is supermajor TotalEnergies, which holds a 19.4% in the company. While the company has signalled moves to gradually halt operations in Russia, under sanctions it said it could not find a non-Russian buyer for its Russian assets, including Novatek shares.