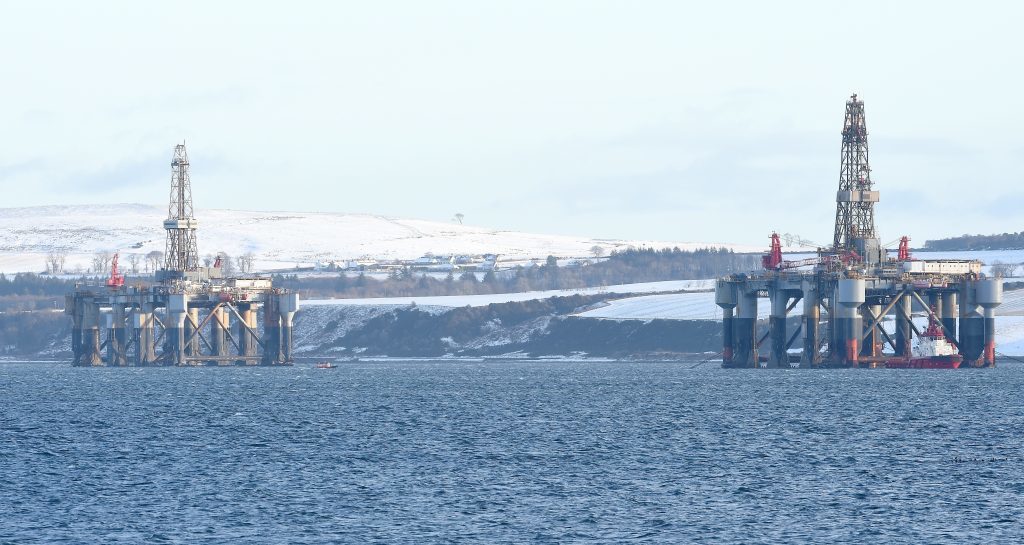 As I write this, two Chinese heavy lift transport ships remain anchored in Scotland's Inner Moray Firth waiting for orders. They were supposed to have loaded by now and carted away for scrapping a couple of semi-submersible drilling rigs that have been laid up in the Cromarty Firth for some time.
The Hua Yang Long arrived on December 28 followed by the Hua Hai Long on January 2 and I have a shipping enthusiast who lives in the area to thank for getting in touch. "Nick" does this from time to time and by heavens this tip-off has paid off.
I don't know if a third heavy lift vessel was scheduled to join the pair currently idle, bearing in mind that there are three rigs due for removal. They are the Ocean Princess, Ocean Nomad and Ocean Vanguard, all formerly owned by US company Diamond Offshore Drilling but now under the ownership of GMS.
The tip-off has got me thinking about what I believe to be part of the shady underbelly of the offshore industry – the sometimes none-too ethical, indeed illegal disposal of knackered hardware like rigs, production units, tankers and offshore service vessels on the beaches of India and Bangladesh especially.
It is understood that the Chinese vessels are booked to transport the three rigs now in the hands of GMS, which describes itself as the world's largest cash buyer of ships for recycling.
However, the Scottish Environmental Protection Agency (Sepa) has stopped GMS in its tracks.
Sepa has blocked removal of the rigs because of the worry that they could end up on a beach where they will be chopped up by unscrupulous enterprises who care not a jot for either the environment or the people they hire at slave labour rates and with zero regard for health and safety.
RMT trade union regional officer Jake Molloy and NGO Shipbreaking Platform, a Brussels-based coalition of non-governmental organisations, said they were worried the rigs would be transported to India or Bangladesh for scrapping.
And for very good reason bearing in mind that over 90% of the world's ocean-going container ships, for example, and the bulk of other classes of vessel, meet their end on the shores not just of India and Bangladesh but also Pakistan and Indonesia.
Given such a statistic, it would be surprising indeed if ships bought by GMS and hived off into pop-up one-vessel companies for their final voyage did not find their way to such destinations.
However, I'm also aware of a GMS claim that it has apparently played a part in making the world of ship demolition a bit less "murky".
Anyone remember the Transocean Winner which, in 2016 hit the headlines by breaking its tow and grounding on rocks on the west side of Scotland's Outer Hebrides?
Initially it was hard to determine who actually owned this particular rig and Transocean certainly found itself in hot water over the grounding as the tug tasked to tow the beast to Turkey for recycling turned out to be inadequate.
Transocean was initially far from forthcoming initially though it eventually rose to its responsibilities, at least regarding scrapping of the Winner.
Indeed it seems that the company actually had something resembling a policy around ethical disposal. And, apparently, Turkey is regarded as one of the better places in the world when it comes to ship recycling.
But what is Diamond's policy?
American it may be but Diamond has long experience of the North Sea and will be very aware of how increasingly tough the EU is becoming about waste and recycling when compared with some other regions of the world.
What assurances did Diamond seek from GMS if any? I don't suppose we will ever know the truth.
The seeking of assurance generally doesn't happen with ships. Owners sell and that's that. The buyer sees to the removal. So why would drilling rigs be any different?
Most ships when they reach the end of their service are sold to middlemen – companies who buy the vessels, strike a deal with a breaker – and mainly make their money by speculating on the value of the steel in the structure going up between the point of purchase and the ship hitting the beach, usually in unregulated locations.
These guys package each vessel into a post box company registered somewhere like the Virgin Islands.
You never get to see the identity of the Mr Bigs and the one-boat PO Box companies just evaporate.
NGO Shipbreaking Platform has been worried about the emerging market for rig disposal for quite some time. I was told that a number of clapped out drilling rigs had been dragged through Suez and on to Far East breakers.
But, hey, the Norwegians are taking action against a number of big brand shipping companies by hitting them through their pension funds.
On January 18, the Norwegian Central Bank revealed its decision to exclude ship owners Evergreen Marine Corporation, Precious Shipping, Korea Line Corporation and Thorensen Thai Agencies from the Government Pension Fund Global (GPFG).
The Norwegian Council on Ethics directs the Norwegian Central Bank, which manages the Government Pension Fund Global, on which companies should be excluded from investments in the fund, based on human rights and humanitarian violations, corruption and environmental degradation records.
The GPFG is the largest sovereign wealth fund ever, owning 1% of all investments worldwide, and the recommendations of the Council on Ethics weigh on other investors as indications of good financing.
As more rigs head for the chop, maybe it's time that the offshore industry is similarly penalised. It's perhaps one way of making them toe the line.
Recommended for you

Diamond Offshore wins $212m contracts in North Sea and US