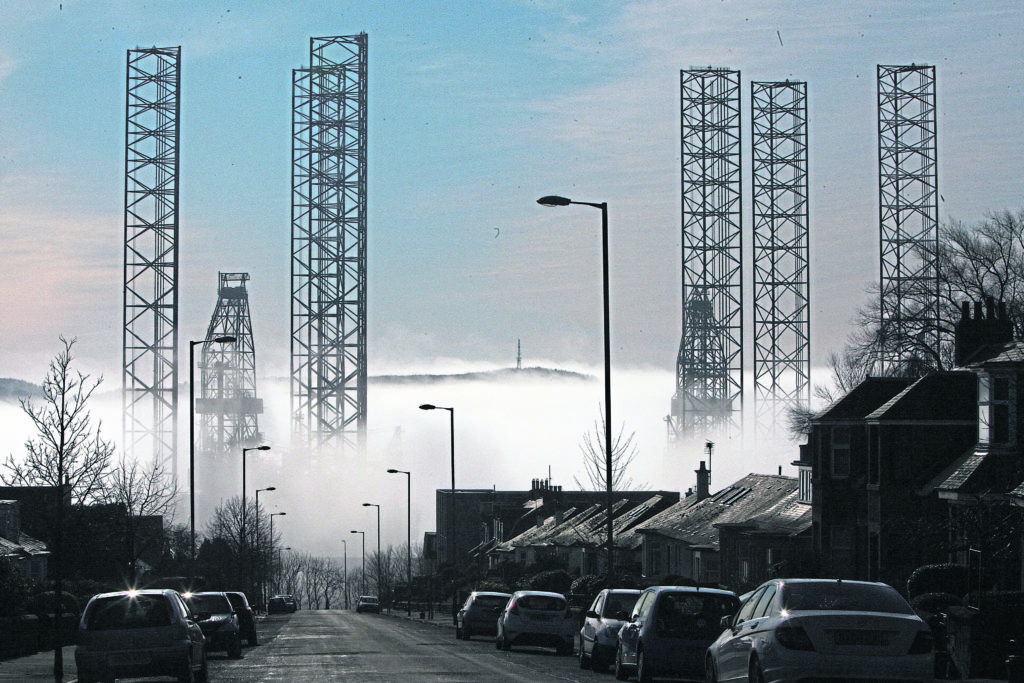 "To be honest, looking at things right now, I haven't got the foggiest idea what is going to happen in the coming weeks…"
These are the refreshingly honest words of BBC reporter Chris Mason – that made me choke on my rice crispies – as he reported live from Westminster on the topic of Brexit in November.
I am confident I am not the only BBC Breakfast viewer to have had such an involuntary reaction.
But, as we continue to see, where stability and positivity in the economic or political environment can temper tension and instability, the reverse is also very true.
Mr Mason's words still resound.
In fact, the only real certainty – something that oil and gas as in industry is continuously planning for – is uncertainty.
Oil and gas is no stranger to assessing political risk and navigating geopolitical trends – albeit not ordinarily with reference to a mature basin in Western Europe.
Most of the commentary and analysis predicts greater and more immediate impact on the supply chain than the operating companies, with their strong, global relationships.
But, as with everything else surrounding Brexit, there are conflicting opinions on how oil and gas will be impacted.
In January, Oil and Gas UK confirmed its position that "a deal outcome is in the best interests of this industry, which is critical for security of energy supply and supports hundreds of thousands of skilled jobs right across the UK".
Government notices, including "running an oil or gas business if there's no Brexit deal", reveal that – in theory – relevant legislation to ensure general continuity will be amended with residual obligations of industry remaining unchanged.
Regardless of the political decisions made later this month, commercially – for businesses throughout the supply chain – continuity is essential.
Furthermore, the UK's energy sector, of which oil and gas forms part, is one of the 13 identified sectors of national critical infrastructure. In other words, "those critical elements of infrastructure, the loss or compromise of which could result in:
A) Major detrimental impact on the availability, integrity or delivery of essential services – including those services whose integrity, if compromised, could result in significant loss of life or casualties – taking into account significant economic or social impacts; and/or
B) Significant impact on national security, national defence, or the functioning of the state", according to the Centre for Protection of National Security.
And, as the majority oil producer across the EU, central to regional oil and gas trading, the stakeholders in continuity of the UK oil and gas sector are plentiful, but it remains to be seen how prepared they are.
Continuity
noun
The unbroken and consistent existence or operation of something over time.
Businesses have been continuity planning to various levels for Brexit for over two years.
Recent outward evidence of this includes mitigating risk of customs-induced delays hampering supply of vital equipment by stockpiling – any limitation on production potentially significantly impacting oil price.
Ensuring continuity of less tangible resources, for example, knowledge, is a challenge that has notably impacted the industry both through and post downturn.
Today, the obvious risk in this area stems from the unknowns surrounding the workforce, which according the Oil and Gas UK comprises 5% EU nationals.
Asset knowledge is particularly pertinent at this time and cannot be overlooked in continuity planning.
This is an area from which Return To Scene has been supporting clients to realise maximum value for more than a decade.
From the R2S 360º digital survey, to bringing all visual data from any source coherently together in our R2S software we have been working with our clients to conserve this knowledge, making it accessible business-wide for everything from operational management and planning to M&A negotiation and commercial advantage.
Our basin and how it works continue to evolve.
Market forces will prevail regardless, and while stability and predictability are preferable conditions for securing investment, there is opportunity.
The North Sea has demonstrated fortitude and proactivity in the face of the downturn, restructuring, tackling operational cost and embracing innovation and the digital future.
Perhaps by the time this publication has been printed, an agreement will have been reached, but as I write this, I remain without the foggiest, except that uncertainty will not disappear even after we have clarity on a deal or no deal.
Having detailed visibility of UKCS assets, associated data and mitigating the risk of loss of knowledge can only help to ensure business continuity and drive the future of our industry both in the North Sea and globally.
Claire Fleming, business support director, R2S
Recommended for you

MethaneSAT: Satellite will track oil and gas emissions from orbit