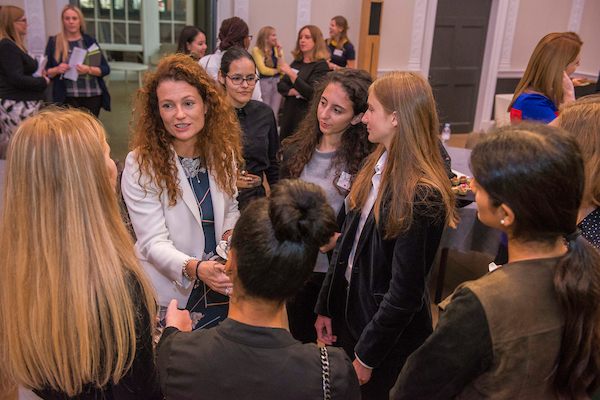 How reverse mentoring is helping build the workforce of the future and advance the energy transition
When we look at the future of energy and the energy transition, one of the most important challenges we face is ensuring we continue to recruit the best talent into our industry. People are key to the future success of companies like BP. But, like many companies, we face fierce competition for new talent.
Those of us who work in the sector know just how exciting a career in energy can be, with huge opportunities for global experiences and complex but engaging work. What we do is both progressing the energy transition and making an impact on society – lifting people out of poverty and fuelling sustainable economic development. Our challenge is to convince the next generation of this.
Our industry's need for young, digitally-savvy talent is particularly crucial when we think about building a workforce that can advance the transition to a low-carbon economy. If we want to keep up, we need to change how we engage with early careers talent and show that cutting-edge, exciting careers – ones that rival the likes of Microsoft, Facebook and Google – are possible in our sector. One of the keys to solving this, and encourage learning at all levels, is reverse mentoring.
Recently we made a change in the way that BP executives interact with talent. We invited a group of new, budding and ambitious people to pair up with our senior executives and become 'reverse mentors'. Our group HR director, Helmut Schuster, our CFO of BP Upstream, Murray Auchincloss, and our COO Carbon, Gordon Birrell were all assigned young mentors. Bernard Looney, chief executive, BP Upstream and our incoming CEO, had a twenty-six-year-old petrophysicist assigned to him.
We can't claim reverse mentoring as a wholly new idea, or one invented by BP. The concept of linking junior staff with senior executives to share knowledge was first popularised almost twenty years ago by Jack Welch, then CEO of General Electric, who realised the impact of fast-changing, digital technologies and the need for senior management to keep up with the times.
The central idea is to pair two different generations together to mentor each other on various topics of strategic or cultural importance. For senior executives, it is stimulating to spend time with the newest, brightest, most talented employees in the business and it's a chance to learn from 'digital natives' about how to use tools such as social media, cloud technologies and other skills needed to become tech-savvy. When talking to HR Magazine about what he has learned from his young mentor, Helmut Schuster said he had been 'Appleised' and was "up to technological speed" at last.
From experience, I know how advantageous it is to be reverse mentored by a digital native.
Over the past couple of years, I've met with some of our best and brightest to learn about the latest developments in tech. For instance, with Joanna Reynolds, a geophysicist from our Exploration Technology Centre, we talked about a variety of different digital topics to help modernise and simplify – from the tools used in Subsurface for seismic interpretation such as PaleoScan and Digital Rocks, to the office productivity suite that would make day-to-day work easier and more efficient. Insights like these help me champion what we're doing in the digital space to our leaders and to our people more broadly, and have inspired me to introduce leading-edge, AI and algorithm-based nudge technology like Humu, which uses behavioural science and machine learning to help people become better leaders.
With Bode Oluwole, our technical learning advisor, I also had the chance to learn about how we're developing immersive VR technologies for training purposes and asset familiarisation. The tech, HoloLens, is a device with huge potential as the first head-mounted display compatible with Microsoft's O365 suite. I've found that even short-term reverse mentoring experiences are helpful for developing my digital knowledge and credibility as a leader.
However, it's not only executives who benefit from these reverse mentoring interactions and understand how different generations at work view their experiences. The reverse mentors learn skills like how to interact at higher levels in the organisation and gain strategic insights into the business. Through this, we're able to better retain these individuals and show them that the opportunities at BP are as exciting as at any tech company. And they can tell these stories to their peers and share through social media. Reverse mentoring provides the recognition and transparency that younger generations are looking for from management and helps them progress on their own leadership path. We're able to show our best and brightest that we are a progressive place to work and highlight the vast array of opportunities available in the energy industry.
As well as providing long and short-term reverse mentoring opportunities, I also see huge benefit in having a diverse team of digitally-savvy employees. We're a large company that employs people across almost all generations, and I believe it's important that our teams reflect this diversity. Setting up effective touchpoints for our intergenerational workforce to collaborate and share ideas leads to opportunities to innovate and really challenge each other. It's hugely beneficial for the business.
It is also true that insights gained from mentor-mentee experiences can go on to inform our talent attraction strategy. We benefit from insights into the needs and desires of younger generations. From reverse mentoring, we know first-hand that employees want innovative tools to make their jobs more efficient and they want cutting-edge projects to work on.
Whilst I believe in the power of reverse mentoring, it is by no means a silver bullet. It is a strategy that needs to form part of a wider modernisation and digitisation programme. It's crucial that we weave these knowledge exchanges into our learning and development programmes, but also into the business more broadly so it becomes part of the way we work, and it happens naturally within a continuous learning culture. If we are to become truly digital as an energy company, we must build the best and brightest workforce and modernise how we work and learn from each other. Only through this can we ensure the energy industry's role in the new economy and be best equipped to manage the energy transition.
Recommended for you

Flylogix: BP-backed drone firm lands in administration