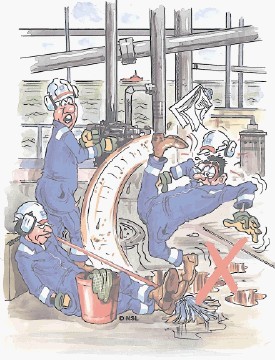 Expectations within the offshore oil and gas sector have changed over the years such that exposure of staff to risk has become increasingly unacceptable.
Loss control through good health must therefore be viewed as an integral part of every manager's job to ensure the provision of high-quality, low-risk working environments.
The safety culture offshore comprises a combination of employee attitudes, values and behaviours which in turn reflects the commitment and actions of the operator to safety,
Any organisation which fails to identify where risk occurs is effectively displaying the behaviour of an ostrich with its head in the sand, particularly in the current climate of accountability and employee awareness.
Failures could be catastrophic if a disaster occurs offshore in terms of loss of life, reputation and loss of revenue for the company and the country. A knock-on effect might be fuel prices on the stock market that fluctuate rapidly when there are offshore incidents.
The oil and gas industry has increasingly turned to the offshore medic to undertake an expanded role incorporating occupational health and safety.
Many responsible operators have moved away from the medic undertaking traditional non-health and safety-related tasks to those who focus on the Health Maintenance of offshore personnel. The aim is to avoid or eliminate health hazards by identifying health problems at source.
Engineering efforts should be aimed at eliminating failures that interfere with the health of the employee. Zero ill health through prevention is the ultimate goal.
Health maintenance – the engineering approach
The health of an offshore worker can be categorised using an engineering approach. This is:
o Predictive health maintenance. We know that if we put diesel in a petrol engine it can be predicted it will not run and will damage the engine with resulting break down. Predictive health maintenance takes the approach that if we expose employees to certain conditions such as loud noise, asbestos or vibrating machinery ill health will result. We can even predict the type of ill health or medical condition.
o Preventive health maintenance. Checking tyre pressures, oil levels, brake fluid and windscreen washer levels help avoid future problems. Preventive health maintenance is health surveillance where the medic carries out assessment of hearing, skin and lungs. The medic can detect changes early and take action to refer to the company medical adviser to ensure any future damage is avoided.
o Planned health maintenance: Planned maintenance is where the car is serviced regularly, tyres are checked for tread depth, and the car is washed and waxed to avoid body damage. Planned health maintenance is where the medic undertakes health promotion, lifestyle advice, smoking cessation programmes and medications are declared to ensure the employee knows what support is available.
o Unscheduled health maintenance: Unscheduled maintenance is when the engine breaks down unexpectedly. Unscheduled health maintenance is the core function for the offshore medic. When serious health conditions develop, the medic and his/her onshore support team is there to provide the emergency medical assistance to all offshore workers.
Health maintenance policy and practice offshore reflects the differing needs of companies, for example drilling, diving, production and so-forth. Health maintenance must, however, be a key ingredient of everybody's drive to eliminate ill health losses.
The objective must be to avoid and reduce ill health requiring treatment or causing lost time. In the final analysis, it is people – employees and their supervisors and managers who make strategies, policies, organisations and systems work to maximum effect.
Following the above principles promotes the health and wellbeing of the industry's most valuable resource – the people living and working in the harsh environment of the North Sea.
Dr William Freeland MBChB, MSC is medical director for medical staffing and supply chain at Abermed.
Recommended for you
X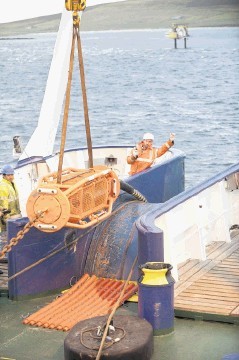 Cable damage causing major subsea headaches