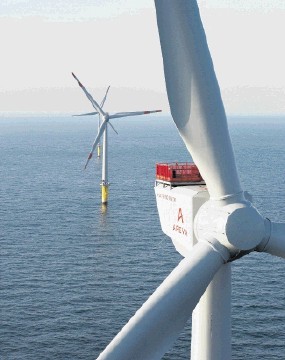 Just about everyone, with the not-very-notable exception of Donald Trump, favours offshore wind farms – at least in principle.
While not exactly out of sight, they are largely out of mind. Very few exist yet and it is possible for most who have doubts about conventional windfarms to sign up to the mantra: "Do if offshore".
That is also a doctrine on which all the UK's renewable energy targets depend. To remind, by 2020, it is intended that 15% of our electricity will come from offshore windfarms, putting them on a par by that time with nuclear power.
The Scottish Government has declined to define its renewables targets in terms of what different technologies are expected to deliver, which usefully conceals the fact that the vast majority will come from onshore wind.
While there are vast hypothetical reserves of wind power out in the Atlantic, Scotland is less well-endowed with shallow water sites closer to shore. That is why the big, early developments are happening farther south.
Nonetheless, many of the much-announced but so far little-delivered potential jobs in Scotland relate to offshore wind technology. And if the "Saudi Arabia of renewables" rhetoric is ever going to mean anything, the deeper waters will also have to be conquered. It seems a distant prospect.
In a notable piece of hyperbole, the Scottish Government describes offshore wind as "the next industrial revolution with the potential to attract billions of pounds of investment and create tens of thousands of highly skilled jobs". As Kenny Dalglish might say, "maybes aye, maybes naw".
So everyone is signed up to offshore wind. Fine, except there are a couple of large but under-advertised problems. The economics of building massive windfarms offshore remain deeply uncertain, while the reliability of their generation capacity is entirely dependent on being able to maintain and repair them.
These are issues which are already pushing back investment in offshore wind. Even with double-ROCs (renewables obligation certificates), the numbers for some long-mooted projects do not stack up while questions about the costs of maintaining both turbines and transmission cables in hostile conditions remain unanswered.
A recent report by the Public Accounts Committee (PAC) of the House of Commons points to another aspect of the complexity and cost of the challenges. By EU decree, there is an obligation to separate offshore generation and transmission into separate projects with two sets of owners.
In 2009, regulator Ofgem established a regime designed to attract investment into the transmission requirements. The PAC could scarcely have been more scathing about the structuring of these arrangements or the six deals that have already been entered into with just two companies.
They found that, in their desperation to attract investors, Ofgem had offered an absurdly generous, virtually risk-free deal which will be paid for by consumers to the tune of £17billion; whether or not these offshore windfarms continue to generate electricity.
Already, MacQuarrie Bank has sold on one of these bonanzas within two months of signing the deal. Not a breath of renewable energy has been generated but a vastly profitable new market has been created for those who exist in order to take advantage of such largesse.
Ofgem and DECC (Department of Energy & Climate Change) are now trying to develop "a more co-ordinated regime". But the reality is that, as long as the projected reliance on offshore wind exists, the money-men have government pretty much over a barrel in terms of the subsidies and conditions they will demand. And the consumer will foot the bill.
The UK is not alone with these difficulties. In Germany, Angela Merkel has set massive targets . . . 25,000 megawatts by 2030 of offshore wind capacity (in shallow waters) to replace nuclear power.
But investors are steering clear, jobs are being cut and last month 700 workers demonstrated in Hanover for higher offshore subsidies.
None of this is to say that offshore wind will not have a significant part to play in the future generation of electricity in Scotland, the UK, Europe, the world.
But at the moment, the whole concept is being promoted on the basis of assumptions which simply do not stand up to either technical or economic scrutiny.
It may be – as Eddie O'Connor, then of Airtricity – argued, that the key to future developments is massive "supergrid" projects which utilise offshore windpower to link the grids of individual countries. That is a genuinely visionary concept. However, I do not think even Eddie would argue that it is just around the corner.
The immediate need is for some more coherent plan for offshore wind which brings transparency to the subsidies involved, makes a realistic assessment of how much electricity can be depended upon and faces up to the challenges which need to be overcome. Blundering on with an open cheque-book should not be an option.
At the moment, as the PAC report signals, this all has the makings of a first-class scandal for which electricity consumers will be forced to pay a stupendous price – conceivably for massive offshore power stations, subsidised to the hilt, but unable to generate or transmit the power it has been assumed they will provide.