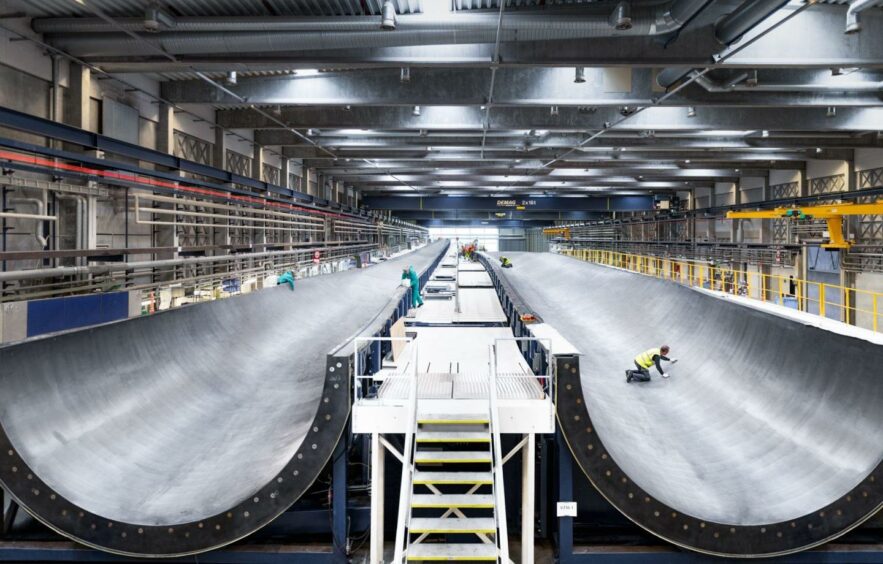 Building an additional 10GW of offshore wind capacity by 2030 is an important piece of the jigsaw puzzle that makes up Scotland's plans to try to reach Net Zero. ScotWind will be ground-breaking both in terms of size and opportunity.
That one of the contractual conditions being imposed on prospective developers by Crown Estates Scotland is a requirement to submit a "Supply Chain Development Statement" (SCDS) to ensure projects are developed in a way that supports the "sustainability of offshore wind development" in Scotland is also ground-breaking in that it could and should lead to a much larger and higher value Scottish supply chain. We need this if we're ever to achieve that so-called "Just Transition".
The consequence of a developer not achieving the aims set out in their SCDS by the end of the development phase are a set of financial penalties ranging from £50k to £250k with the additional risk that if they achieve less than 25% of their aims then they may not be granted a lease at all.
Interestingly, we are already seeing some developers beginning to lay out their stalls on supply chain development.
For example, BP says it would build two vessels for crew transfers and two for offshore support, which it estimates will create about 500 local jobs in Scotland although I'm sure that's for the duration of the build not long term. That said whilst I'm pretty certain that Scotland can handle the metal bashing side of ship building, supplying most of the essential internals is now beyond us since our civil shipbuilding industry went into free fall. So determining the value of this particular attempt at creating local content could be interesting.
That said, given BP has to my knowledge never built a ship before in Scotland, it is a significant move and suggests the SCDS might actually have some impact.
It was also announced recently that a new fabrication plant was being built at Nigg on the Cromarty Firth to produce steel towers for wind turbines. The intention here is to produce 135 towers every year and generate around 400 jobs.
However – and it's a big however – it would be foolish to get too carried away by these announcements. Whilst they get the politicians all excited because it is positive news and so they'll play them for all their worth, the reality of what they represent in terms of industrial benefit and their real importance when it comes to developing the long ignored wind technology manufacturing supply chain is perhaps somewhat less clear.
The Offshore Renewable Energy Catapult which is an organisation that claims to be the "UK's leading technology innovation centre for offshore wind, wave and tidal energy" has generously spent some of its money on a piece of research that amongst other things, neatly breaks down the costs of an offshore wind farm in a way that we can identify each element that a country like Scotland might be able to manufacture or provide as a service.
What this research suggests is that the towers being produced at Nigg will make up slightly less than 2% of the overall cost of an offshore wind farm and that their individual cost will be in the order of £60,000 excluding all the internals such as ladders, lifting equipment and so on.
These are 2019 figures and based on the use of a 10Mw turbine in 30m of water.
So, assuming the Nigg plant reaches its target of producing 315 towers per annum and also assuming the ORE Catapult has done its sums properly that would suggest an annual revenue of somewhere around £20m.
Compare that with the annual revenue of the Danish wind turbine manufacturer Vestas which is now over £12.5bn.
These examples are ringing alarm bells for me because there is a danger here of repeating two fatal errors from the oil and gas era. The first is setting our sights far too low and the second is hyping up what little we are doing to try to make it appear more significant which, to be clear, I don't think is the case.
But these are not the only examples of overhyping we're experiencing. I still do not understand exactly what benefit we're going to be getting from the proposed Energy Transition Zone (ETZ) in Aberdeen.
The most valuable and exportable parts of a wind turbine are the turbine itself and the blades. ORE Catapult values them at around £1.2m. Are we aiming to manufacture those on the ETZ? I don't think so.
Let's have some real ambition, please.
Dick Winchester is a former subsea engineer and an adviser to the Scottish government on the energy transition.
Recommended for you

BP advertises collaboration openings on Scottish offshore wind farm