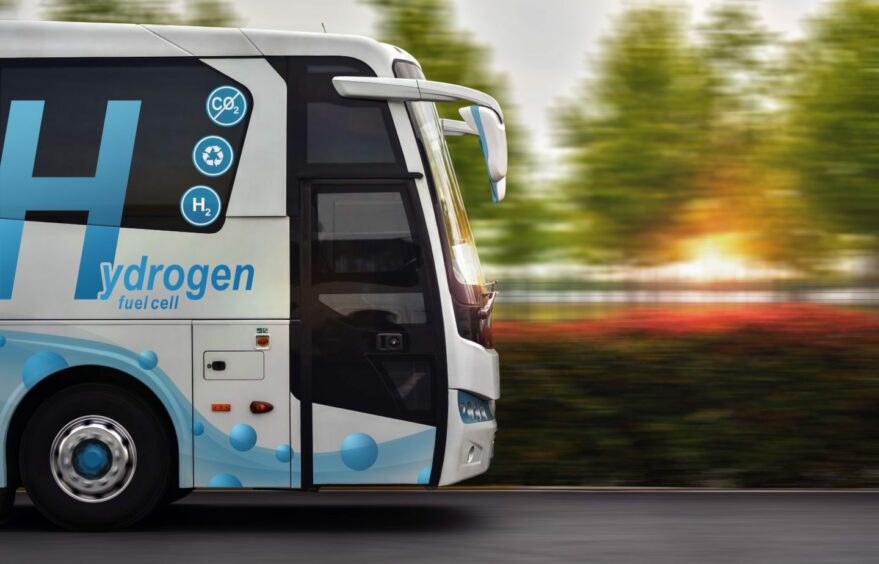 Scotland's friends in Europe are now surging ahead with their support for hydrogen and especially green hydrogen.
With its "Net-zero industry act" the European Commission has set a goal for the EU to domestically produce at least 40% of the technology it needs to achieve its climate and energy targets by 2030 and given their level of investment into new Net Zero technologies I have no doubt they will achieve that or better.
The hydrogen related technologies that the EU Commission has designated as "strategic" include hydrogen electrolysers, fuel cells and hydrogen storage. Sadly, Scotland has no capability in manufacturing any of those so achieving a similar 40% target is something that at the moment Scotland could only dream of.
In addition, the decision by the EU to mandate the rolling out of hydrogen vehicle refuelling stations at an initial maximum spacing of 200Km is also hugely significant not just for the European heavy transport industry but also for their private car owners. This will leave Scotland and the entire UK out on a limb as no such plan or ambition exists here. As the fuel cell vehicle market expands which it inevitably will, European tourists and lorry drivers will soon be unable to visit here using their own vehicles. British exceptionalism strikes again.
But something I consider as strategically even more important is technology being developed to enable people to go "off grid." There's a smallish German company called not very imaginatively "Home Power Solutions" who have developed an entirely self-contained unit that produces its own electricity using solar and green hydrogen produced by an electrolyser. The hydrogen is then used to drive a fuel cell to provide power and excess hydrogen is stored for future use. Electricity is stored short term in a battery pack.
What you use the electricity it produces for is up to you so apart from all the usual applications, if you heat your house with an oil boiler or a heat pump you can use it to power them. However, the waste heat generated by the electrolyser and fuel cell is used to offset any demand on your main heating system and is efficient enough to replace all your domestic hot water heating during the summer.
I understand they've already sold some five hundred of these units mainly to new build houses where the not insignificant capital cost can presumably be incorporated into the overall mortgage deal.
I say not insignificant because now these units cost anywhere between 50,000 and 100,000 Euros although I can see that falling quite rapidly once the idea takes hold which I think it will. I'd love one.
The real point about this very smart piece of systems engineering is that once installed you will never pay another electricity bill. Electricity company shareholders will therefore hate it. It's inflation proof and most important of all given the increase in the risk of extreme and damaging weather events, it's immune to power cuts and short of a direct hit from one of their drones, Russia will never ever be a threat to your energy security even if it managed to destroy every wind and oil/gas installation on the UKCS.  It therefore provides 100% security and resilience and I bet several householders across Shetland and the North of Scotland would have been happy to have one of these during this winter's snow storms which once again, tore down large parts of the overhead electricity network.
All you need to run this system is a water supply, so in effect the water companies become energy suppliers unless of course you can access a local water supply which many people in Scotland can. Your local burn will do the job, provided you run the water through a purifier.
Of course, how much water these devices consume is pretty important. A single litre of water can produce around 3kWh of usable electricity so, using the SWAG principle (Scientific Wild Assed Guess) and taking into account conversion losses, demand variations and so on I'm going to bet on them using somewhere between 2 and 4 litres of purified water (filtered etc) per day. This is not bad and is hardly going to break the bank if you had to pay for it. I have asked the company about this, but they're not interested in talking to me as they won't sell hardware outside Germany. A pity.
But this really does bring power to the people and takes it away from the corporations and I like that. If someone could develop a unit that will also use small scale wind, get it mass produced and bring the cost down to a more realistic level then Scotland would be onto a winner and the need for all that investment in big grid based projects in particular would be wholly unnecessary as indeed would some of the more exotic answers to energy storage.   Technology is moving on, just not here.
Recommended for you

Hedge fund boss slams hydrogen bets as 'complete waste of time'