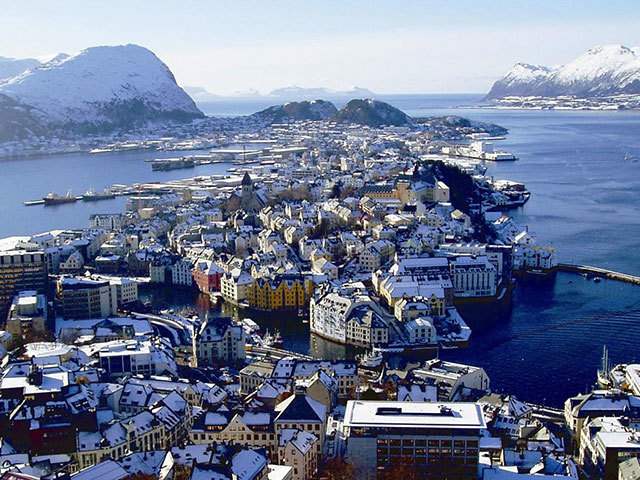 With just few weeks to go before the independence referendum vote on September 18, many minds may be turning to the promise of a sovereign wealth fund in a newly independent Scotland.
Norway, one of our nearest neighbours, is often viewed with envy as a small country, not too dissimilar to ours, a land of mountains, forests, sheep, deer, fish and oil.
But with some distinctive differences: it is independent, has its own currency and has chosen to stay outside the EU.
It also has a sovereign wealth fund approaching $1trillion, based on petroleum revenues since 1996, to be saved for future generations.
But the similarities between Scotland and Norway are in fact only skin deep.
Although the population of Norway (5million) is similar to ours (5.3million) the country is vast with a land area five times larger and an aquatory to match. The easternmost point of Norway in the far north borders Russia and in fact lies further east than Cairo.
Norway's energy wealth is founded on its size, geographic and geological setting, which is only in part shared with Scotland.
Emerging from the scars of occupation during World War II, Norway embarked upon a programme to build hydroelectric dams and was destined to become one of the first, if not only country in the world to be self-sufficient in renewables-bascd electricity.
A similar and very worthy programme to build hydroelectric capacity was embarked upon in Scotland at the same time, just on a much smaller scale.
In 2013, Norway produced 27 times more hydroelectric power than Scotland (source BP statistical review of world energy), a function of land area, elevation and rainfall.
Hydroelectric power is the Rolls Royce of renewable electricity. Its production can be controlled to when we need it most. The promise of vast wind and wave resources around Scotland are poor intermittent second cousins.
Hydroelectric power made Norway self sufficient in renewable electricity, dispensing with the need for coal, nuclear and gas fired power stations, though there is a small amount of gas capacity.
And so, when oil and gas came along in the 1970s, the country had little choice than to export the vast surpluses, other than leaving the stuff in the ground for future generations.
By producing oil and gas today and trading the surplus for equities in foreign companies and bonds in foreign debt, Norway is taking a great gamble that these paper securities will be worth more in the future than oil that could have been left in the ground.
Norway set out on its oil and gas adventure with admirable social intentions of prolonging the life of the industry and ensuring that the State (the people) participated to the maximum from this one-off bounty.
However, the best-laid plans do not always work out as intended. For example, Norway resolved to build the offshore platforms required in Norway, in purpose-created built domestic yards, creating a massive engineering enterprise and jobs onshore for Norwegians, but at the same time locked the country into a conveyer belt of platform construction that forced the pace of oil field developments.
The consequence was that peak oil in Norway came in 2001, only two years after the UK peak in 1999.
The sovereign wealth fund is one way for Norway to leave some of the bounty for future generations.
Gas development in Norway has lagged behind and the giant Troll and Ormen Lange fields are relatively recent additions to Norway's oil and gas production wealth and to Europe's energy security.
The UK (including Scotland) was hungry for natural gas central heating to replace the open coal fires that were common in the 1960s.
Norway by then was already running on cheap hydroelectric power (currently around 97% of total capacity need).
The UK gas bounty, much of which lay in English waters, is now largely gone but our addiction to the luxury of gas central heating remains.
We have replaced indigenous gas supplies with imported gas from Norway and Qatar. While Norwegian oil production has followed the UK down, gas production has continued to expand and it is gas production in Norway that underpins the country's growing wealth.
This fabulous wealth is to a large extent founded on the economic activity surrounding oil and gas development work. Scotland, in particular the Scottish north-east enjoys that same benefit.
The tax take from that economic activity is, however, spread throughout the UK, not just the Scottish population.
The direct taxation on oil revenues goes into the Norwegian oil fund for future generations to use. But how and when are they going to decide how to spend this fortune?
Most billionaires become and stay wealthy because they do not spend the wealth they have amassed; rather they live off the returns of their investments.
An independent Scotland would have to decide if it wanted to maintain spending at current levels (or at whatever level the economy turns out to deliver) or to cut spending and services in order to save something for future generations.
And so, is the grass really greener on the other side of the North Sea?
The answer in my view is clearly yes.
Norway is five times larger than Scotland, has 27 times the hydro-electric production, significantly larger oil and gas reserves remaining, oil and gas production running at 2.5 times that of the UK and she began saving for future generations nearly two decades ago when there was still huge wealth to be extracted from the oil and gas reserves.
I lived there for eight years in the 1980s, it is wonderful country and anyone who wants to sample the green grass can go there to live. But beware of beer prices, eight euros a pint is enough to ruin any night out.
Euan Mearns is an independent commentator on energy matters
Recommended for you

Trafalgar Square Christmas Tree target of Equinor Rosebank protest