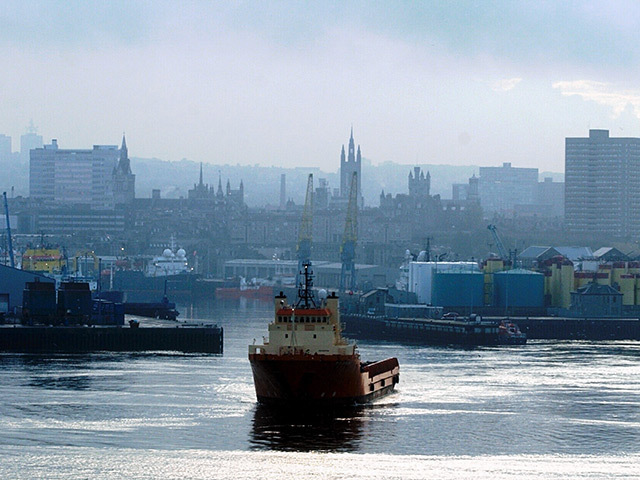 Aberdeen Harbour Board (AHB) has discarded a study which raised environmental concerns about its £415million plans to expand into Nigg Bay.
Green groups said yesterday there was a "question mark" hanging over the site after a report revealed higher than expected levels of metal contamination within the area to be dredged for the expansion.
But the results of that study were discounted after second study came back clean.
It comes just one day after Aberdeen City Council voted to grant planning permission "in principle" for access roads and temporary construction areas to support the project.
Environmental concerns relate to two supplementary sediment surveys carried out on the site, details of which were published last month in AHB's Additional Environmental Information Report.
The first of the supplementary surveys, undertaken in December by contractor Fugro, found high levels the contamination on the Nigg bay seabed. But a second study which took place between February and March of this year found contaminant concentrations at "below action level 1", which means clean.
According to the AHB environmental report, experts with five contractor teams "called into question" the initial survey data that had found contamination.
Matthew Chappell, nearshore geotechnics manager at Fugro, which carried out the December survey, agreed the results  were "anomalous".
In a letter to Katherine Harris, the expansion project's environment manager, Mr Chappell said: "We accept that a plausible explanation is that these samples could have been contaminated after being brought to the surface, in which case, it would be appropriate to disregard this data set."
AHB's report said: "The strong weight of evidence suggests that the results from the 2015 survey are not reliable and should be discarded, and therefore they have not been considered further in this report."
AHB chief executive Colin Parker said the board was awaiting a decision from Marine Scotland.
Mr Parker said: "The information provided after the initial assessment revealed some contamination. Other samples said that was a false reading. It's now out for a 42 day consultation, after which the regulators will form an opinion."
Mr Parker said consenting body Marine Scotland could oblige AHB to commission another round of sampling if they are unsatisfied with the findings, but said he did "not believe that would be the case".
Richard Dixon, director of Friends of the Earth Scotland, said more work needs to be done to prove the site is safe.
Mr Dixon said: "If the project goes ahead Marine Scotland should be putting conditions in place so that when the dredging does start, there is ongoing testing to make sure what is being dredged up is safe.
"They should proceed with extreme caution. There is a question mark hanging over the site – it does not have a clean bill of health until they start dredging things up.
"They should immediately stop if something comes up."
A final decision on the project is expected this autumn.
Recommended for you

BP teams up with Aberdeen harbour to help Granite City go green